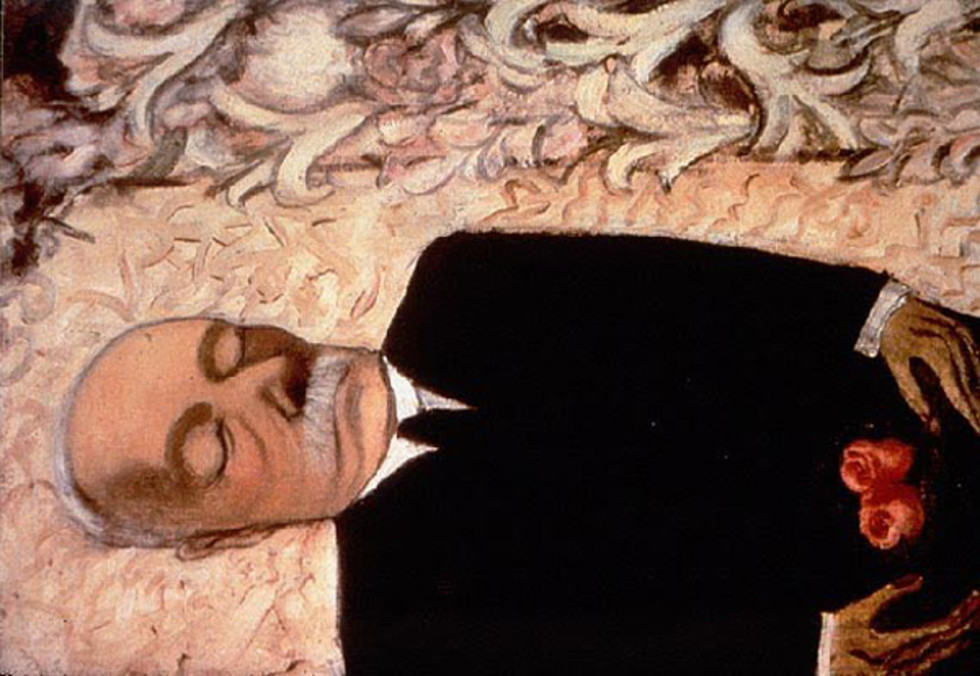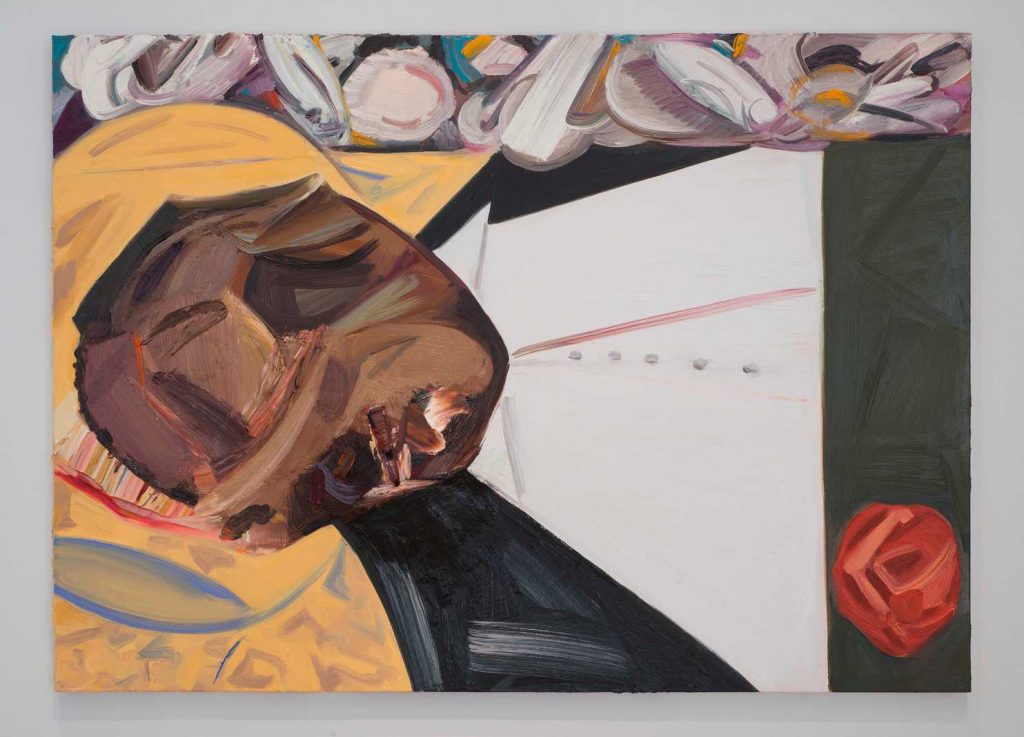 A reader, Jon Auman, who is amused by my sense of art mystery, recently sent along a pairing of paintings. He saw Alice Neel's 1946 Dead Father (above) in the catalogue of a Thomas Amman show in Zurich, and it reminded him of Dana Schutz's Emmett Till.
For all but a few days after the Whitney Biennial opened, it has been beside The Point, if not impossible, to consider Schutz's painting as a painting, not as a cultural flashpoint. But Auman's noticed what I think is a real reference for Schutz, and it's one that has not been raised or discussed publicly, afaik.
The immediately received and problematic genesis of Schutz's painting of Emmett Till is the photograph of Till's murdered body in an open casket that his mother Mamie Till caused to be published to protest his unjust killing. The most widely circulated of those photos was just young Emmett's face, and it's reasonable to accept that Schutz's gashed painted surface was inspired by that picture. But other photos of the funeral reveal that Till's body, his casket, and his surroundings, do not resemble Schutz's depiction at all. Her painting is not a documentation; it is her construction. Which, of course it is.
And Neel's painting of her own father's funeral is pretty clearly a reference. Unlike her more famous portraits, Neel painted Dead Father from memory, a deliberate remove from experience and observation. Looking for a clean image of it brought up another Neel painting I'd forgotten, which feels even more relevant.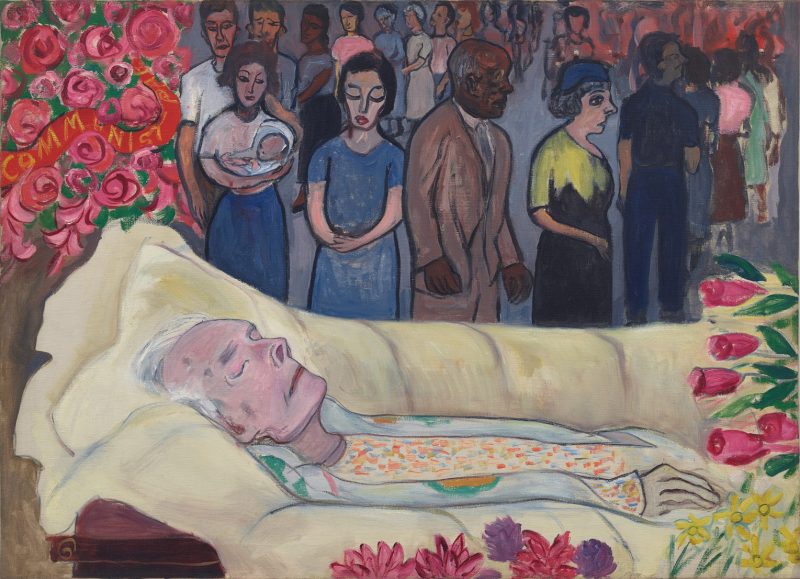 In 1951 Alice Neel painted Death of Mother Bloor, which shows the public funeral in Harlem of Ella Reeve "Mother" Bloor, the revered American Communist organizer and suffragist, who died in the midst of McCarthy's witch hunts. Like Schutz, Neel cast a sympathetic eye on the historic funeral of a politically controversial figure, and constructed a painting unconstrained by photography's documentary assertions.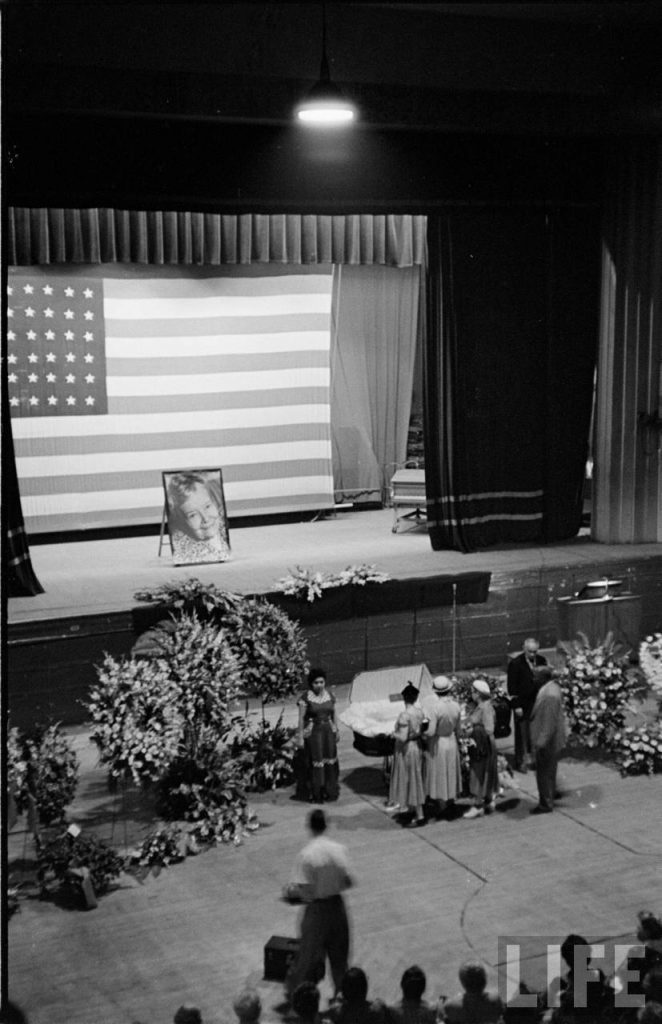 In 2012, Dana Schutz talked with Jarrett Earnest at length about her painterly influences, or artists she admires. A lot of what she sees is construction. She doesn't mention Neel, but I think it's worth asking.