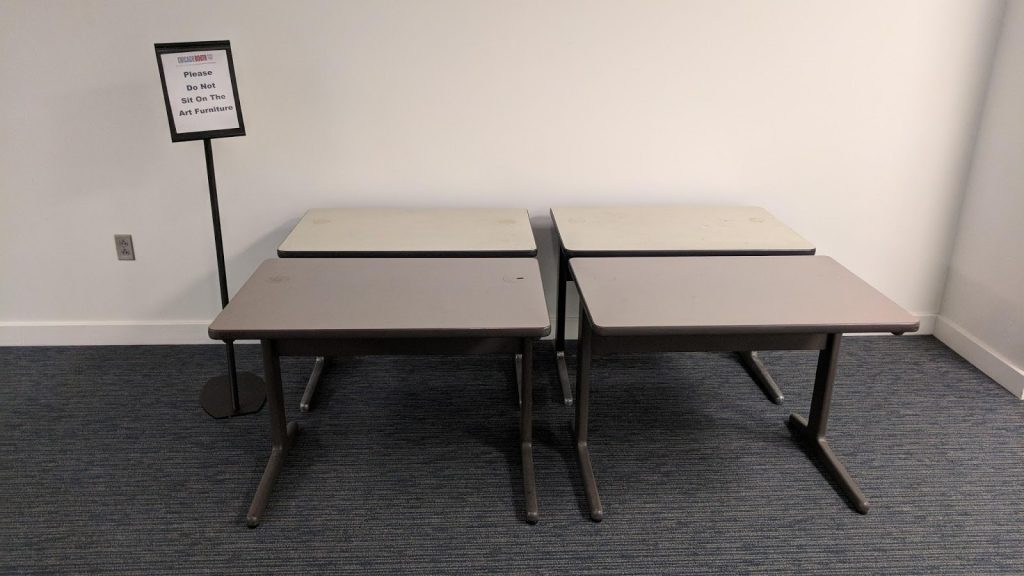 A friend recently surprised me with his report from a tour of the art collection at the University of Chicago's Booth School of Business. It is frankly remarkable, thoughtful, and very up-to-date. It includes work by many well-known contemporary artists while mostly managing to avoid the sense of brand name-chasing vapidity that plagues many corporate collections. [There are Mark Grotjahn prints, tho.]
My friend's stories of how people react to and deal with very contemporary art in the professional/academic setting of a business school are awesome, and go way beyond "Art? ¯\_(ツ)_/¯". There's the difficulty in filling a wall with SFW Wolfgang Tillmans; the Tacita Dean stills of disaster movie endings that are too depressing for the recruiting lounge, so they were moved to the PhD students' offices; Claire Fontaine's neon, "Foreigners Everywhere," which is harsh enough in Chinese translation to make every prospective Chinese student uneasy.  [Apparently only one artist with work in the collection has visited so far, which seems bonkers. It seems like an unusually engaging and sophisticated context for seeing art working beyond the white cube community.]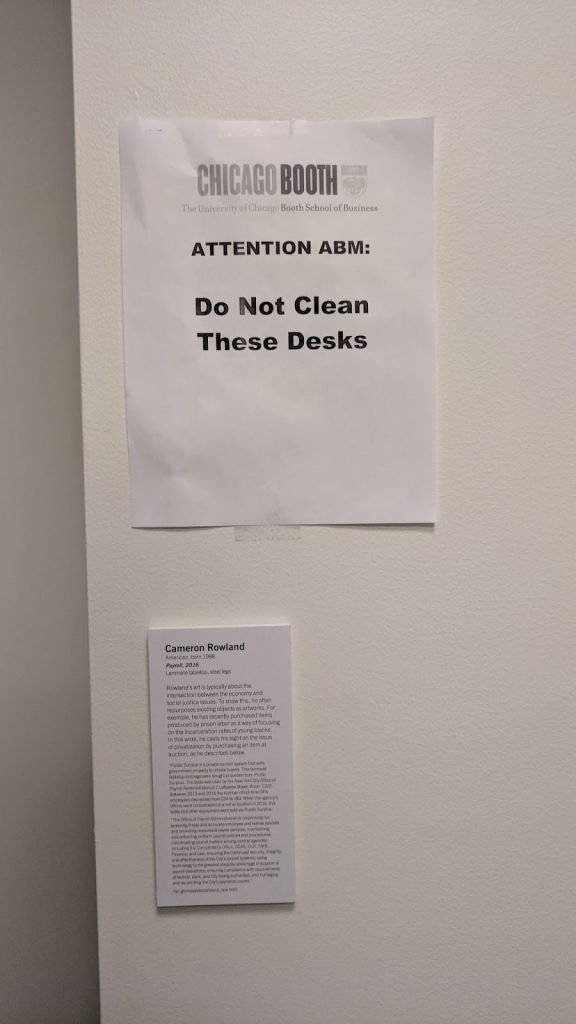 Anyway, my hands-down favorite piece has to be Cameron Rowland's Payroll, which consists of four grimy desks the artist bought at government surplus auction from the NYC Office of Payroll Administration, after their own headcount had decreased by 41.
Rowland's work forefronts the human implications of otherwise invisible elements of our capitalist, financial, and carceral systems with such effectiveness, I'm surprised he hasn't been invited to lecture at the business school yet. He could also talk about requiring collectors to use the Projanksy/Siegelaub Artist's Reserved Rights contract, or of renting his work instead of selling it.
The subtle tonal shifts between the requests to students and the instructions to maintenance staff should be the start of the school's poetry collection.
Chicago Booth Art Collection [art.chicagobooth.edu, thanks d!]