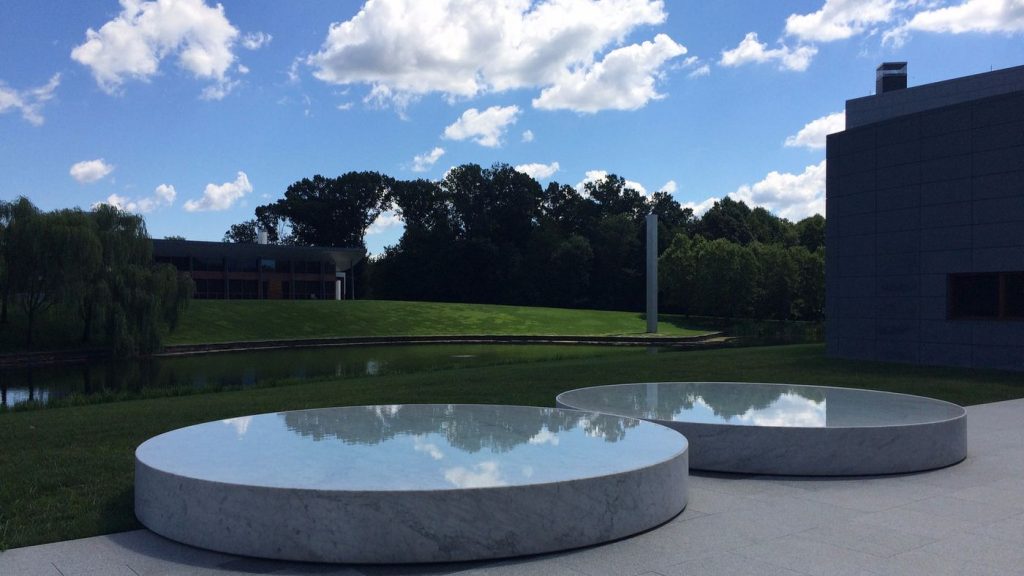 The Raleses bought Felix Gonzalez-Torres' "Untitled", which was made for the 2007 Venice Biennale. It was based on an unrealized sketch the artist made while considering a public art commission. I believe it was for a university. The posthumous thing bothered me at the time, and Nancy Spector and I went around a bit on it, but I decided to roll with it, and it turns out to be fine. Art world shenanigan-wise, it could have been much, much worse.
It was a rainy autumn evening when I first saw it reinstalled at Glenstone. The shallow pools of water on the surface of the concave discs of white Carrara  marble splashed and glistened with rain.
Randy Kennedy reported on the pools' unveiling in front of the US Pavilion:
"They're beautiful, and I think people will probably throw coins in them, or might actually get into them if it's hot," Ms. Spector said, smiling. "I wouldn't mind."

Andrea Rosen, the dealer who represented Mr. Gonzalez-Torres from 1990 until his death and who now oversees his estate, said she did not think he would mind either. He would probably jump in himself.
I did not back then, nor in the two visits since the new building opened, ever once get the sense that the Raleses would be chill with people frolicking in their Felix pools. But the fact that they have custom-fitted hot tub covers does make me wonder if the amount of frolicking is not actually zero.