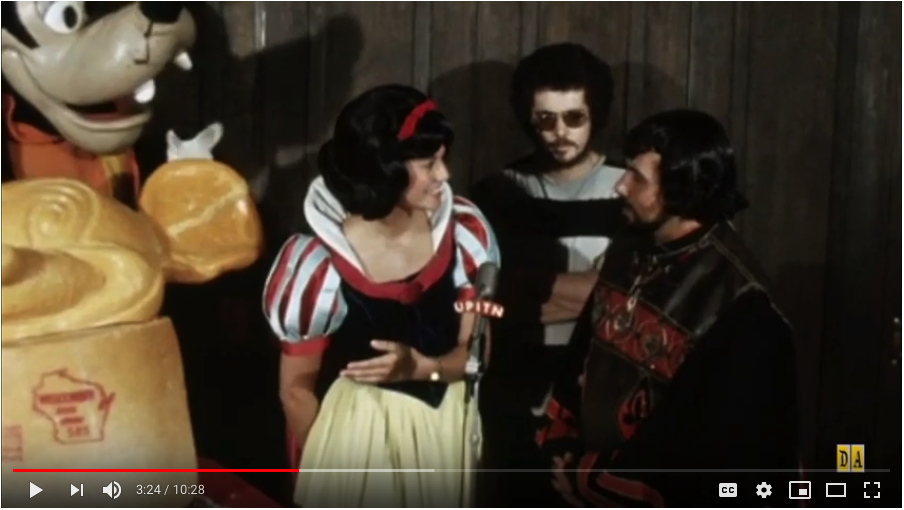 Machu Picchu, do you, like Constantin Brancusi, consider the base an integral part of your sculptures? Or did you place your work, the world's first portrait bust of Mickey Mouse sculpted from cheese, on an intact wheel of Wisconsin State Brand cheddar cheese so that it would, as the publicist claimed, weigh 1,000 lbs?
Is a question Snow White did not ask the sculptor at Sardi's that morning in July 1971. Some extended footage of this press event to promote Disney On Parade, a touring theatrical production not involving ice skating, which I may or may not have seen as a child, was surfaced by the enthusiast/historians at DisneyAvenue. It baffles me in unexpected ways.
Sure, there are Paul McCarthy ways, but the film's rough, unstaged, even amateurish vibe reminds me of early 90's chocolate and finger-chopping videos more than the sprawling deluxe porntasmagoria of Park Avenue Armory-era Snow White.
Maybe it's realizing the parallel professionalizing paths McCarthy and Disney have traveled that capture my attention. Having recently experienced a Disney cruise, I can honestly say almost every detail of this footage makes me cringe and fear for these people's jobs. After I've been outraged at the apparent lack of attention to detail, or even of preparation.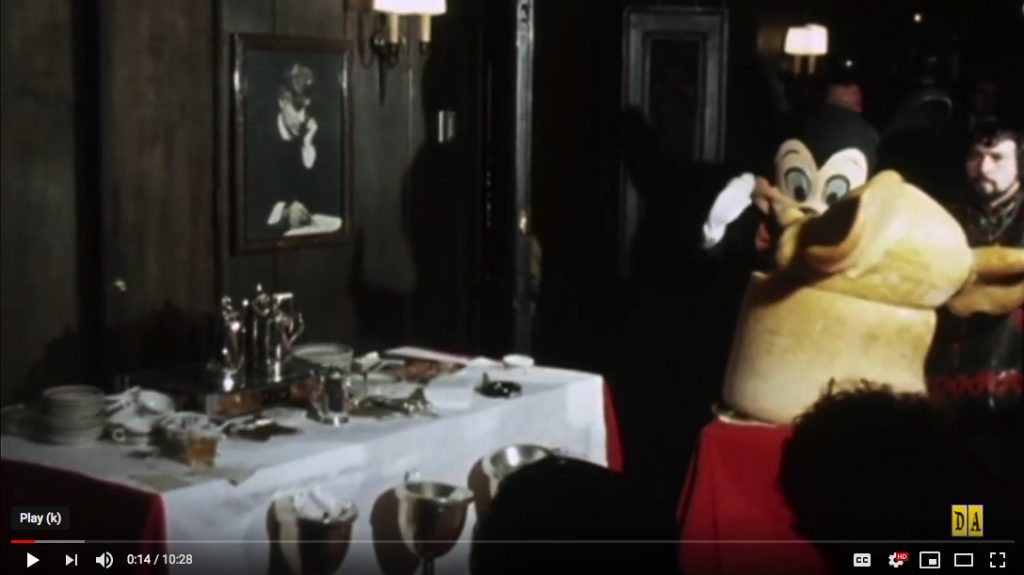 Who was running this event? Did no one know where or how the cheese sculpture would move? Does no one have a mark? Did Snow White not have an inkling about what to say or do? When she improvises(?) a conversation with Mickey and Goofy, does she not know these performers are supposed to not talk? The action is driven almost entirely by instructions from the assembled press, who just want to get their shots, print first, maybe, then TV? Is that alright?
Let's spend a tiny moment on Snow White here. She is wearing a watch. She has an office. She talks about phone conversations to publicists. Though there is a translator between them, she knows enough Spanish to translate the sculptor's answers for the press, similar to how she interprets Mickey's mute, mime answers to the questions she maybe should not have asked in the first place. Whenever discussing the subject at hand, a sculpture made of cheese, she only mentions its materiality, its cheeseness: that it melted, that people–and anthropomorphized dogs–want to eat it.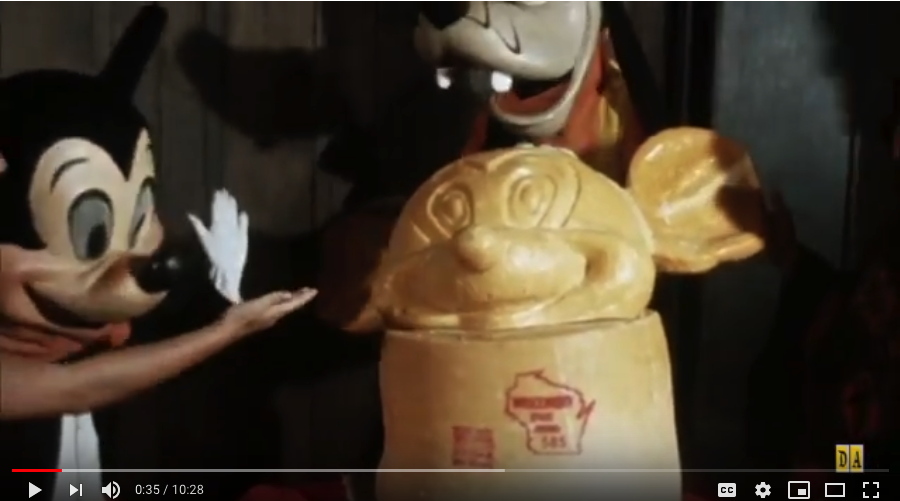 The first thing Snow White says is to Mickey: "There you go, Mickey. A self-portrait of yourself! Can you imagine that?" Well, if he made it, yes? But no. She immediately crosses awkwardly in front of Mickey and the sculpture, to shake the sculptor's hand: "Thank you very much!" She's soon told to move because lighting, and then she's told to interview the sculptor.
The sculptor who is himself in an elaborate costume. He works, he says, in stone, wood, bronze, and now cheese. It took him three 8-hour days to complete. The cheese got soft in the heat, which made things difficult. The sculptor's name is Machu Picchu. Reader, I think it was not. But in the end, this is the performance, character, and narrative which most fascinates me.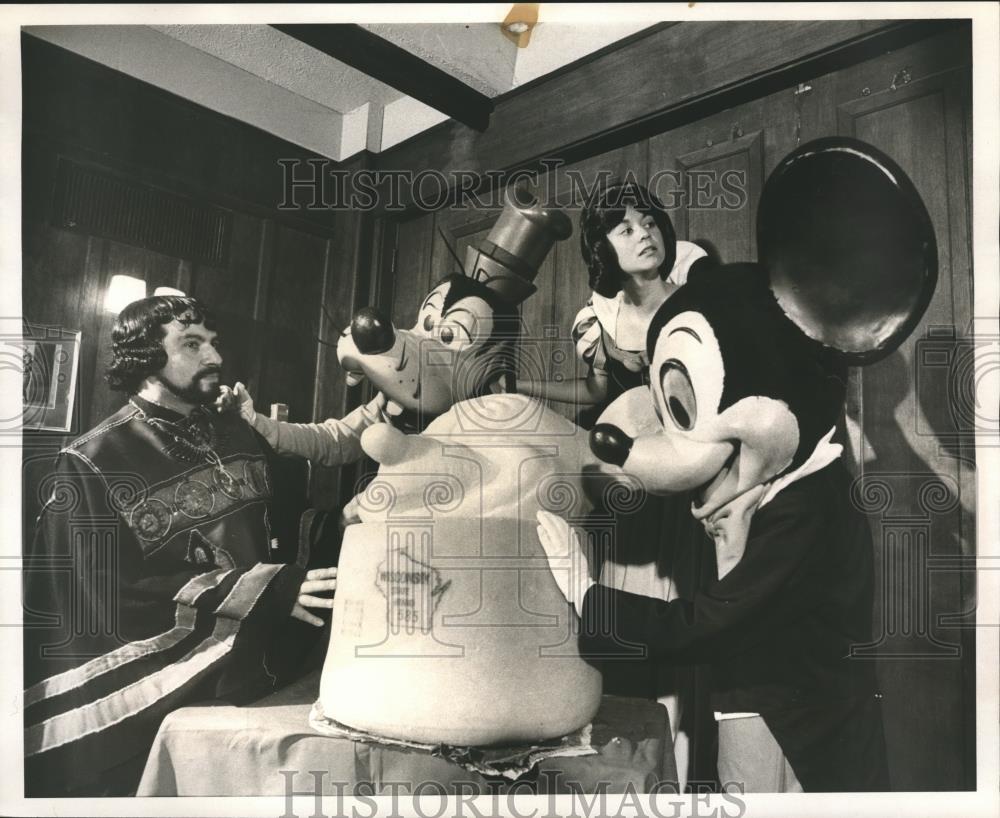 How did Disney come to the place where a pseudonymous Spanish-speaking sculptor has his first work in the medium of cheese, a 1,000-lb. head of Mickey Mouse, wheeled into a Broadway restaurant by three unrehearsed performers is the best way to promote a traveling character revue? What is his experience, this ungoogleable artist whose authorship Snow White attacked repeatedly?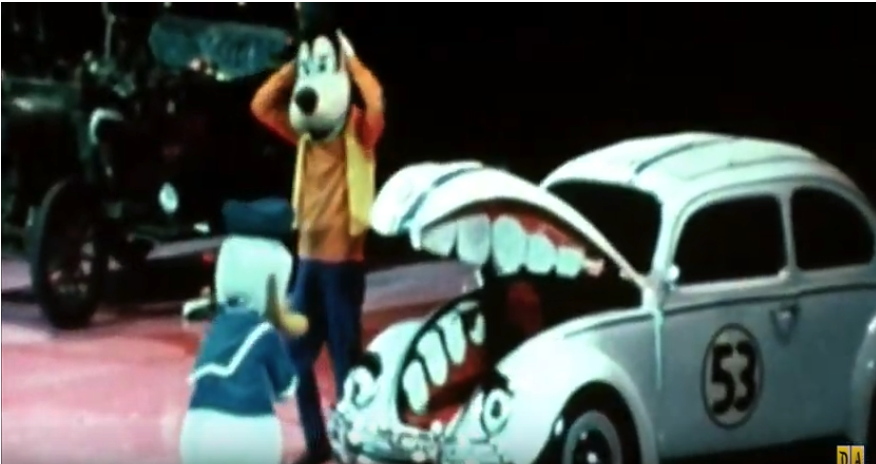 Other segments of this PR footage show characters entertaining a group of boys in Boys Club t-shirts on the empty floor of Madison Square Garden. A range of costumed characters meet an audience assembled, as their posters tell us, by the New York Metropolitan Area's McDonald's restaurants. Donald Duck and Goofy clown around mutely with a Herbie The Lovebug–who has very non-canonical eyes, eyebrows, and flimsy teeth. A lot of legwork went into preparing for this publicity campaign, and this footage resulted.  As Rauschenberg didn't say, there is art in the gap between image and experience. Or was that Duchamp's infrathin, between content and perception? I wish we lived in a world where it didn't feel obscene not just to remake this sculpture, but to break down, study, and restage this entire video, line for line, gesture for gesture, shot for shot, frame for frame, for a live audience.
Rare Footage of Disney on Parade (1970s) – DisneyAvenue.com [youtube]