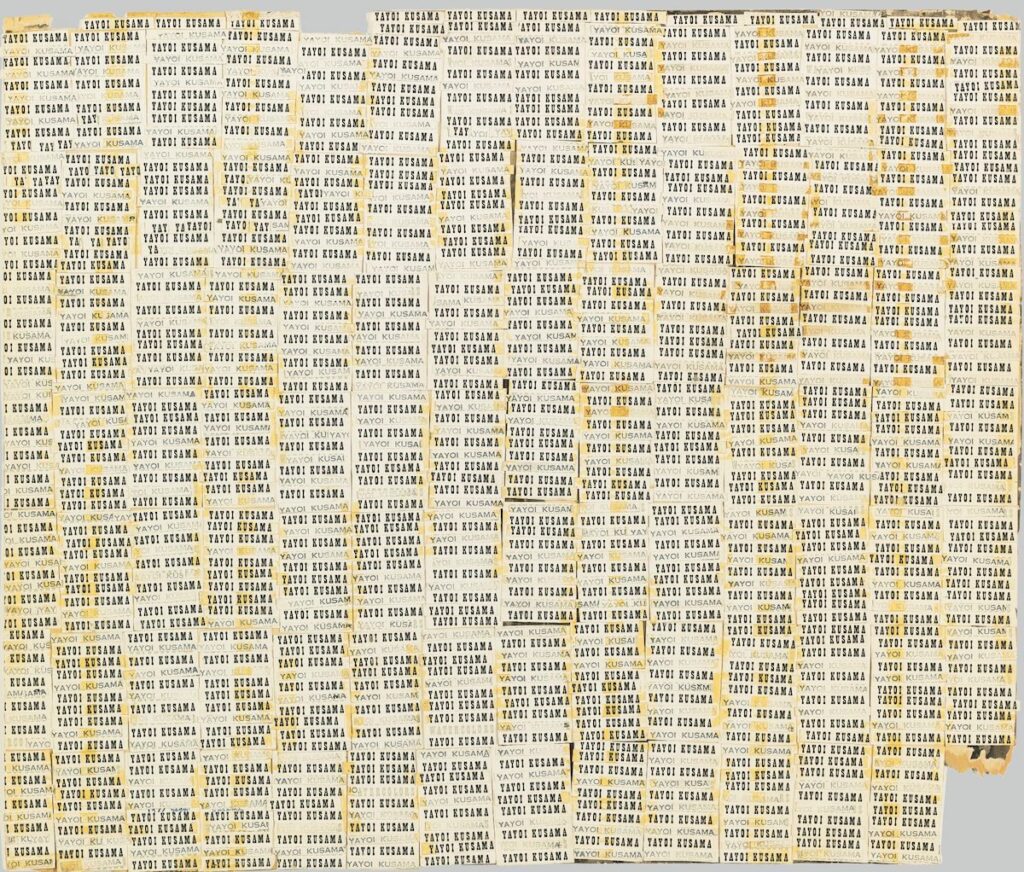 There were so many avenues to pursue in writing about Yayoi Kusama and her work; one that I found among the most compelling and the least considered is her practice of photographing herself among her work. I mean, it gets mentioned by various historians or curators, but I didn't find anyone doing a deep, critical look at Kusama's always deliberate, constructed, and embedded imagemaking of her body and her [sic] artworks.
Midori Yamamura's research found examples of Kusama doing this at the very beginning of her artistic practice, organizing shows of her own watercolors at the Matsumoto civic center as a teenager. But it's there with the Infinity Net paintings, and it's there with the Accumulation Objects, too. And in between these two bodies of work, it is here in this 1961 work on paper that is related to the Air Mail stamp works she made and showed beginning in 1962.
Even though it interests me, I take auction catalogue essays with a raised eyebrow, but Sotheby's nailed this one:
Accumulation of Letters is arguably one of the most art historically important works by Kusama. In many ways it can be read as a self-portrait, the artist's name, or signature, standing in as a metaphor for the self. Known for her promotional talent and flair – Kusama regularly arranged for professional photographs to be taken of her with her work often wearing outfits that matched the paintings or sculptures – Accumulation of Letters acts as an artwork-cum-advertisement. In the exhibition catalogue for Kusama's 2012 traveling retrospective, Rachel Taylor writes that Kusama "situated herself at the centre of her artistic universe, the key protagonist in a world populated by proliferating forms, endless nets and infinite polka dots"

Lot 309, Sotheby's NY, 25 Sept. 2013
This Accumulation of Letters is made by cutting up hundreds of left over gallery announcements from two shows at Gres Gallery in Washington, DC: one was a solo, and the other a group show of Japanese artists. Beyond the obviously laborious process, and the artist's totalization of herself and the work, I am struck by the wrenching pathos of this piece, of those stacks of invites sitting in her studio. All these cards left over from shows out of town that no one in New York would see, or had seen. What was she supposed to do with them?
As it turns out, she gave this piece to a friend, an artist named Stella Waitzkin, who'd fled to downtown from the stifling patriarchy of suburban Long Island. Since surfacing at Sotheby's in 2013, Accumulation of Letters has been shown at Kusama's museum in Tokyo.
Previously, related: The Kusama Industrial Complex