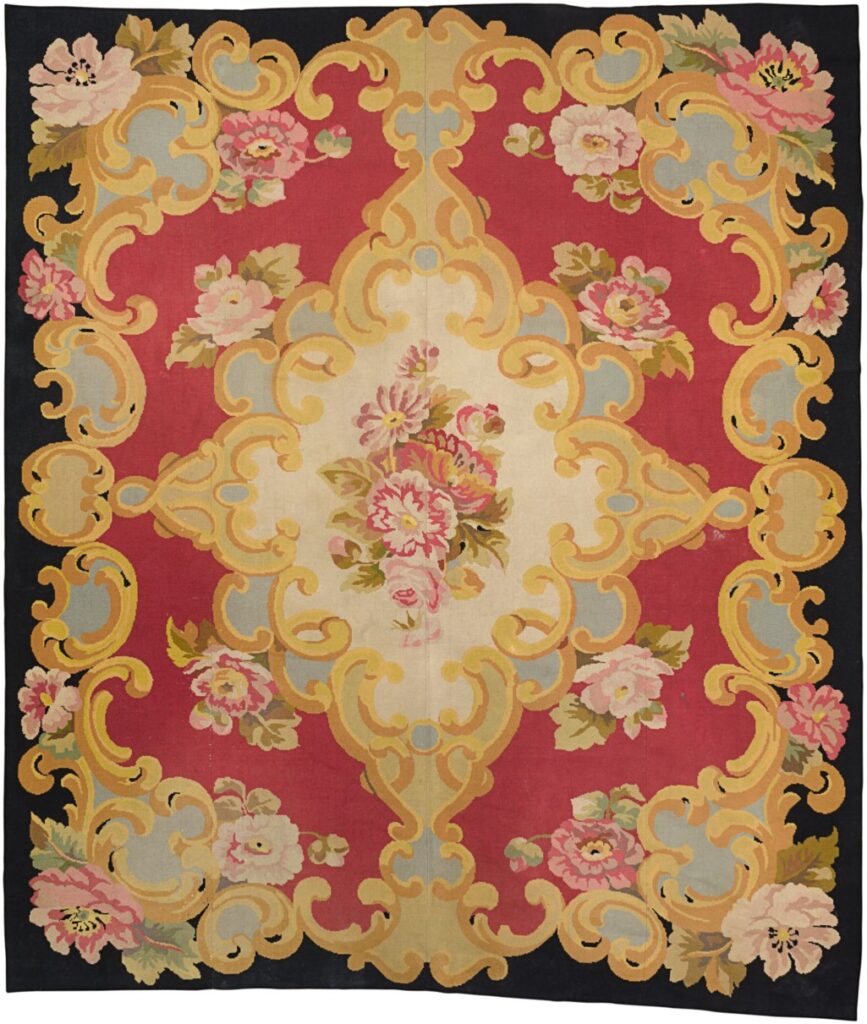 In the mid-1960s, with his arthritis acting up, and after decades of designing stage sets for the London theater, Oliver Messel began designing houses on Mustique for fancy people like Princess Margaret, the hard-partying sister to Queen Elizabeth, who'd married Messel's nephew Antony Armstrong-Jones (aka Lord Snowdon)*.
Messel bought himself a house on Barbados, and renovated it into his Caribbean fantasy show palace with his partner of 30 years, Vagn Riis-Hansen. It would appear that Riis-Hansen spent most of that time embroidering this rug.
It is nine feet wide, and ten and a half feet long, and it is gros-point, a large-stitch needlework technique, made on four panels, each 30 inches wide. The pattern is inspired by Aubusson rugs of 18th century France.
Can you just get a pattern for making an Aubusson rug? Do you have one created after your own Aubusson and counted out? [Messel designed fabrics, scarves, and at least one unproduced Donegal carpet.] Do you stencil it onto the heavy grid of fabric that is your base? Do you complete each panel, and then stitch them together? Are they ever off by a row?
It is not that I, who have been typing on a computer for thirty years, am not unfamiliar with tedious, repetitive, and precise handwork. But I am at a loss to picture Messel and Riis-Hansen entertaining the international jetset while also one of them is sewing a big-ass rug for days or nights on end. I feel like I'm missing some key details about the making of this rug.
OK, for starters, it looks like it was in Messel and Riis-Hansen's apartment in London, which was published in Architectural Digest in 1963, and presumably photographed in 1962. It does not look new. This recap article on AD calls Riis-Hansen Messel's lover AND manager**, since the 40s. Also, he was apparently, big, and gruff, and annoyed his in-laws and Cecil Beaton, who nicknamed him The Great Dane. And he still found time to embroider a giant carpet.
In 1978 Messel died, a year after Riis-Hansen, and Armstrong-Jones got the rug. In 2017, Armstrong-Jones died, and now anyone can get the rug, if they move in the next three days.
Lot 103: A GROS-POINT NEEDLEWORK CARPET WOVEN [sic?***] BY OLIVER MESSEL'S PARTNER VAGN RIIS-HANSEN, est GBP 1500-2500, ends 24 Sept 2020 [update someone bought it for GBP1000, the opening bid.][christies.com]
[update, somewhat related: In 2012 artist Matthew Smith created an exhibition and archival intervention at Nymans, the Messel family's house to bring Messel and Riis-Hansen's relationship into parity with the other family stories depicted at the National Trust property. (pdf)]
*Apparently Messel did not attend the 1960 wedding because he could not bring his partner. Or maybe his partner was busy sewing a massive rug.
**Thinking of this while doing the dishes just now I remembered reading a memo from Walter Hopps in the Smithsonian archive of the 1976 Rauschenberg retrospective, saying that though the museum would cover the travel expenses of artists and their wives, they would not pay for Bob's "friend." [scare quotes in the original] Maybe if Messel and Riis-Hansen were traveling together in an era where their romantic relationship was literally a jailable offense, being a manager would offer all the explanation they'd ever need.
***Maybe this whole post is a misplaced over-reliance on one word, which feels inaccurate technically–does someone stitching a rug consider it weaving?–but which must reflect a received story, if not a history per se, of how this rug came to be, and why it was kept? Or maybe it's just so obvious to anyone interested or involved that "woven" means "had woven," and you'd have to be daft to entertain the notion that it should be considered literally? And what possibly could be going on in this, the approaching autumn of the Year of Our Lord 2020, that could possibly account for channeling this much mental space into the backstory of some knockoff Aubusson rug an ancient British playboy stashed away after cleaning out his gay uncles' Barbadian retirement cottage? What, indeed.