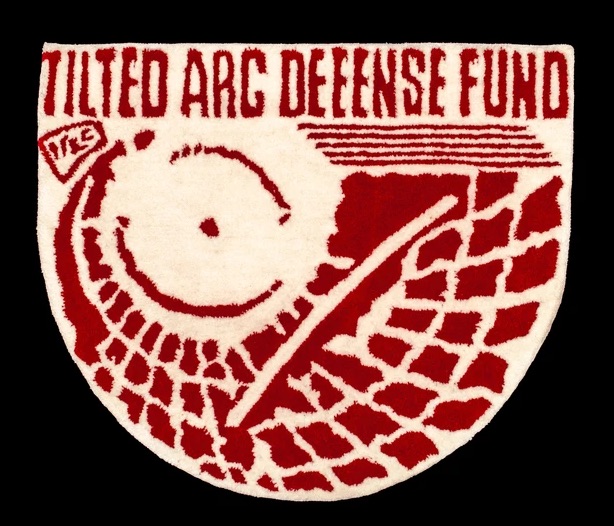 While we're on the subject of writing quickly on matters of significant art that happened in the part about which I had absolutely no idea, please direct your attention to the Boot Boyz Biz, an anonymous bootlegging collective which has, since 2015, been publishing major art and design content, primarily in the medium of deeply researched and highly synthesized, extremely limited edition t-shirts. Which is the only reason, besides my willful neglect of the instagram platform, that I can come up with for my sleeping so hard and so long on them.
Anyway, the t-shirt drops are somehow surpassed only by the non-t-shirt drops, two of which I will highlight here:
One: last summer the Boot Boyz made a Tilted Arc Defense Fund tufted wool rug. I might say it's more of a mat, but what matters is, it exists at all, unlike the Richard Serra sculpture it evokes, obv. It captures the view from the haters' offices down to the plaza below, in tufted wool, tastefully tinted to evoke the fundraising poster that Serra and Friends put out.
For the 7 billion-plus of us who did not cop the rug, the sidebar of historical and theoretical research will have to suffice.
Tilted Arc Rug [boot-boyz.biz, thanks @stottleplex!]