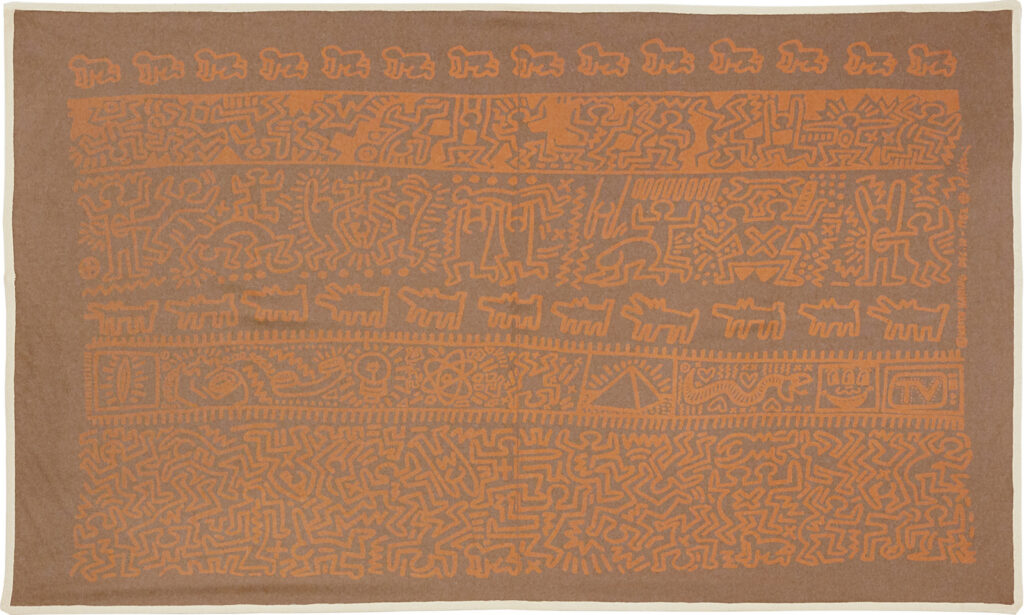 This blog will not become a Keith Haring fanboi blog. This blog will not become a Keith Haring fanboi blog. This blog will n–
It's just that there happen to be interesting Haring-related materials flowing through the auctions at the moment. Like this blanket, which Haring apparently made four of for a Vivienne Westwood fashion show in 1982. It's screenprinted on both sides, with a little border. At 95×146 cm, it's more of a lap blanket? Maybe the show was cold? But still, not enough even for the front row, just the collaborators. According to Rago, where this is for sale next month, it was originally given to Ted Muehling, whose jewelry was used in the show.
[UPDATE] Vivienne Westwood expert Leslie Dick notes that this was not crowd swag, but an actual runway look. It was featured in the 1983 Witches Collection as a shawl, or perhaps a wrap. Here's an image from the show, as archived by TheBlitzKids: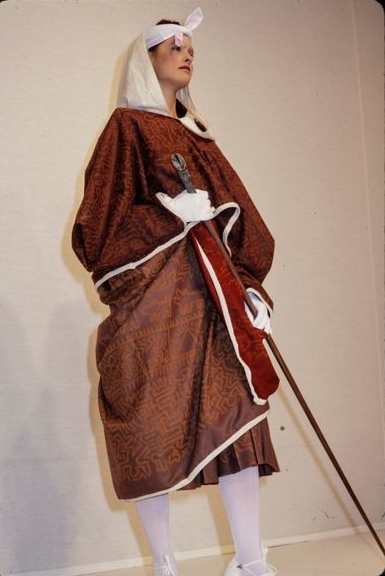 A silkscreen would imply the possibility of more than four, of course, and on media other than blanket. So if you miss this one, maybe there'll be another chance.
3 Dec 2020, Lot 563: Keith Haring Blanket, 1982, est. $1,000–1,500 [ragoarts.com UPDATE: sold or $6,875, nice showing]
Previously, related: Warhol X Haring X Oswald Collab;
Untitled (Unfinished Textiles), 2019;
Also: how about the lap blanket Olafur Eliasson made for NetJets Europe back in 2005?