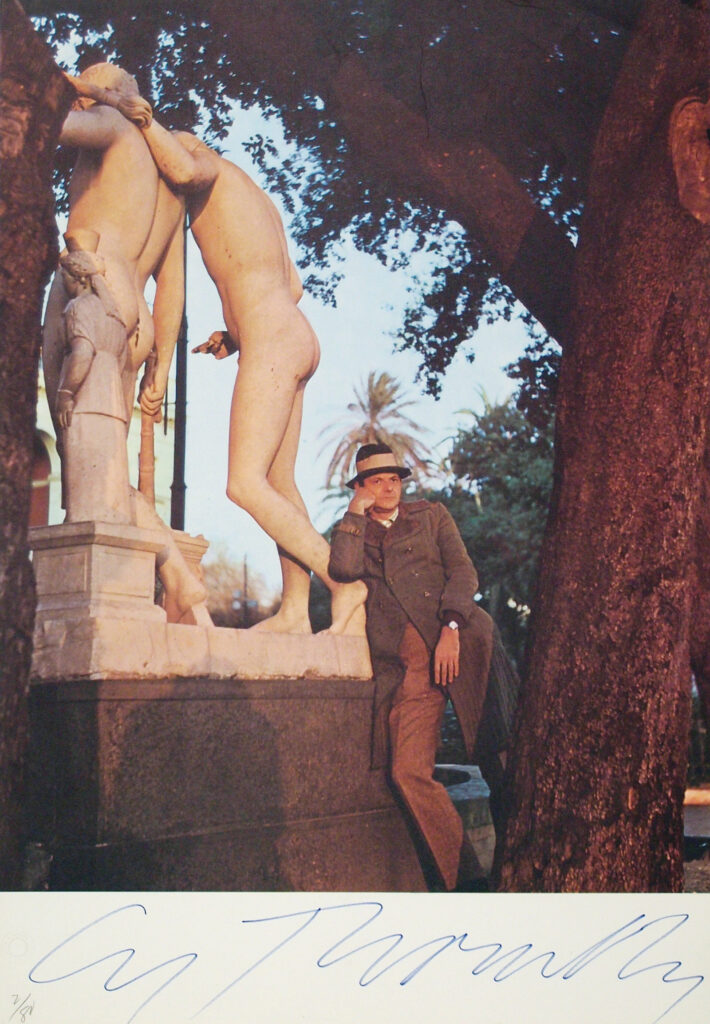 Never has the phrase, "Nicht bei Bastian (Not with Bastian)" rung quite so poignantly as in the lot description for this Cy Twombly (sic) edition, which appeared (and did not sell?) at Dr. Andreas Sturie's auction yesterday in Dusseldorf.
It is a portrait of the artist, in a thick double-breasted topcoat and a somewhat tight hat, serving contraposto while leaning on the heel of a copy of an ancient statue of Castor and Pollux. As he gazes out across the Bay of Naples from the Villa Comunale, the late afternoon sun kisses the cheeks of our three heroes. And it throws a shadow of a figure onto the statue's base, likely the photographer, likely Lucio Amelio, the Neapolitan avantgardist art dealer in whose gallery Twombly staged back-to-back shows in the winter of 1974-75.
This print served as the exhibition poster for the second show, "Allusions (Bay of Napoli)," of works on paper referencing Orpheus, Dionysus and Narcissus. The artist signed and numbered 80 posters. Twombly always did have beautiful posters, and this one, and they seem to sell just fine as ephemera, so if Bastian doesn't include them in the CR, NBD.
In 2016 the artist Max Renkel produced a small book titled, Cy Twombly's Autobiography Hidden in My Collection, in which he rephotographed the portraits the artist chose to include in his many publications–and gallery announcements.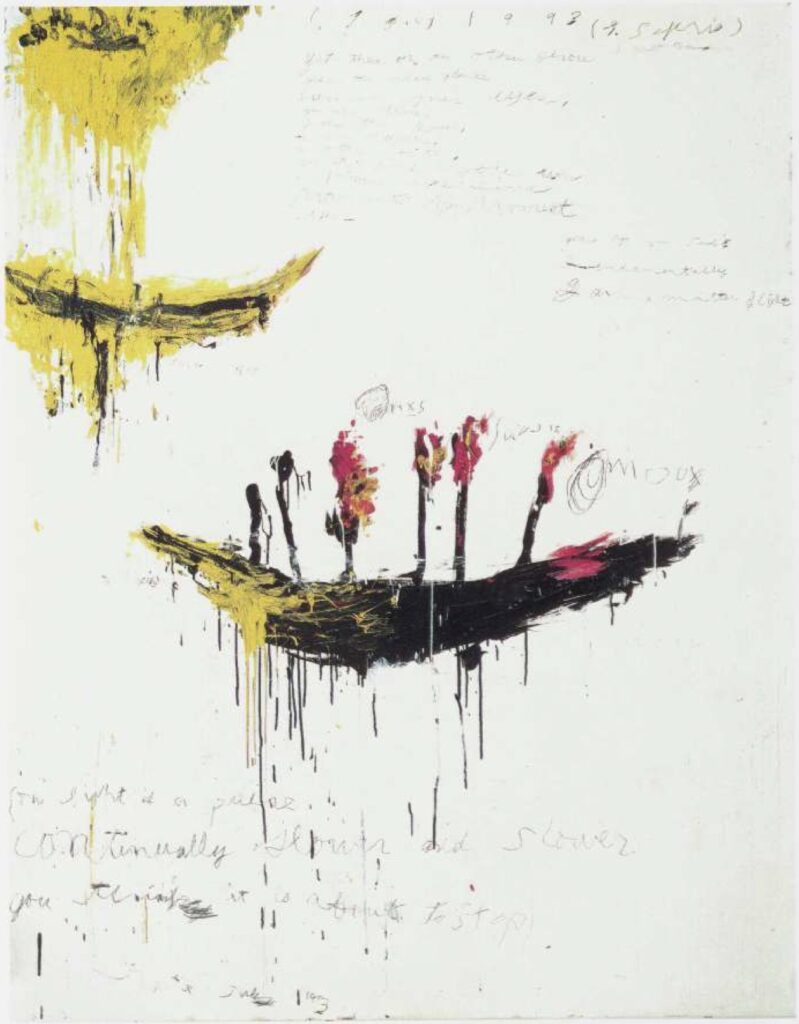 Twombly showed with Amelio seven times between 1972 and 1991, including the first exhibition in Italy dedicated to the artist's sculptures, in 1979. He also dedicated a painting to Amelio, whose death from AIDS-related illness came in 1994. The painting, Untitled (1993), depicting funereal barges, was formative in the development of the boat motif that occupied the artist's late work. In a note on a 2008 Tate Paper on Twombly and Rilke, Mary Jacobus wrote,
Dedicating his funereal boat painting to the gallery owner Lucio Amelio, Twombly approximates lines from [George] Seferis Three Secret Poems, including: 'Years ago you said, "fundamentally [essentially], I am a matter of light"' ('On a Ray of Winter Light') and 'The light is a pulse continually slower and slower [ever more slowly] / you think it is about to stop [as though about to stop]'
When it included the painting in the artist's 1994 retrospective MoMA made no mention of Twombly's association of the painting with Amelio. Neither was it mentioned on Wooster Street, where Gagosian Gallery debuted the massive, now boat-flecked painting Untitled (Say Goodbye, Catullus, to the Shores of Asia Minor), in coordination with the retrospective. Begun in 1972, the painting had hung unfinished in the artist's Rome studio for two decades. Its title is a reference to a poem where a man travels home to see his brother, only to learn he'd died. The painting now hangs in the Twombly pavilion at the Menil.