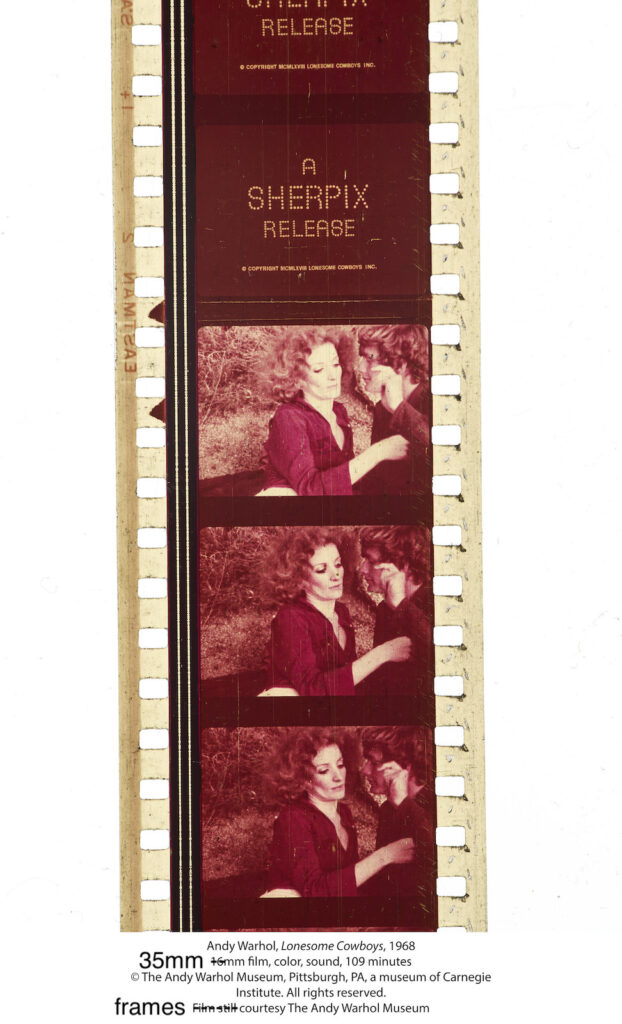 As if everything in Christie's The Exceptional Sale weren't already exceptional enough, the sale ends with the greatest gilt dessert stands France ever made, part of the greatest table centerpiece and dinner service France ever made, commissioned by the duc d'Orleans; the original cover art for a Led Zeppelin album; and a rare, vintage 35mm exhibition print of Andy Warhol's 1968-69 pseudo-feature film, Lonesome Cowboys.
The lot description for this Lonesome Cowboys print is extraordinary. Maybe like the texts about the Arizona Spike, and for this sale as a whole, the exceptional is the norm. Lonesome Cowboys was not just an anti-narrative, queer, softcore, experimental anti-Western filmed over a cold week in a Tuscon cowboy theme park; investigated by the FBI; and slowly edited while Warhol recovered from being shot. It was the first brick thrown in the "Stonewall of the South," a powerful document in the fight for equality.
In August 1969, Atlanta police, acting on a tip from out-of-town anti-porn Catholic activists, raided a screening of Lonesome Cowboys, arrested the projectionist, detained more than 70 filmgoers, and seized the print, all in the suspicion of obscenity. The affront to civil rights galvanized local gay activists, who organized the first gay rights/gay pride parade in the South. Two years later. Also, not this print.
It is not clear when or where this 35mm blowup print was made [Warhol shot the film on 16mm]. It has "No 10" on it, and a stamp from a North Carolina-based exhibitor/distributor active only until 1974. But the print itself was from a "private collection [in] Stockholm, and before that formerly [in the] coection of Pontus Hultén." At least that's what a Berlin auction house said in 2021 when they sold the print for the German Warhol ephemera collector who'd bought it "approx. 2010." [The sale price was EUR25,000.]
Christie's, however, makes no mention of Hultén, the visionary and problematic museum director who included Warhol's films in his Spring 1968 solo exhibition at the Moderna Museet. [But not Lonesome Cowboys, which had barely been filmed by then.] I expect that's due to lack of any documentation of Hultén's ownership–par for the course for Hultén–and not because of his penchant for fabricating and backdating his own Brillo Boxes.
I've been watching for years for Warhol film prints to turn up, and they really never do; as objects, they're really in limbo, not art, and not content. It's like there were so few prints to begin with, and the ones that were in circulation got chewed up, or pulled back in. Which makes this one, of course, exceptional.
UPDATE: And it sold, for a bid of $20,000, or $25,200 with premium. Which means the 2021 buyer paid around $9,000 for the privilege of confirming Pontus Hultén never owned it. Thank you for your service!
Lot 29, Andy Warhol, Lonesome Cowboys, est. $20-30,000 [christies]
Mar. 2021: Bedeutender Originalfilm Andy Warhols, ehemals aus der Sammlung Pontus Hultén, Estimate €35-70,000 [jeschke jadi auctions berlin/liveauctioneers]