A two-artist show, "Calder/Tuttle: Tentative," just closed at Pace LA today. Richard Tuttle made sculptural and spatial responses, or recontextualizations, to a series of works by Alexander Calder. I'd first seen someone criticizing it, but to look at the installation shots, I'd say it's a fresh and interesting way to see both artists' work.
The Calders are nice enough, but the one above, Little Mobile for Table's Edge, is exceptional, a mobile that sits like a stabile. Tuttle's response?—Solution? Proposition? Alteration? Companion? I am undecided what the word should be. In this too-brief video, Alexander Rower calls them vessels, while Tuttle calls them pavilions or frames, none of which apply here.
Tuttle took the mobile off the table's edge and put it on a sculptural plinth, with a Q*bert-friendly corner of square blocks. As the show's press release explains, "On a formal level, Tuttle explores enactments of verticality and horizontality—as well as plays of light and shadow—in Calder's work," as he focuses "on the space discovered in the mobiles."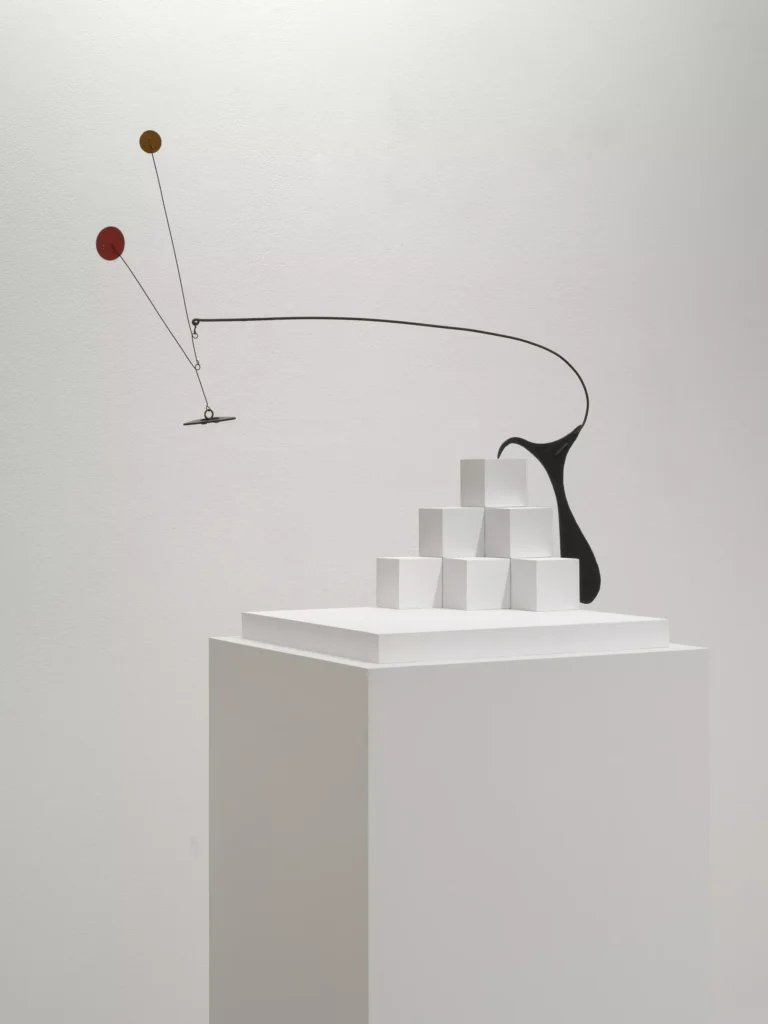 Richard Tuttle enactment [?] with Calder mobile, as installed at Pace LA.
I assume whoever is buying one is buying both, if they can. If you, too, missed it, no sweat; there will be a book.
A companion presentation of Tuttle objects—works of and on paper—made in response to Calder and his work's context ran concurrently at David Kordansky.
[next day update]: roaming through the Calder Foundation's archive, it appears that this was the first of only two or three mobiles Calder made with this type of hanging-off-the-table dynamic. Orange Under Table is a much larger mobile from 1949, now in the collection of the MCA Chicago. Meanwhile, the tiny 1948 work, Toadstool With Feather, hangs a counterbalanced feather off the edge of a toadstool disc balanced at its center, putting the "table" element itself in motion. Scrolling through Calder's oeuvre, it becomes clear that he used or revisited some mobile dynamics often. This is not one of them. I wonder why.
Calder/Tuttle: Tentative closed at Pace LA today, 25 Feb 2023 [pacegallery]
Calder/Tuttle: Tentative also closed at Kordansky today [davidkordanskygallery]