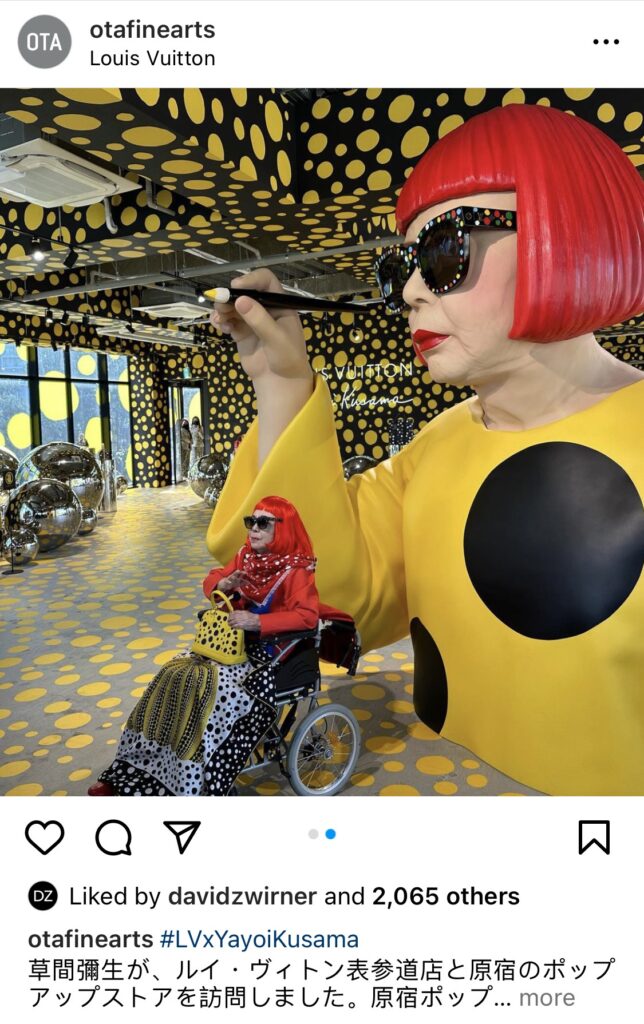 Let's stipulate that the artist either approves or at least knows about it. She'd certainly recognize it. But what exactly is going on with the Kusama X Louis Vuitton collaboration? To find out, I turned to an expert [whoever rewrote this December 2022 press release for Hypebae]:
The collaboration comprises ready-to-wear, bags, shoes, luggage, trunks and fragrances, set to launch in two distinct parts. The first drop is set to feature Kusama's "Painted Dots," "Metal Dots," "Infinity Dots" and "Psychedelic Flower" collections, with a second drop due to launch a few months later. The application of every dot on each piece has been personally overseen by Kusama, alongside many of the objects that make up the partnership, with a distinct focus on precision and detail.
OK, four motifs, hundreds of products [there are reports of 400+, but the collab website barely has 200 rn]. And "every dot on each piece has been personally overseen by Kusama" with "a distinct focus on precision and detail." She is known for her relentless artistic activity, so this makes sense, but Hypebae says that's not all:
The dynamic partnership is set to be celebrated through additional store window displays, anamorphic billboards and pop-up stores, alongside AR experiences and an XR game.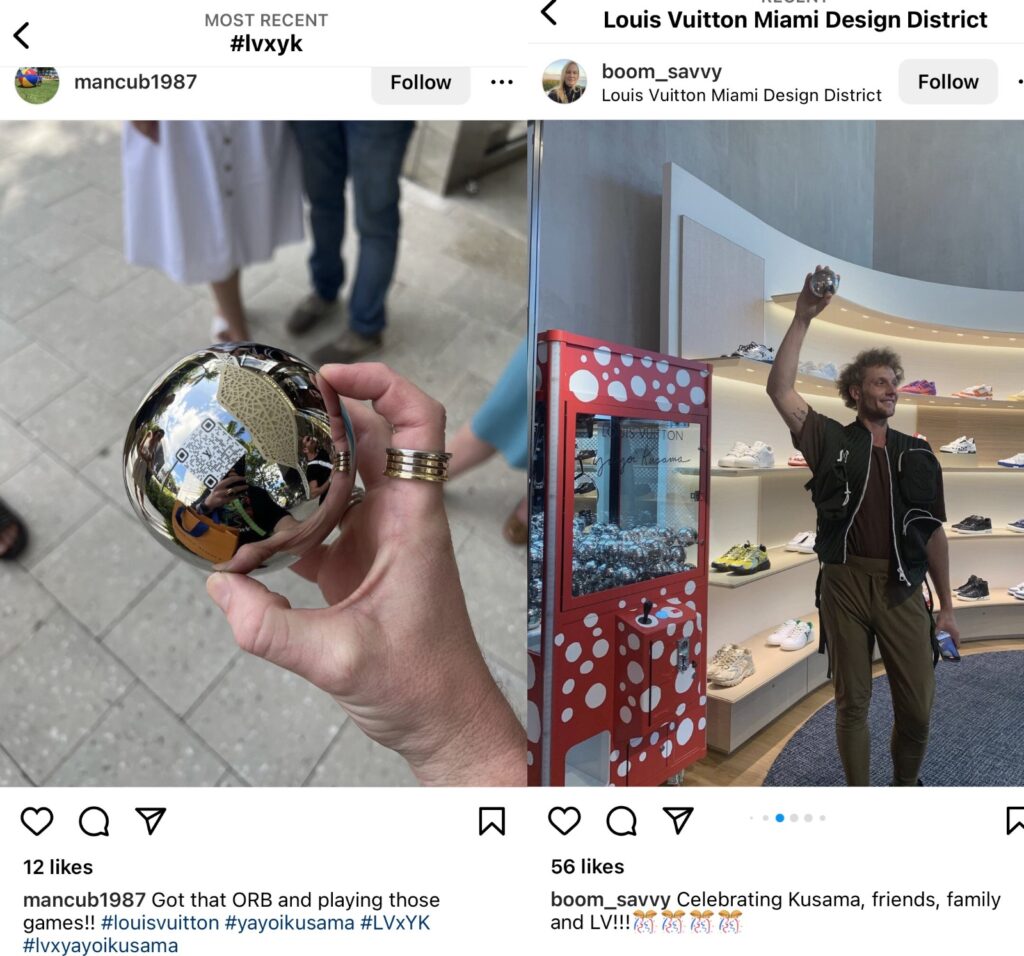 Is Kusama inspecting all these dots too? What about the flimsy screenshots of the LVXYK app, because it looks like they actually spent all the budget on this reel, posted by Kusama's cadet gallery, and anything left over was used to deepfake this reel posted by her primary gallery. In any case, after registering, you unlock virtual prizes on the app by scanning the QR code on the silver ball you extract from the claw machine, a dotted version of the one in a million suburban bowling alleys.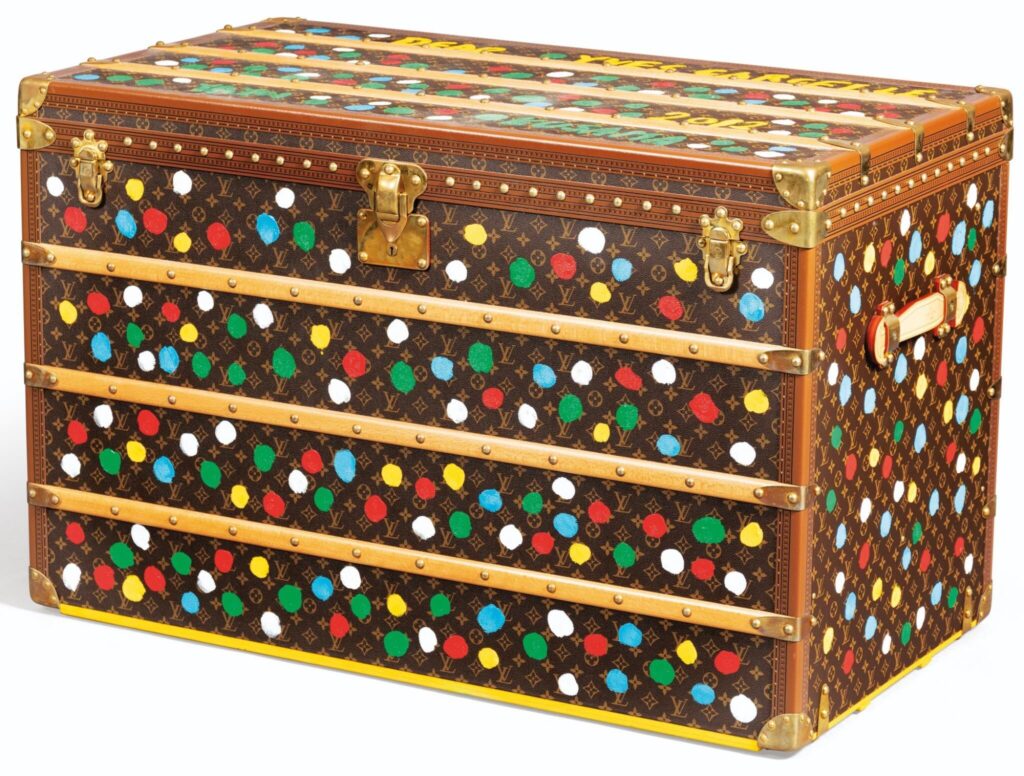 Oh wait, according to the Vuitton site, the 3D dots are handmade, certified single origin, and all come pre-inspected, because Kusama painted them in 2012:
Inspired by a hand-painted Monogram trunk by Kusama from the first collaboration, the motif represents the bond between the artist and Louis Vuitton. The dots in the collection use a technique that gives the pattern a realistic hand-painted effect. 

Inspiré d'une malle en Monogram peinte à la main par Yayoi Kusama pour sa première collaboration avec Louis Vuitton, ce motif symbolise le lien qui unie l'artiste et la Maison. Pour cette collection, une technique de sérigraphie innovante a permis de reproduire les coups de pinceau de Yayoi Kusama avec un effet en 3D très réaliste.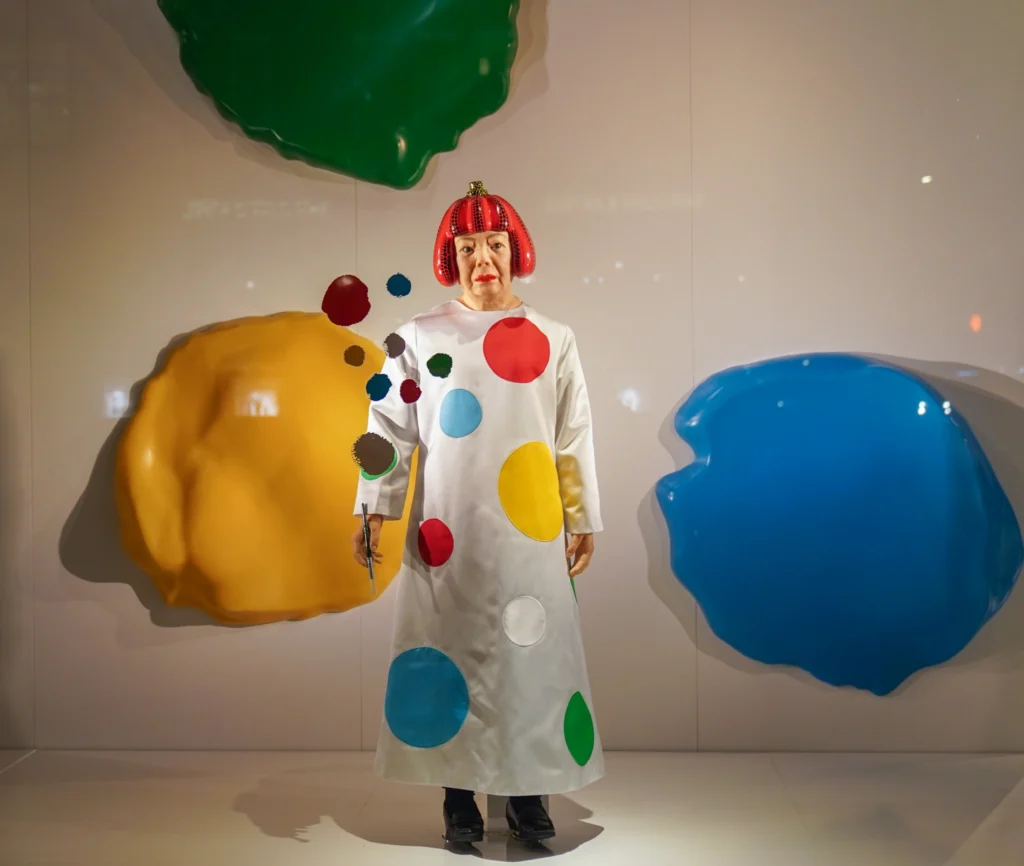 While I'm sure her attention to detail scales fully, Vuitton doesn't need the artist's active involvement, because they already got it, eleven years ago. [And then sold it off in December 2020?? How is it that the estate of longtime LV CEO Yves Carcelle, who died in 2014, auctioned this ur-trunk, and more importantly, did Arnault really buy it back for just EUR239,000?]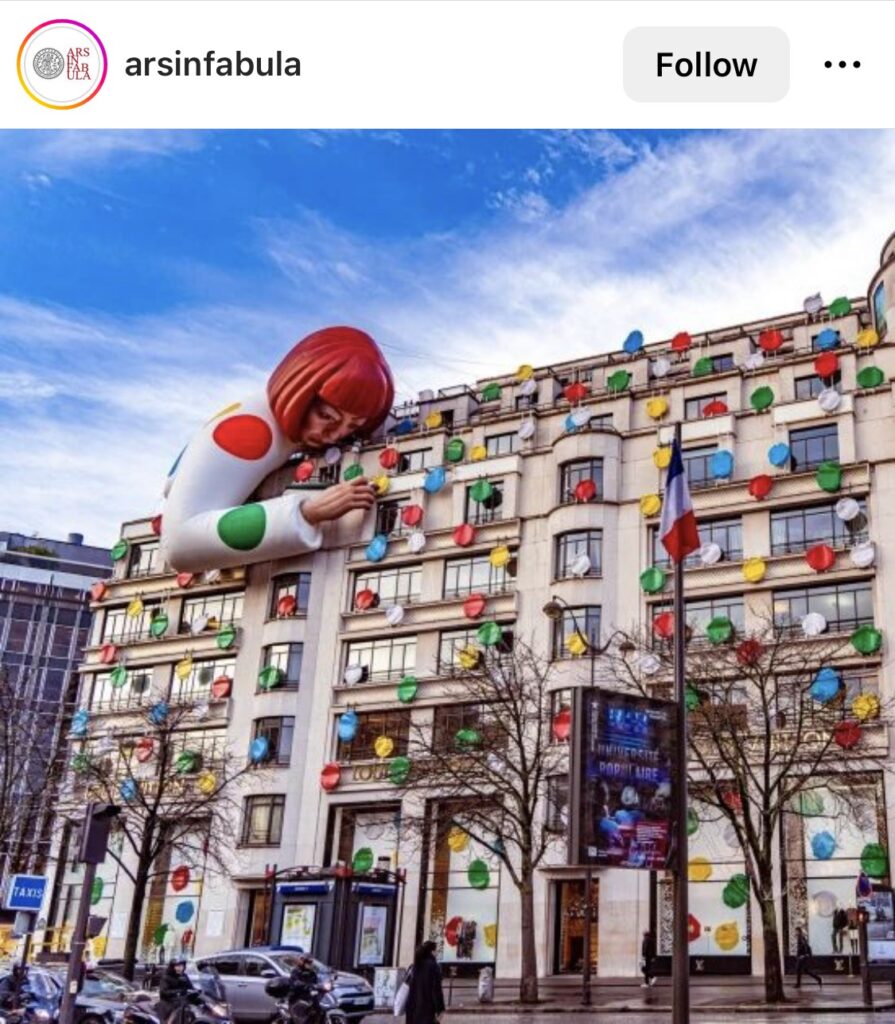 The painted dots on this trunk have been scanned and reproduced with simulated brushy facture, on the product, but also in the displays, and on the buildings. Hula hoop-sized, molded 3D dots fill the windows and cover the exteriors of stores including the Champs Élysées flagship and Harrod's. But let's get to the stores in a second.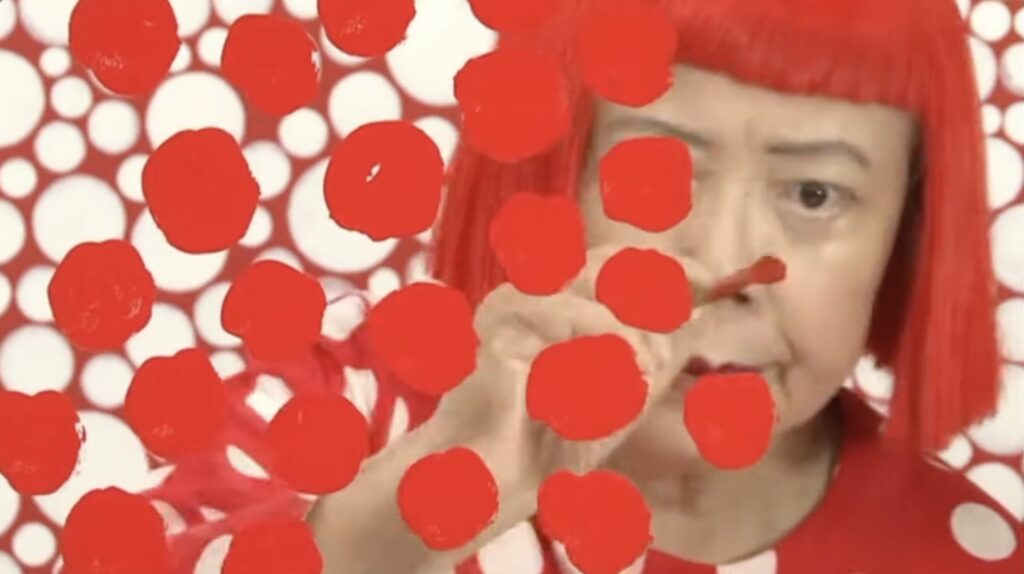 The campaign freezes time at the moment of the trunk's creation—and perhaps the artist's last actual active engagement with the Maison?—in 2012. Whether in CG, animatronic mannequin, or kaiju, the Kusama figures are all modeled on the 85-year-old Kusama who painted the trunk—and who had her face cast for the original static mannequins. Whether adapted from those molds or entirely digital, the robot Kusamas even animate the twitching lip tic the artist makes as she paints. The most likely source for this movement is the NHK/BBC documentaries where she was filmed hunched over a horizontal canvas while drawing and painting intensely. Thus these 2023 mannequins recreate, not Kusama herself, but the media image of Kusama. Ironically, this distancing makes them truer manifestations—in the artist's eyes, at least—of her own self, which only comes fully into being through publication, attention, and consumption.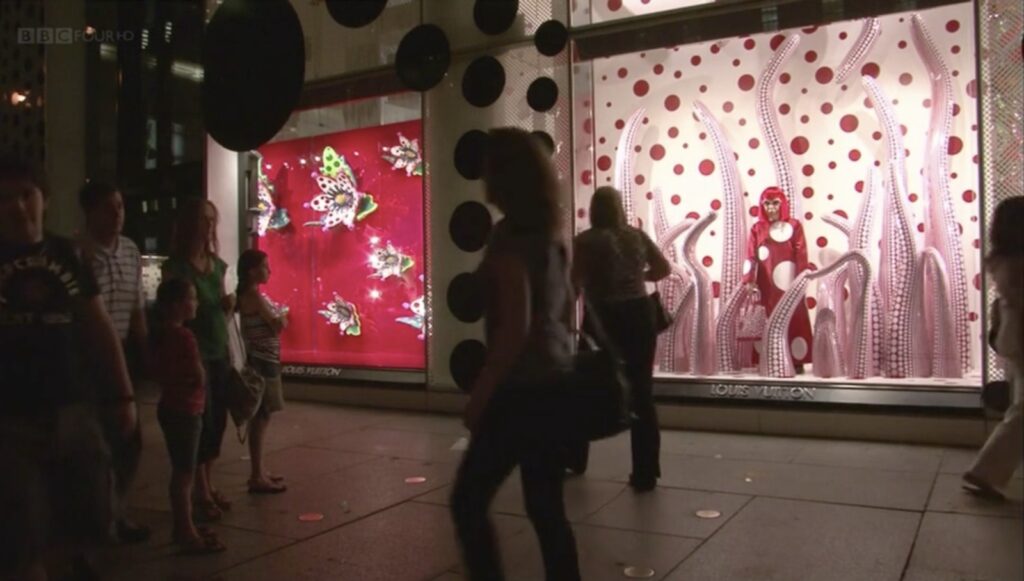 Now briefly about the dots on the buildings. "Polka dots had become a sort of signature for her," Andrew Solomon wrote in 1997, "and when she 'needed' to put them on things and when she simply chose to splash them around for purposes of self-aggrandizement, it is impossible to say." Never truer. If Kusama decided her compulsion to obliterate the universe through polka dots had to begin with every Louis Vuitton boutique, I'm sure we'd all line up for our sheet of stickers tonight. [Holy smokes, do you want to see this as badly as I do right now? The obliteration that would ensue…] But that's not what is happening, and the dot facsimiles are the least of it.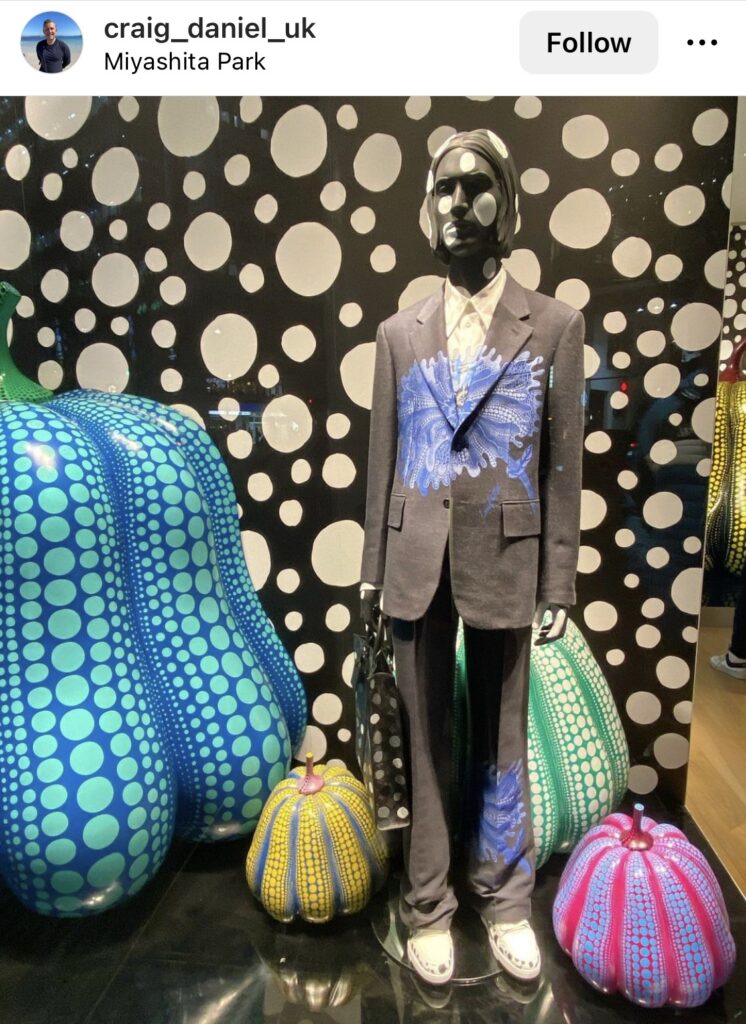 The interiors of Vuitton's stores are filling with Kusama-esque sculptural objects, and the interiors are being remade into Kusama installation works. Kusama's formal vocabulary of pumpkins, mirrored spheres, painted figures, and dots has been reconfigured and redeployed in infinity mirrored boutiques and pop-ups.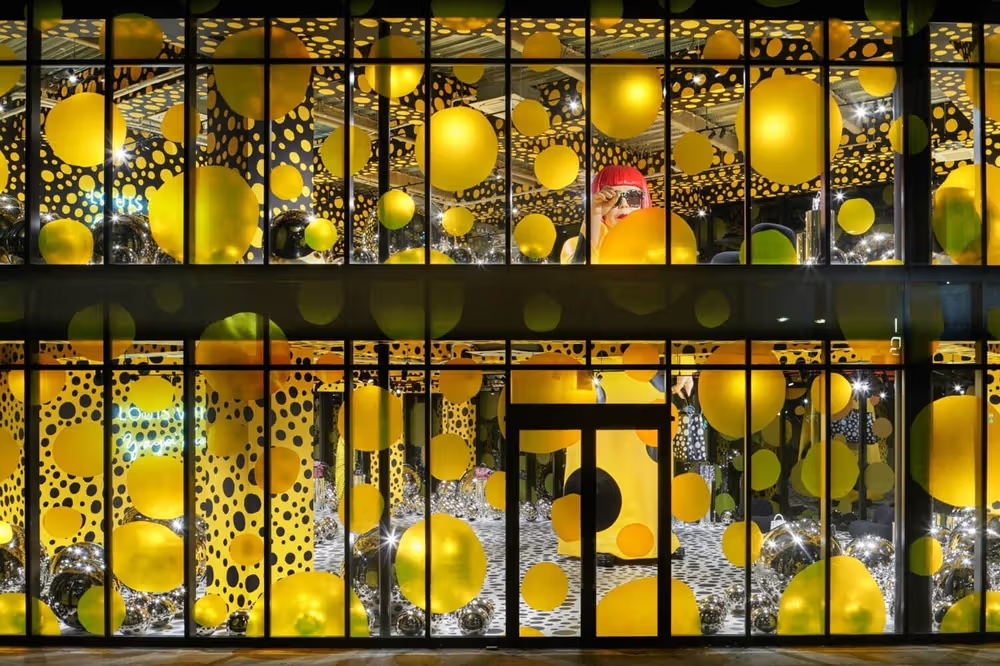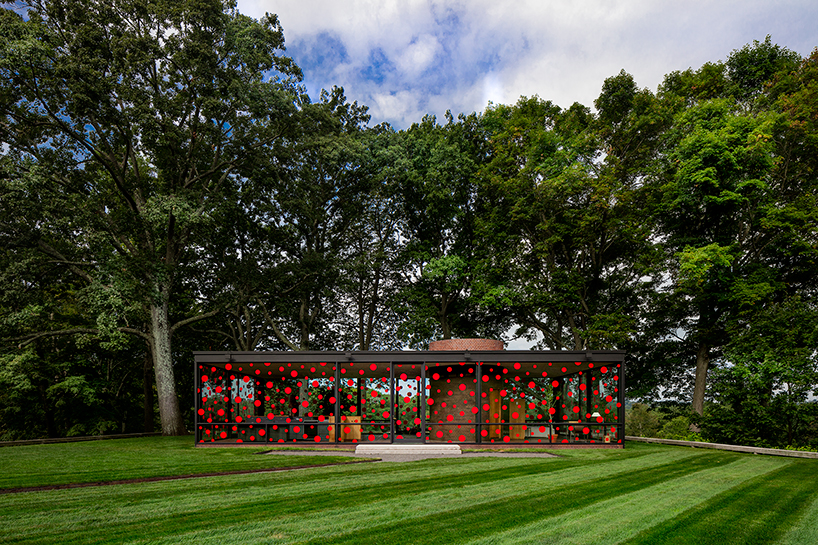 Shanghai's pop-up is basically a re-creation of Kusama's 1993 Venice Biennale pavilion inside a Hirshhorn in a pumpkin patch. What's being obliterated here is not the self, but the distinction between sculpture and display, art and retail, spectacular experience and spectacular experience with purchase.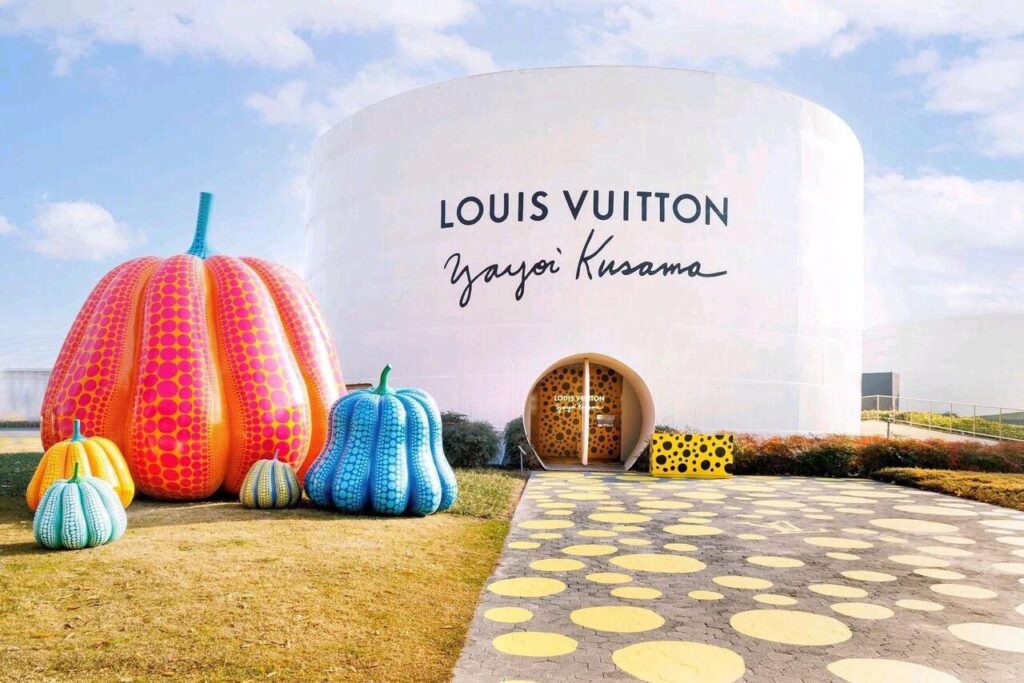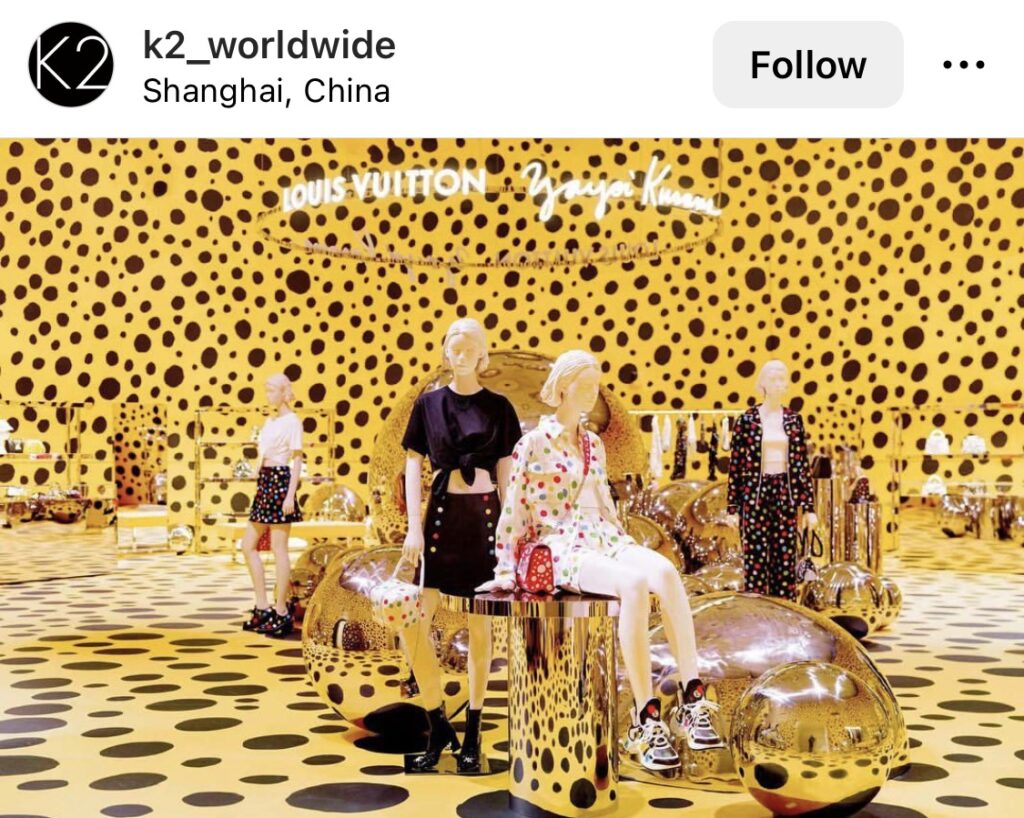 Whatever you would experience in a Kusama Infinity Mirror Room—which, let's be frank, for most people, is a quick selfie session—you can now experience at Louis Vuitton, without a 45-second time limit, and with a EUR9000 bag.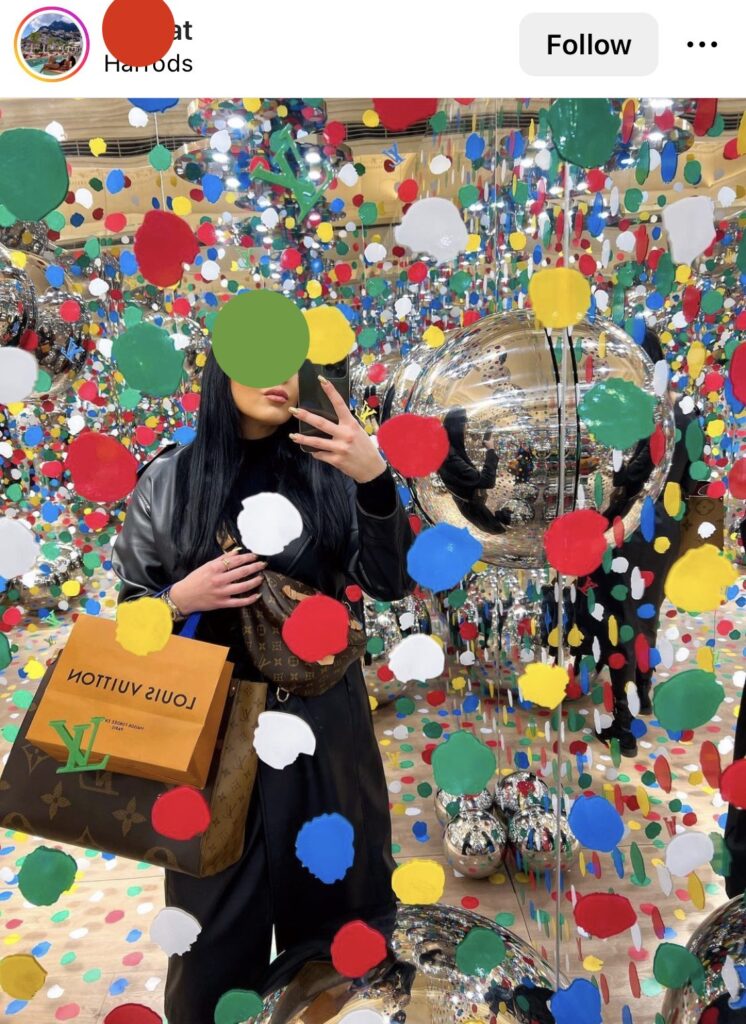 We must assume that the artist is cool with this, as far as she knows about it, but we can be damn sure Kusama's dealers are on board. Are her collectors and institutions?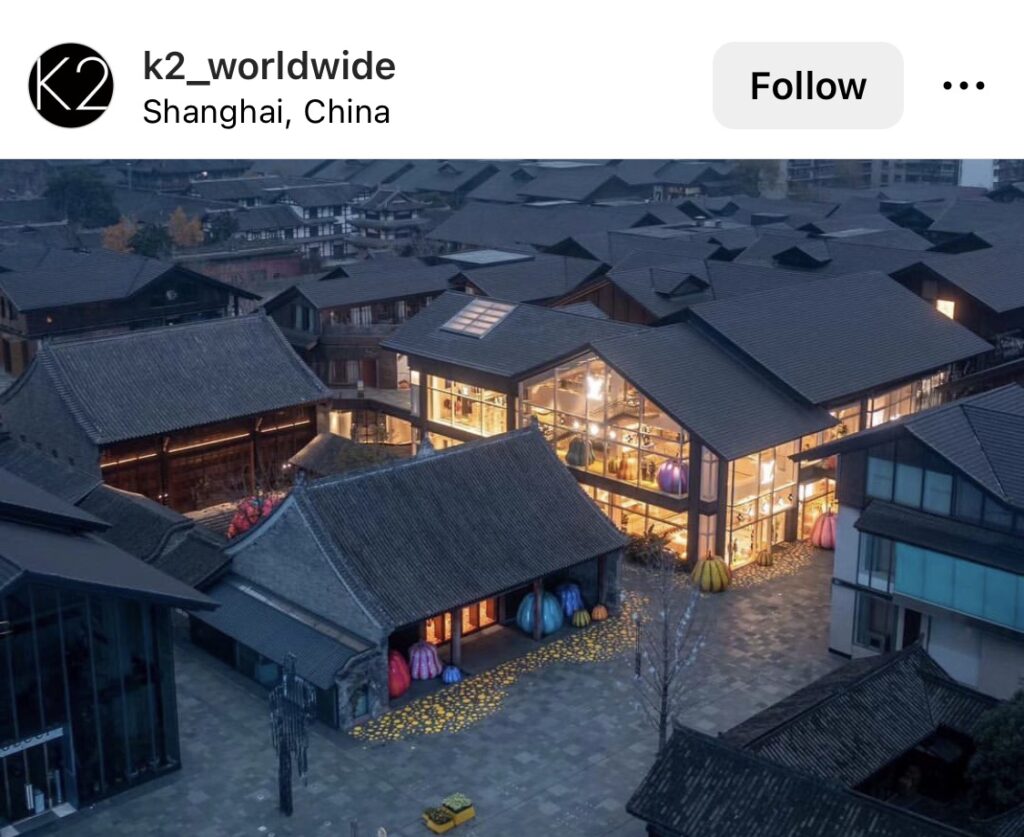 What does it mean for your waitlist Kusamas when a corporate marketing campaign fills the globe with extremely Kusama-ish objects and environments? Are your concerns about aura—or market dilution—assuaged by Hypebae's assurances that the artist is not only present, but hyper-present? We've come a long way from 2007, when MOCA installed a Louis Vuitton boutique selling OG artist collab merch at the end of ©MURAKAMI. Now, the gift shop isn't just in the Infinity Rooms; the Infinity Rooms are in the shop. The Infinity Rooms ARE the shop.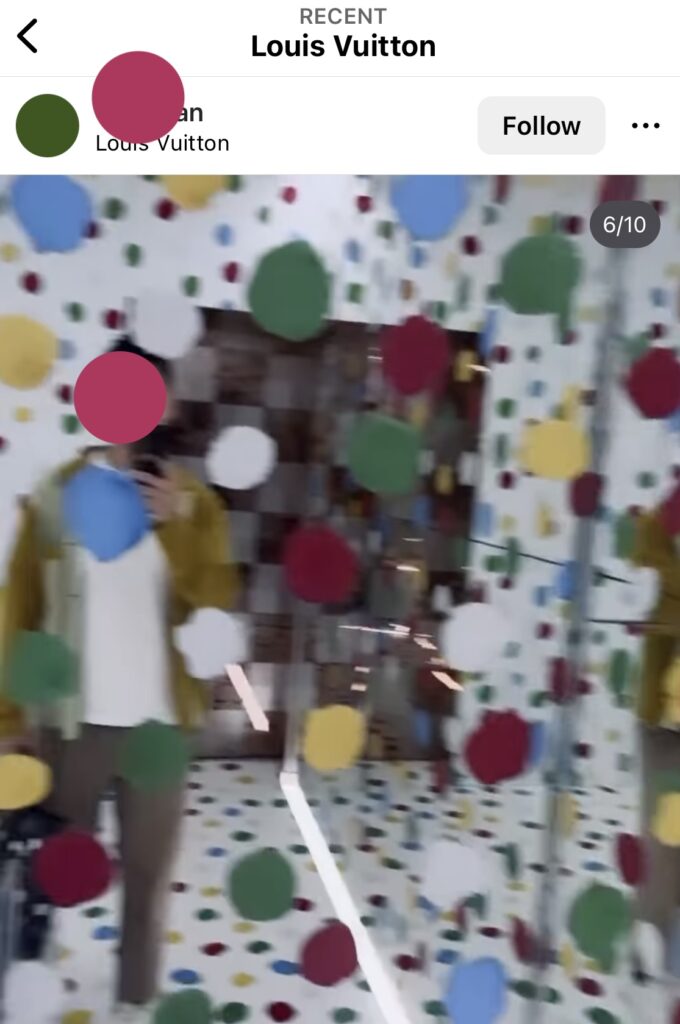 Maybe they always were? The transformation of art into experiential consumption inevitably puts it into competition with—and co-optation by, and collapse into—the enticing spectacle of retail. It's no surprise that artists made great window dressers. Looking at Vuitton's recent string of ever more dazzling Shanghai pop-up stores, Kusama not only fits right in, she barely stands out.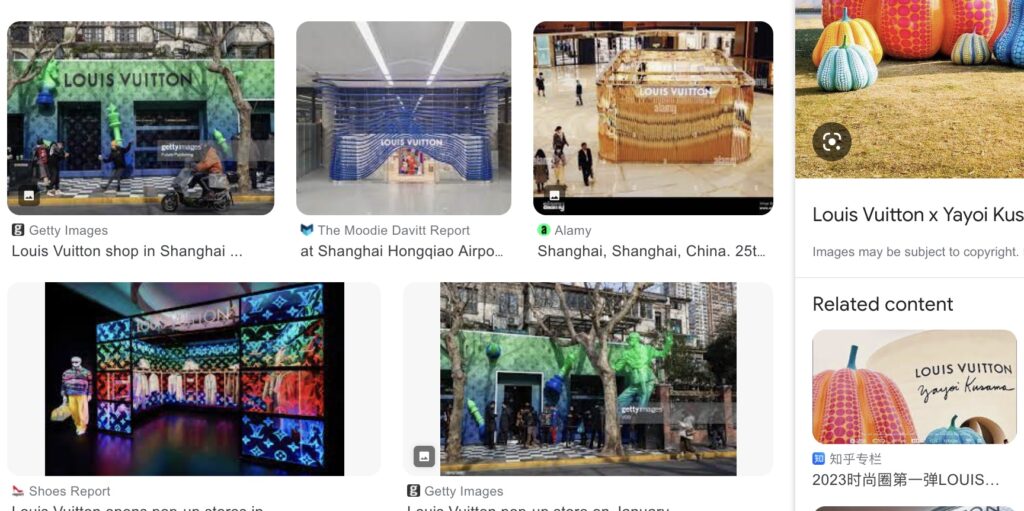 By next season, Vuitton will be on to something else. But from now on, every time someone goes into a museum's Kusama installation, or takes a selfie in their crowdfunded Infinity Mirror Room, they will be having a residual Louis Vuitton Branded Experience.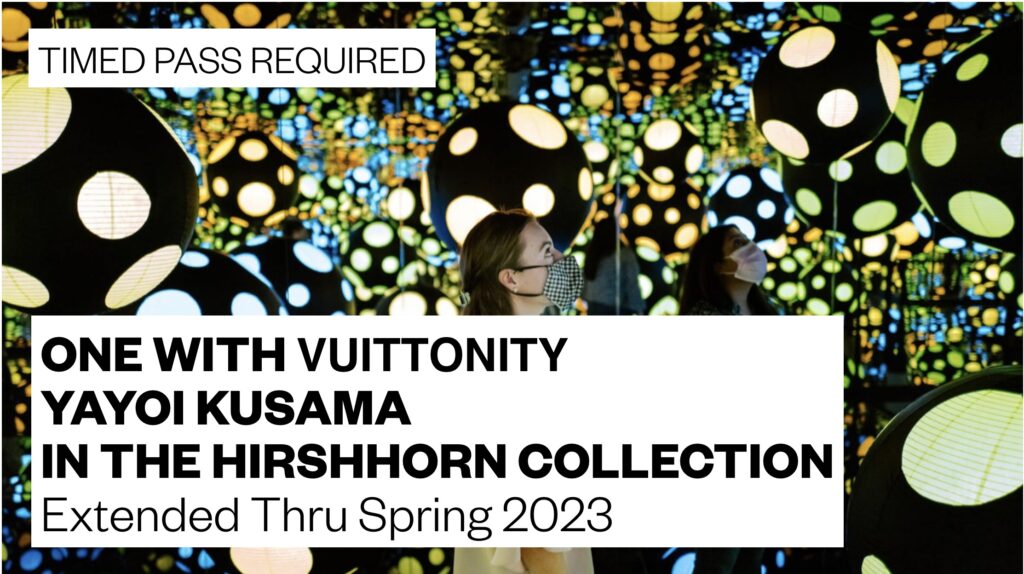 While not universal, I can easily imagine some museum directors and curators who are giddy at the prospect. That halo effect may not last forever, but—and I obviously wish her a long, healthy, and happy life—it'll certainly outlive the artist herself.