"I have been long inquiring whether any remenant of the house at Walden remained, feeling that it would be a choice relic of axe strokes that were literally heard round the world," wrote Yale professor Henry Seidel Canby in 1932.

Yale's Henry David Thoreau Collection is small but intense. Of sixteen items, seven are holographs, texts written in the author's hand. There are pencils made by Thoreau's father, and the label for a pencil box they might have c piome in. There are a couple of surveys the author made as part of his dreaded work. And there are two pieces of wood and two nails, which are reported to come from Thoreau's cabin at Walden Pond. They were donated by Professor Canby.
There are two documents in the Collection pertaining to the material history of Thoreau's cabin: One is the 1932 provenance statement accompanying the wood and nails by Canby, a noted Thoreau fanboy and biographer [who was called the "dean of American literary critics" in his bio in The Saturday Review, which he founded and edited for 12 years.] The other is a 1949 essay/survey of the cabin's post-Walden history which its authors, two then-students, Francis Shelden and G. Peter Shiras called the first "exact, authenticated history of the Thoreau hut."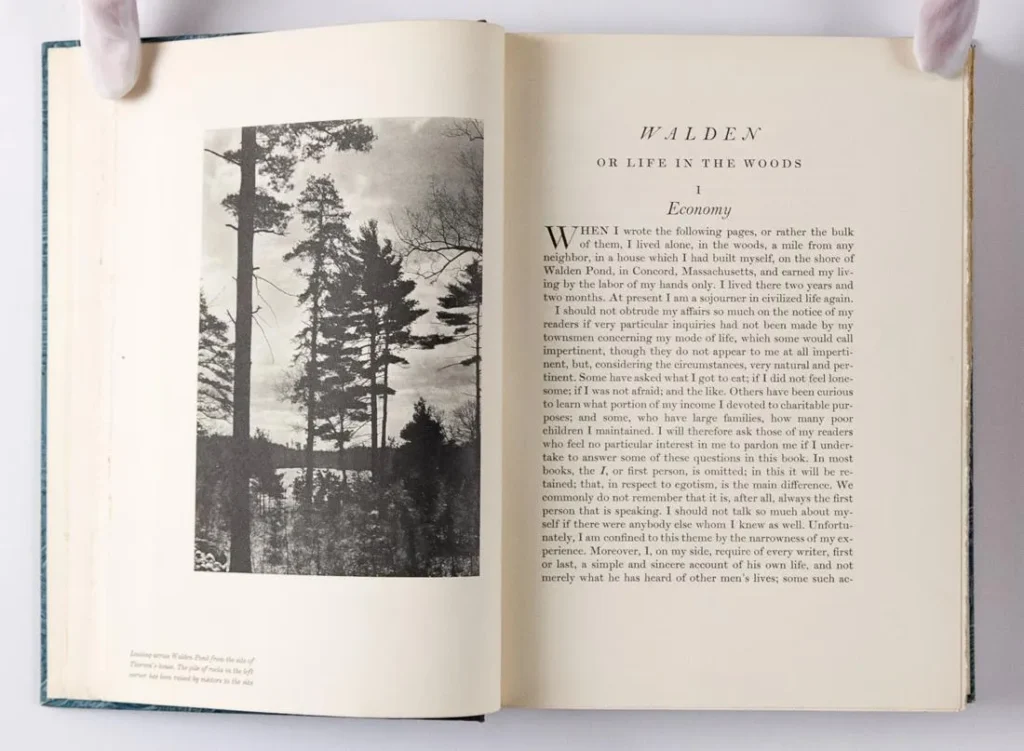 The latter text, was informed by, advances, and in some ways corrects the former. In the intervening years, Prof. Canby published a limited edition of Walden with photos by Edward Steichen [above]; a new collection of Thoreau's writings; and a new biography that ended up turning a Concord, Mass. woman's garage, erroneously, into a Thoreauvian pilgrimage site.
Besides these Yale men's seemingly breathless embrace of Thoreau's mantle of rebellious intellectualism, I am fascinated by this moment of historical inflection. Canby's romance with Walden began while people who knew Thoreau were still alive, when historians could collect memories from people with lived experience, and "relics" of what had happened. [The Concord garage Canby wrote about had been built by Mrs. Eva Dodge, the mother-in-law of a Yale classmate, Clarence Day, Jr., who previously also owned the farm where, after multiple moves and owners, Thoreau's cabin had come to rest in the mid-19th century.]

Shelden and Shiras, meanwhile, missed all that. They relied on archives and archaeology, following a local amateur who was the first person to actually identify and physically investigate the two sites of Thoreau's cabin on Emerson's property. Then they fact-checked the rest, tracing some of Thoreau's rafters to a barn, and not to the garage. Mrs. Dodge had just kept a couple of leftover pieces in the garage, one of which went missing, and the other which she cut in half, giving a section to Canby. She heard he'd made an inkwell out of it. Now if you nice boys would please convince the Concord Antiquarian Society to stop sending tourists to my garage…

I've put in a query, but it is not clear when Canby donated the wood. Or when he cut his two-foot piece in two. Maybe he did plan to make an inkwell from it.
Unlike George Washington's coffin, whose fragments circulate widely, I can find no trace of other pieces or "relics" of Thoreau's cabin. Mrs Dodge's other beam and a half might be out there, but how would anyone know? Might it have a handwritten note from the period? Might its historic significance be written right on it, like with one of Canby's fragments?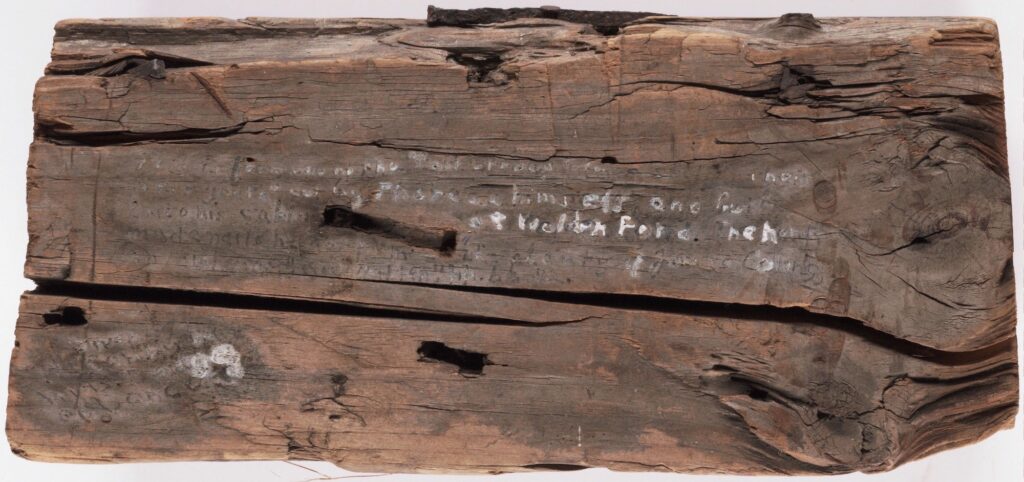 So far I have not found any discussion of the incised? and painted? lettering on the wood:
This is from one of the [tall narrow?] into[?]
cut by Thoreau himself and built
into his cabin [nail hole] at Walden Pond. The hand
made nails he got from the shanty of James Collins
[??????Walden?]66-72[?]
There is another text on the lower left corner that I can't make out at all.
Canby held up Thoreau as the "arch example" of "a man who believed in doing what he wanted," unfettered by the strictures of others' society or the expectations of work. Thoreau's was "a way of life," Shelden and Shiras wrote, "that has since led thousands of young men to desert cities, colleges and farms for the simple existence of life in the woods. A few have found what they were looking for, others have returned disillusioned and bitter from their experiences."
It's impossible to read these words and see these photos of relics in the round and not think of another young man who absorbed Thoreau, deserted society, and built his own cabin which got photographed on each side. But Ted Kaczynski was from Harvard.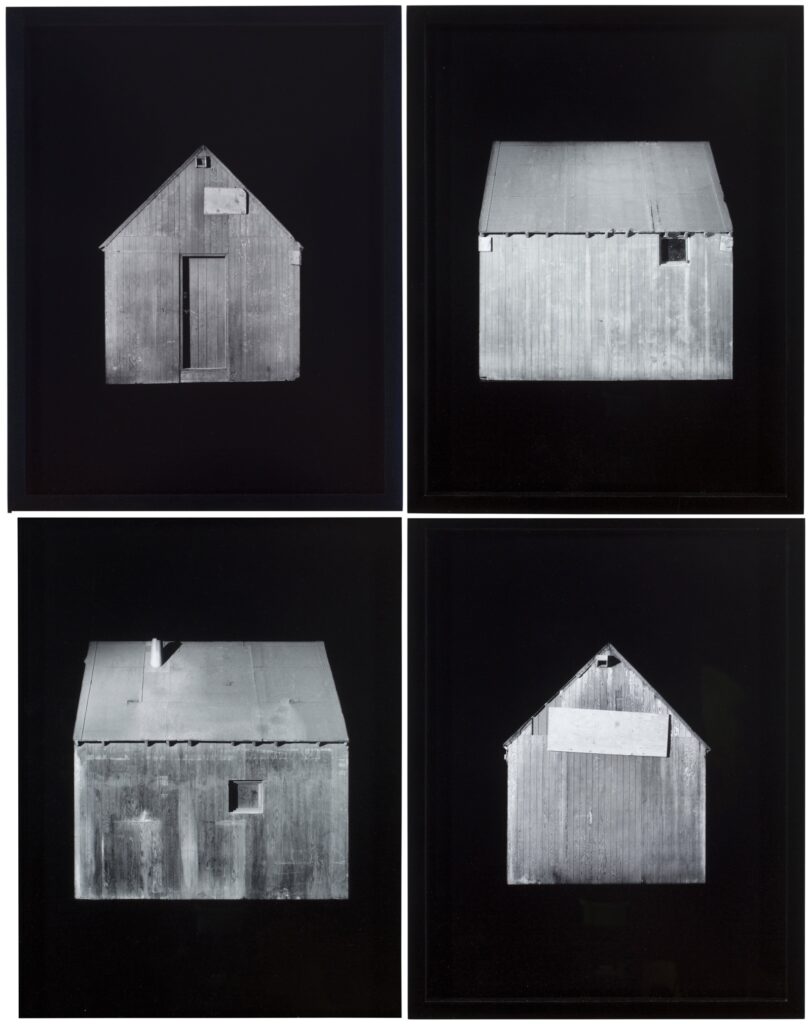 For Yale's part, Canby died a legend and a scholar. Shiras became a beloved teacher, an honorable profession unlike his namesake, who served on the US Supreme Court. And Shelden? Turns out the heir to a Detroit manufacturing fortune did indeed move to the woods, in a way. In the 1970s he bought a private island in Lake Michigan where, in collaboration with a local priest, he set up a bogus youth camp as the front for an international child porn and pedophile ring. Facing arrest, he fled to the Caribbean on his private plane, and died rich and beyond extradition in Holland.
To say this dark Harvard-Yale rivalry was not what I expected to find when I began researching the wood scraps from Thoreau's cabin would be an understatement.
Previously, related: A Walking Stick Frederick Douglass Gave To John Brown Would Be Quite A Find
Untitled (George Washington's Coffin), 2016