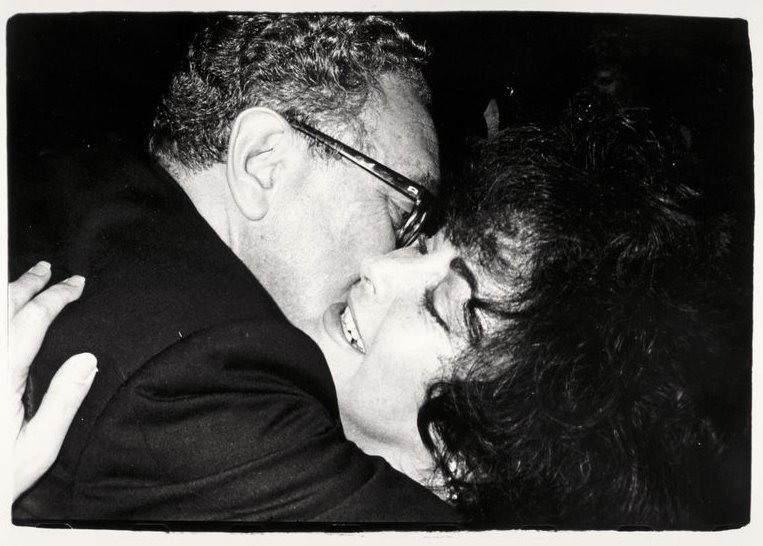 Michael Lobel posted this cursed image on social media the other day.
While he was visiting Washington DC in 1976, Andy Warhol photographed Henry Kissinger accosting actress-turned-icon-turned-DC wife Elizabeth Taylor Warner, who was then married to Virginia Republican senator John Warner.
In 1976 Kissinger was Gerald Ford's Secretary of State.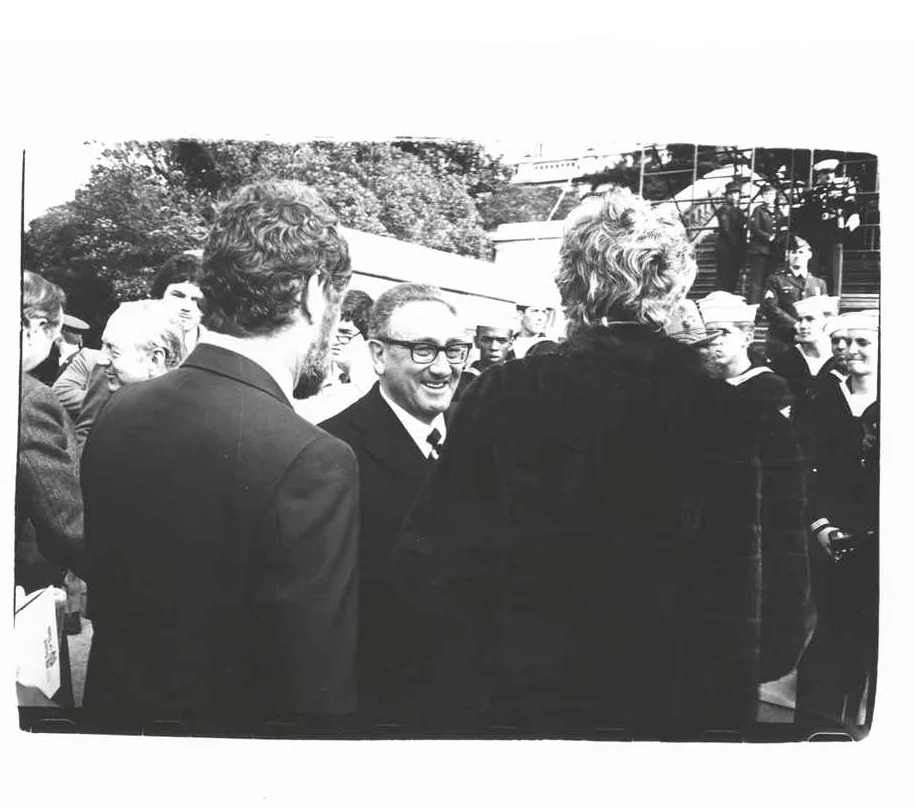 It's not clear what the occasion was when Warhol took this picture of him in 1977, an 8×10 print of which didn't sell at the Warhol Foundation's 2014 stoop sale. The combination of leaves on trees and only one coat—and Kissinger's smile—makes me think it's not Jimmy Carter's January inauguration. Kissinger left government service to set up his lobbying and secret investing with the CCP businesses [which only became public after he was criticized for supporting the Chinese government's massacre of student protestors in Tiananmen Square in 1989.]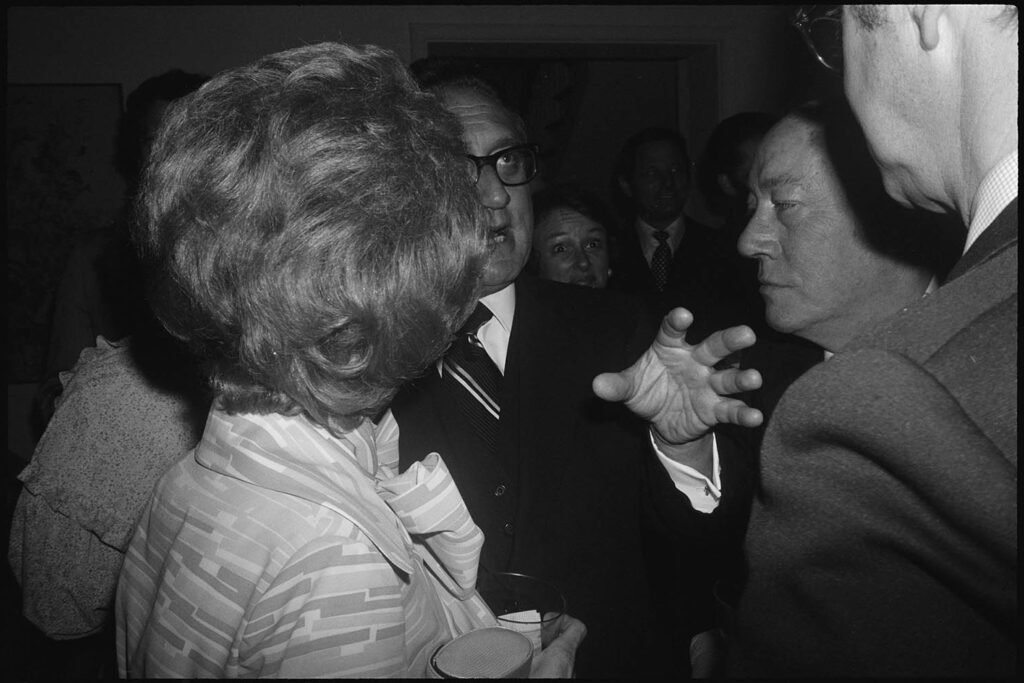 In 2019 Warhol sidekick Bob Colacello showed this 1976 action pic of Kissinger at Vito Schnabel, and talked about it in Interview Magazine, owned by Trump childhood friend and supporter Peter Brant. I feel like Colacello's vapid read on glamour, money, and the allure of proximity to political power captured the essence of his fascination with Kissinger—and Warhol's. We tend to want to think there's a level of criticality at work, that Warhol's multi-dimensional art chess lays bare the structures and exposes the cravenness of society. But then Colacello hollows it out by saying something absolutely ass-kissing like, "It was always a privilege to be at a dinner party in New York, where he'd hold forth on the state of the world because he's so brilliant and logical and rational."
Warhol published the picture of Kissinger macking out on Liz Taylor in 1980 as one of a dozen photos in a masstige portfolio (edition 250, can you imagine?) titled simply, Photographs. The Art Gallery of South Australia acquired a set in 2020, amazingly, and put it online. I guess it does provide something of a window into Warhol's celebrity-chasing world from 1976-79.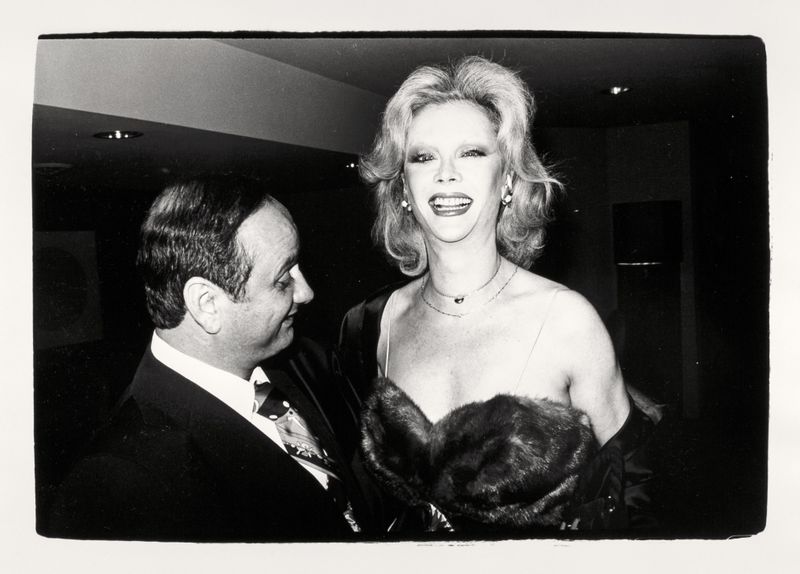 The other most significant image, politically, at least, is of short, corrupt DC party king Peter Malatesta staring at the fur-wrapped cleavage of minor Belgian actress Monique van Vooren.
Malatesta was a Hollywood flack and Bob Hope's nephew, who came to DC as an assistant to Nixon's Vice President Spiro Agnew, until Agnew had to resign for bribery. He clawed his way, as he put it, from political assistant to socialite by attending only the best embassy parties (Iran, Jordan), and then opening a private club backed by secret South Korean agent Tongsun Park. [Park bribed several US congressmen in the 1970s and 80s, then went on to bribe UN officials and broker secret oil-for-food deals with Sadaam Hussein.] It's Kissingers all the way down.
[later tonight update: I did not know when I posted this that the 100th birthday celebrations for Kissinger continued tonight with a private party at the New York Public Library attended by the current Secretary of State, and many more famous New York friends. Vox senior foreign policy reporter Jonathan Guyer, the only journalist to find out and cover the event, reported the arrival of guests live on social media. According to at least one guest, the party is hosted by Henry Kravis.]