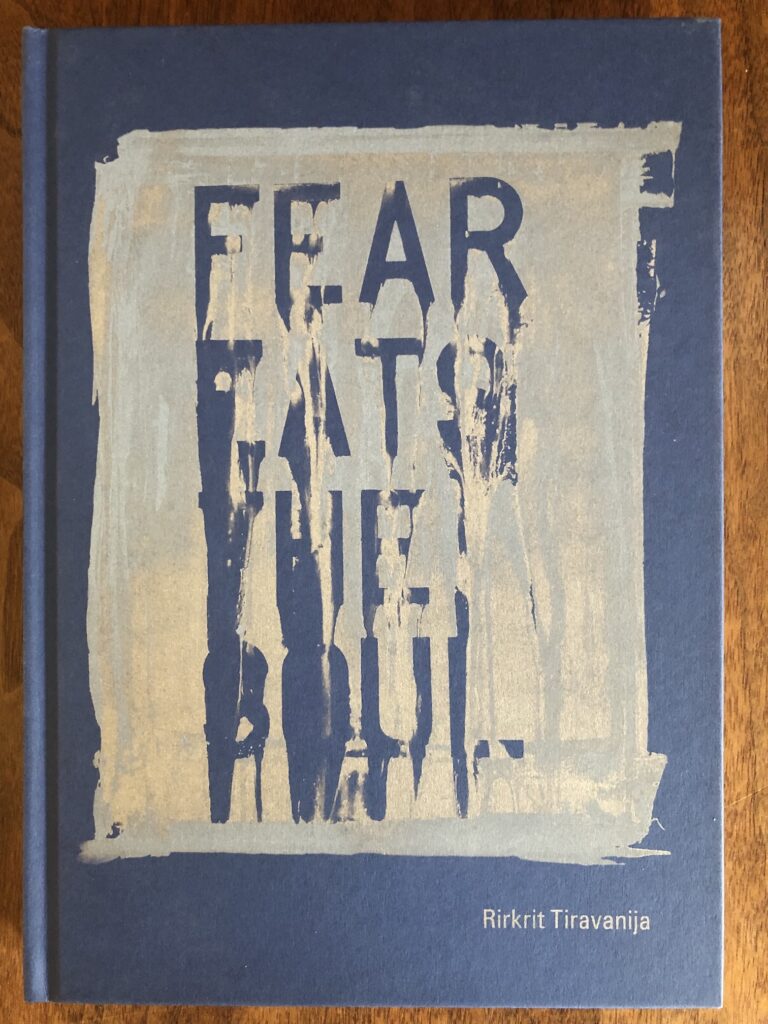 "A rotating menu of soups served to Glenstone's visitors" is a phrase that sticks with me from the text Glenstone director/co-founder Emily Wei Rales contributed to Fear Eats The Soul, a 2023 publication from the private museum in Potomac, Maryland.
In 2011 Rirkrit Tiravanija's exhibition of the same name at Gavin Brown's Enterprise did not seem like the type of project to be easily collected. When the whole thing turned up in the older, smaller private museum building at Glenstone in 2019, I had to recognize "easily collected" was relative.
This book is a documentation of Glenstone's 2019 installation of Fear Eats The Soul, including those elements of it which went unrealized [a performance of Rirkrit breaking through a cinderblock wall to reveal a stripped down Peugeot] due to the early pandemic shutdowns of March 2020. The full-scale plywood recreations of Gavin's original Broome St. storefront were intact. Rather than leave their Gwathmey building unsecured and open to taggers, like on Greenwich St., the Raleses invited graffiti artists from the DMV to execute work in the space. Rather than sell T-shirts screenprinted to order—with proceeds paying the art students Rirkrit recuited for the show—Glenstone offered T-shirts in exchange for donations to local non-profits.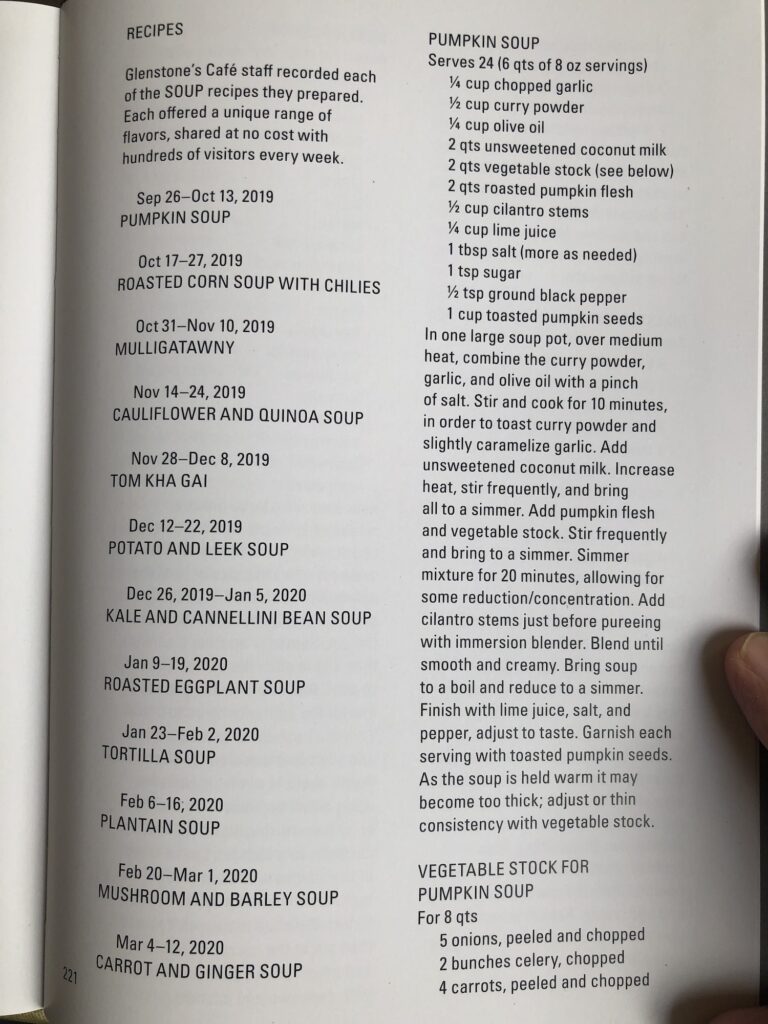 And then the chefs at the café developed a rotating menu of soups to serve to Glenstone visitors. A dozen soups, changed every two weeks, no repeats. Did they get to them all? The book doesn't say. And did anyone even know? Even a year after reopening, reservations for Glenstone were extremely limited and booked immediately, three months in advance; it would have been exceptional, if not functionally impossible, for a member of the public to discover even a couple of the soups. The variety operates, then, as an element of hospitality, important to the provider, but invisible to the recipient.
This is the most notable aspect of the book, in fact, that its focus is on the experience of working with Rirkrit and his work. Rales' prefatory text is not unusual, and though Gavin's almost philosophical reminiscence on encountering Rirkrit's work is low-key wild, including a text from the artist's dealer is not.
The core of the book, though, are the reflections and critiques of nine guides, Glenstone employees who "performed" Rirkrit's piece as part of their dayjob. Their insights range from the impact on their own art practice to the psychological shift between working in a restaurant and serving art soup for free. Several also comment on the societal complexities of Rirkrit's public-dependent work existing within the private preserve of the billionaire's museum that employed them.
And which appears to have kept employing them during the COVID shutdown. Though it is not described as such, this book feels like a pandemic project, reflecting the uncertainties and resilience of a moment where an artwork and an institution predicated on one mode of public had to adapt to another. And so the choice to include recipes that make 2-10 gallons of soup serves, not just as documentation of a hundred people eating together, but of the possibility of it happening again.
FEAR EATS THE SOUL, 2023, is currently available at Glenstone, and will be released elsewhere in January 2024.