However much you love this c. 1650s painting by Michael Sweerts, you can't love it as much the Brussels painter, who lived for a time in Rome, loved to paint paintings of paintings, and paintings of himself painting paintings. And who loved to paint some things in shadow next to others in bright light.
This previously unknown painting shows a man who looks like the artist holding a painting of the Virgin in Prayer. The way the man's hands are lit, along with the painting, while he is mostly in shadow, is slightly different from the way the Virgin's hands and face are lit. I imagine he was very pleased with himself for this.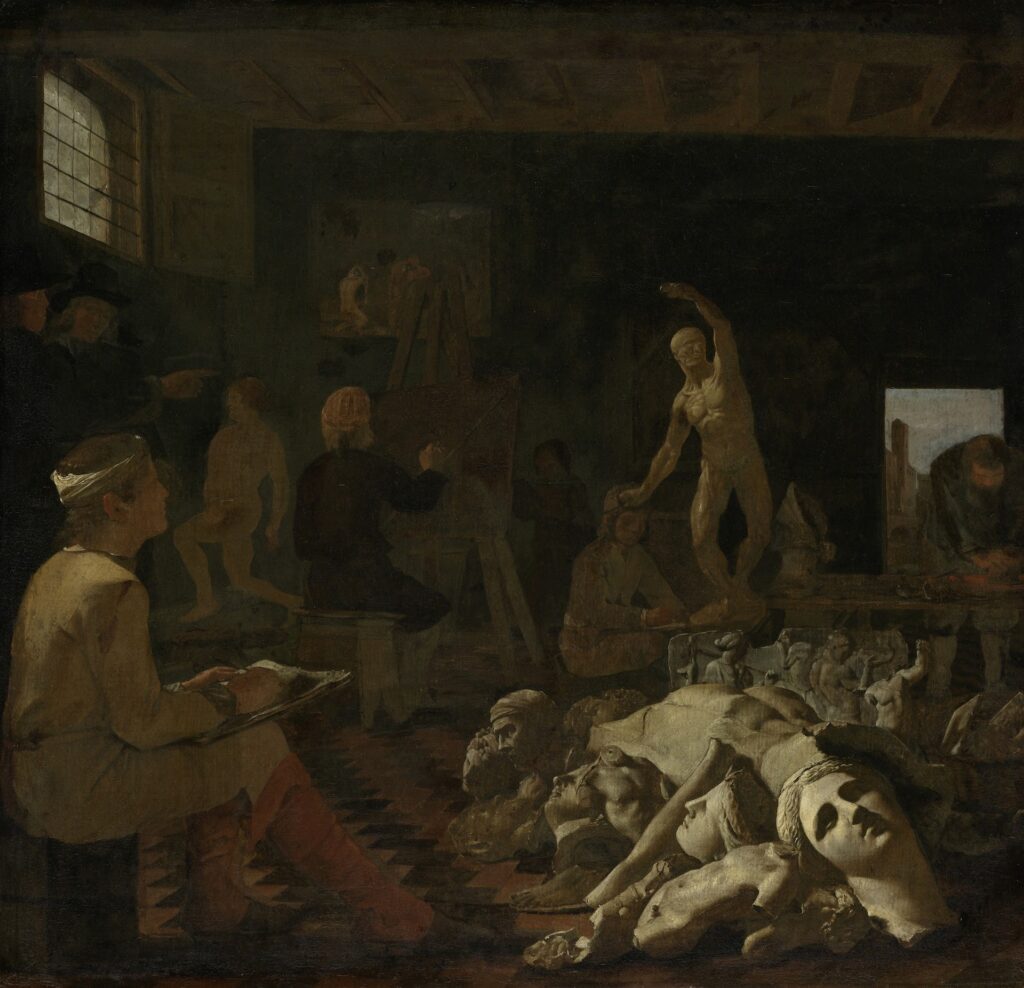 Sweerts painted his studio several times, which gave him the chance to paint himself painting, as well as to depict some other paintings. In one painting, at the Rijksmuseum, from his Roman sojourn, Sweerts depicts a superbright pile of antique sculpture fragments in the foreground, himself painting from a model in the middle, and in the dark, upper reaches of the background, his own painting of a wrestling match.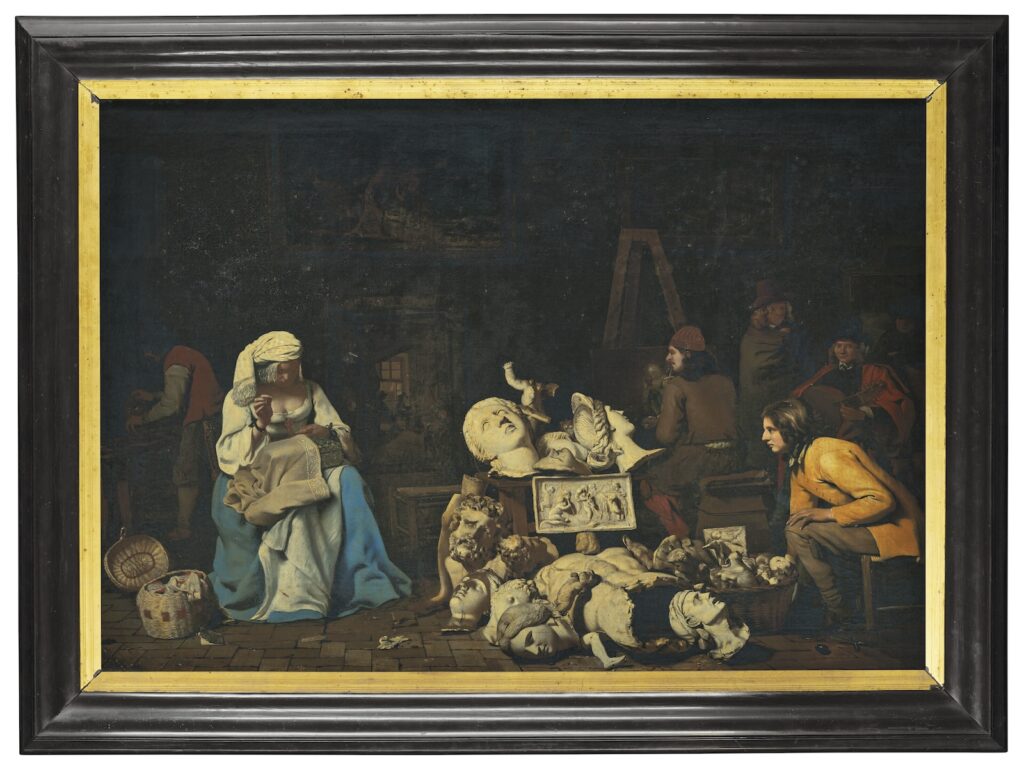 Last summer an even earlier Artist's Studio painting by Sweerts turned up at Christie's, and made quite a ruckus. It is apparently extraordinarily untouched over the centuries, and so it'll be interesting to see if a cleaning will reveal more. And I realize that copies of this work exist, and so the central background is known to be a doorway and a curtain, which reveal another artist's studio, with another artist painting. But with its scale and sense of depth in its current state, at least, I can't help but also interpret it as a painting. Of a painting. Of a painter painting.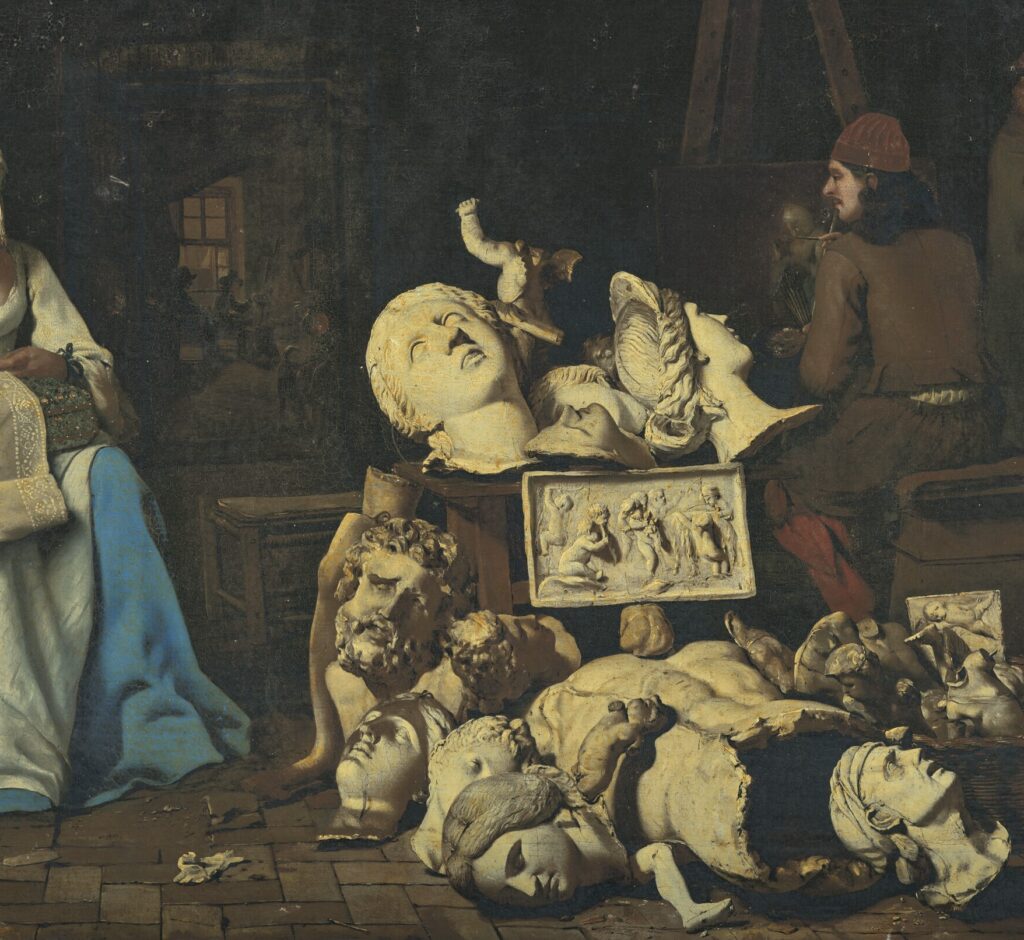 But my favorite thing about this, which I do hope will survive any cleaning or conservation, is the multiple lighting situations on this pile of antiquities. The head at the artist's elbow, and those three heads on the floor at the left edge are all lit by different sources, and at different temperatures, than their surroundings. Now, the way they look photoshopped in reads as a feature. The way they were possibly recording the light at the time each object was painted feels like a conceptual gesture that I could imagine Sweerts enjoying.
And to close a loop that didn't exist until now, the same Christie's sale next month includes another Sweerts: a painting of a woman working on fabric on her lap. One is called a seamstress, another a lacemaker, but they're both doing the same thing. As, apparently, was Sweerts. [s/o to art historian Jesse Locker, via bluesky]
Previously, related to other unknown paintings that turned up in the same sale at Christie's: New Fra Angelico Just Dropped
Previously, related to, idk, wildly contemporary-feeling old paintings that turned up at Christie's: Pitochetto Painting on Glass