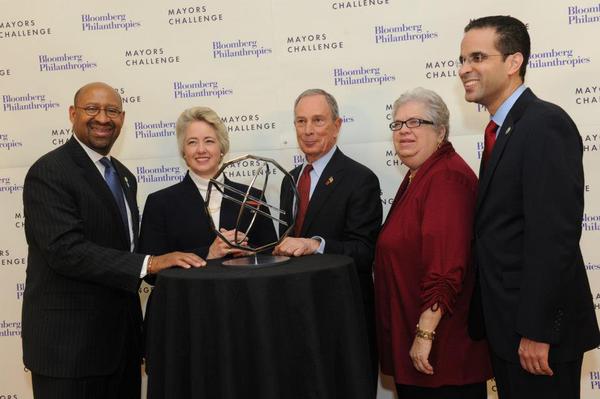 image via Bloomberg Philanthropies' Facebook photostream
Congratulations to the mayors of Philadelphia, Houston, Santa Monica, Chicago [not present] and Providence for winning Bloomberg Philanthropies' inaugural Mayors Challenge Prize for Innovation Award, thereby securing grants of five or one million dollars for your city's innovative project, plus this wonderful trophy, created exclusively for the Mayors Challenge Prize by noted Icelandic/Danish artist Olafur Eliasson.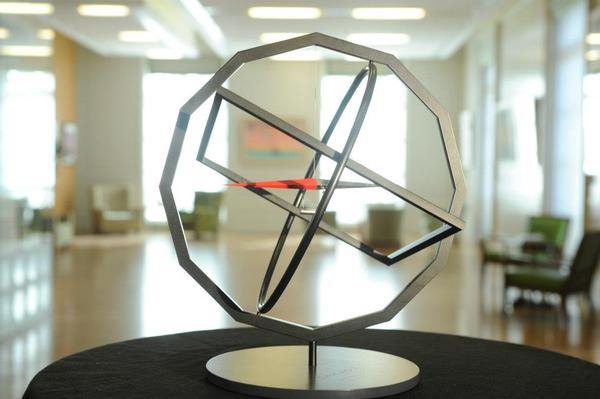 image via Bloomberg Philanthropies' Facebook photostream
As the LA Times' Christopher Knight reported, the grand prize winner, Providence's stainless steel trophy will be shiny, while the other winners' trophies will have a blacker finish. All will consist, however, of a compass suspended from a circle nested in a square nested in a dodecagon, which represent, respectively, movement toward a common goal; the angle of rotation of the earth; a map; and the demarcation of time in hours and/or months.
Olafur's Mayors Challenge Prize is the slow-ripening fruit of Bloomberg [Mayor's and Philanthropies'] collaboration during the Public Art Fund-sponsored NYC Waterfalls project. It joins a rarified group of trophies designed by artists of the day, including:
Lawrence Weiner's adaptation in 2012 of his 2004-6 sidewalk installation Bard Enter for the trophy accompanying the $25,000 check that accompanies the newly endowed and renamed Center for Curatorial Studies Bard College Audrey Irmas Award for Curatorial Excellence.
And Jenny Holzer designed Human Rights First's Sidney Lumet Award for Integrity in Entertainment, which was presented in 2011 by Phillip Seymour Hoffman to Michelle and Robert King, the creators of The Good Wife. Here she is at the gala with the Kings and The Good Wife co-star Josh Charles. Not clear what the scrolling truism is. Maybe, "Entertainment industry's self-regard comes as no surprise."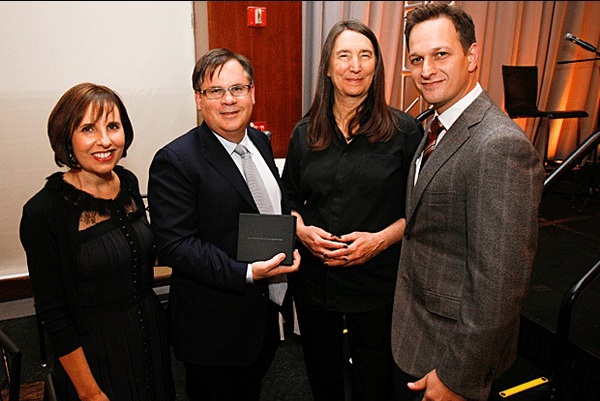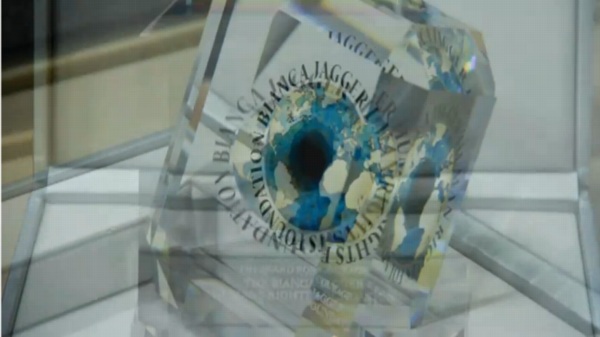 image: swarovski.tv
Also in 2011: Marc Quinn created The Bianca Jagger Foundation For Human Rights' "Award For Courage," in collaboration with Swarovski. It was a painting, which he did for the Foundation's logo, which was used in the award. The inaugural recipient, Ai Weiwei, was unable to attend the gala, held at Phillips de Pury in London, where donated artworks, including Quinn's painting, were sold to raise million of dollars. UPDATE: Quinn also designed the "Award For Leadership," whose recipient, Chief Almir Narayamoga Surui, Chief of the Gamebey Clan of the Suruí People of Rondônia in Brazil appears also to have been unable to attend what looks to have been a dazzling, self-funding evening.
Is this a flurry of artist-designed awards? Perhaps, but the genre does have a history.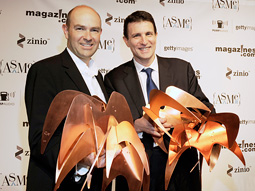 There's the Ellie, of course, replicas of Alexander Calder's stabile Elephant, which have, since 1966, been given by the American Society of Magazine Editors to winners of the National Magazine Awards. [That's Chris Anderson and David Remnick hauling home three each in 2009, via adage] I can find no information on how Calder's sculpture came to be used, nor can I see any info on the "original" stabile. Which situation I find interesting.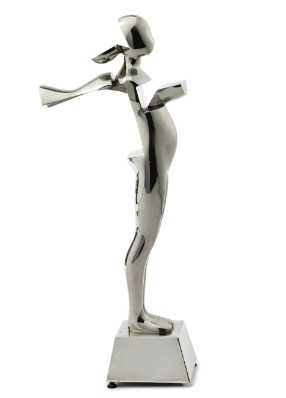 And Ernest Trova's COUNCIL OF FASHION DESIGNERS OF AMERICA AWARD, commissioned in 1981. We read that DVF brought in the life-size version of COFDOAA to CFDA HQ. But this particular one was Brooke Astor's, from 1989, and it was sold last September at Sotheby's. $1,750.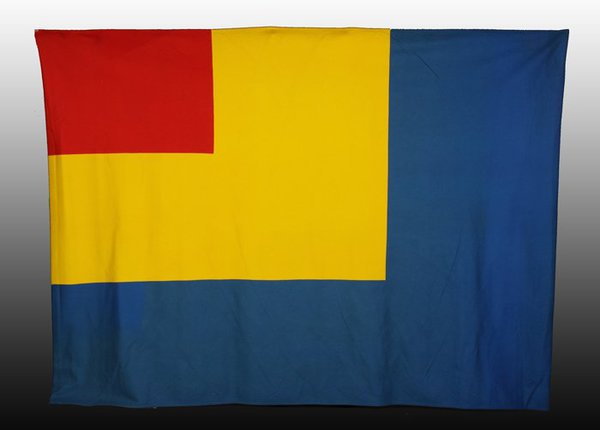 And my favorite, which has been sitting on my desktop for months now, and whose genesis has the greatest similarity to Bloomberg's Eliasson: Rockefeller's Kelly. In 1967, Governor Nelson Rockefeller commissioned Ellsworth Kelly to create the New York State Award. The felt banner, produced by the noted art banner publisher Betsy Ross Flag and Banner Co. in an edition of 20, was given to admirable arts and culture-related projects and institutions by the New York State Council of the Arts.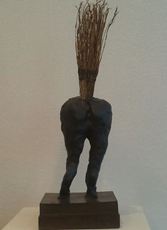 UPDATE: I'm sorry, did I say that was my favorite? It was until five minutes ago, when I discovered that in 1998 Robert Rauschenberg created the Equine Posterior Achievement Award for People For The American Way. The horse's ass was cast in bronze by Robert Graham, and has been presented as needed to political and cultural leaders "whose abilities to misrepresent an issue, manipulate his or her followers and pander to our basic instincts reach such ridiculous levels we don't know whether to laugh or cry." God Bless you, Robert Rauschenberg, and God Bless The United States of America. [By 2014 Ted Cruz had won the EPAA at least twice, but I guess things have taken an unfunny turn since, because I haven't seen any more recent winners.]
UPDATE UPDATE: via Brent @HeartAsArena comes this news: in 2010 Steve Martin commissioned his friend Eric Fischl to create the statue for the Steve Martin Prize For Excellence In Banjo And Bluegrass. Martin discussed the award on the David Letterman Show whence this screenshot was taken.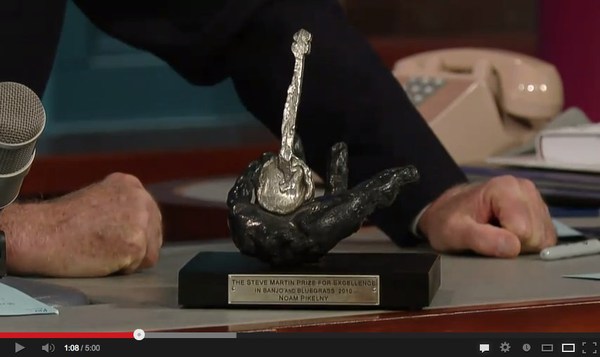 Oct 2013 Update: Americans for the Arts presented their National Arts Awards last night in New York to, among others, Dakota Fanning.
19-year-old Dakota Fanning received 18-pound, bronze Koons bunny @americans4arts gala yesterday pic.twitter.com/eDWk3EUKCf

— katya kazakina (@artdetective) October 22, 2013
And as the AftA press release confirms, Jeff Koons designed the award statue in 2009.
Nov 2013: Another award statue designed by Jeff Koons and unveiled tonight, the Smithsonian Magazine American Ingenuity Award!
This is an image of my design for the @smithsonian magazine American Ingenuity award. They will be presented tonight.

— Jeff Koons (@JeffKoonsStudio) November 20, 2013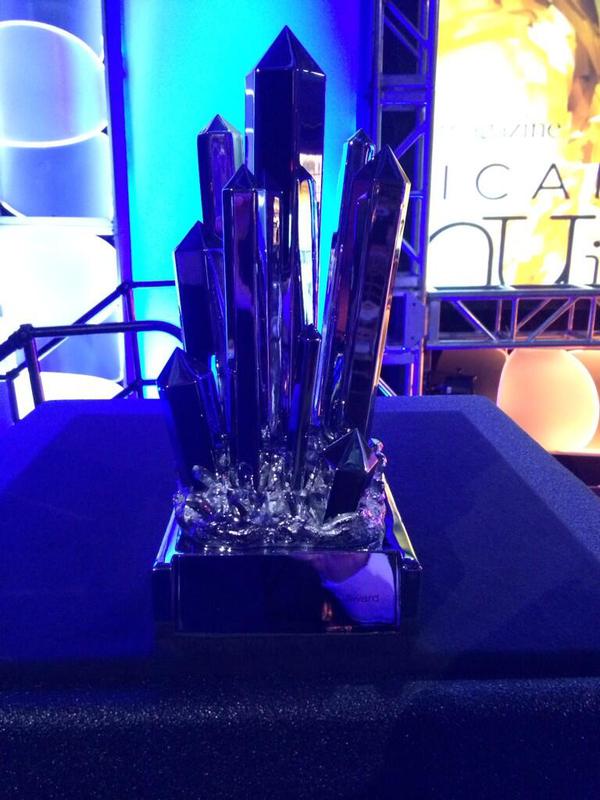 Hey look, there's a tiny selfie in there!
The ten winners in this, the 2nd year of the award, include St. Vincent, Doug Aitken, and Dave Eggers. Too bad the first year's Ingeniuses don't get one. I'm sure they got a nice plaque, though. Or a light bulb.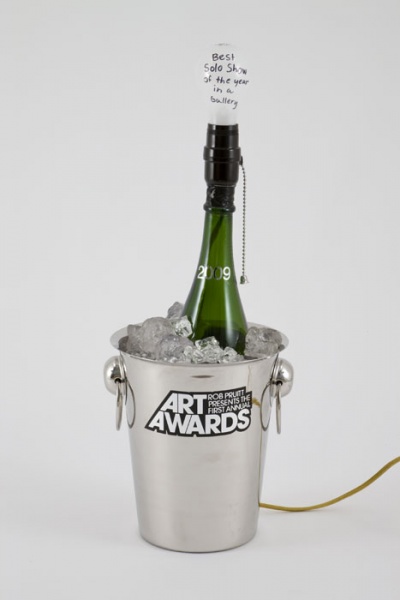 Nov. 2014 update: Did someone say lightbulb? I don't know how I completely forgot that Rob Pruitt designed the trophies for his Rob Pruitt Art Awards, held in association with the Guggenheim in 2009 and 2010. The 2009 trophy was a champagne bucket lamp, with a light bulb that Art in America, at least, saw as a Jasper Johns reference. There were ten distributed, and more made, for sure.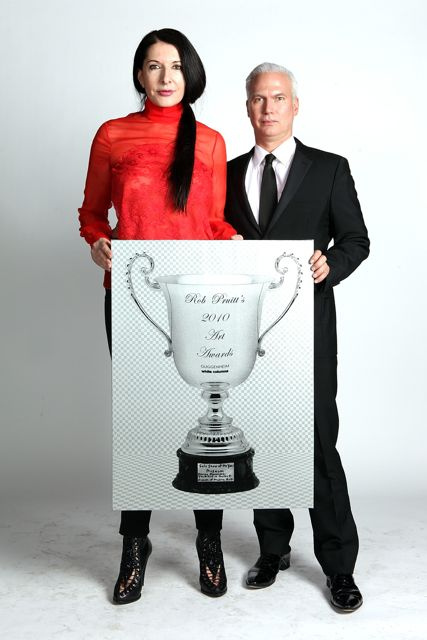 image via guggenheim's flickr
For the 2010 trophy, Pruitt designed an engraved sterling silver cup–and then handed out screen printed paintings of the rendering. Probably a budget thing. Here is the one for Solo Show of The Year, Museum, modeled by its winner, Marina Abramovic, and her curator, Klaus Biesenbach.
Santa Monica wins Eliasson sculpture; awaits a much bigger one [latimes via @KnightLAT]
May 2018 Update: Hrag tweets from the Noguchi Museum gala that recipients of the Noguchi Award receive a desktop-sized Red Cube. Unlike the original, which is perched on a corner, the trophy version nests in a small, black base.  [Also, the Noguchi Award was not initiated until 2014 (pdf), a year-plus after this compilation was first posted.]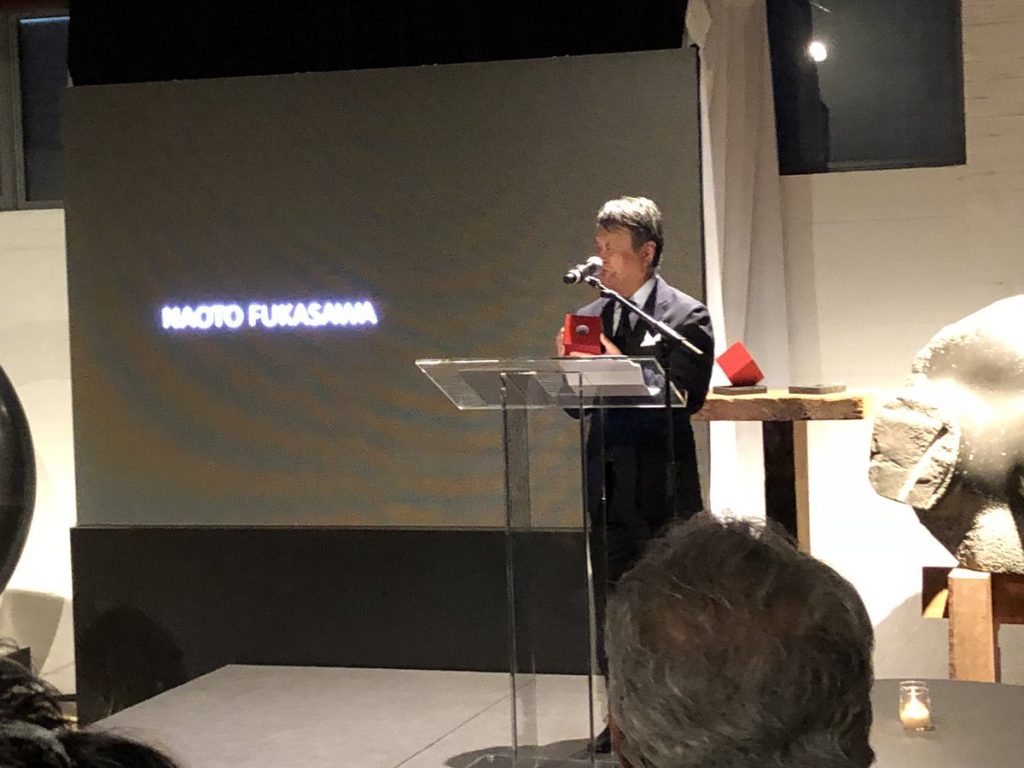 And just like that new updates beget new information. Everyone's a winner! @RealSparklePony [accept no substitutes] tweets that the National Cartoonists Society's Reuben Award [below] for Outstanding Cartoonist of the Year, is based on a sculpture by the NCS's longtime honorary president, Rube Goldberg. The statue was introduced in 1954, when the award was switched from the Barney to the Reuben, and the eight previous OCOTYs, got theirs backdated. [The award ceremony is Memorial Day Weekend, so it's coming right up!]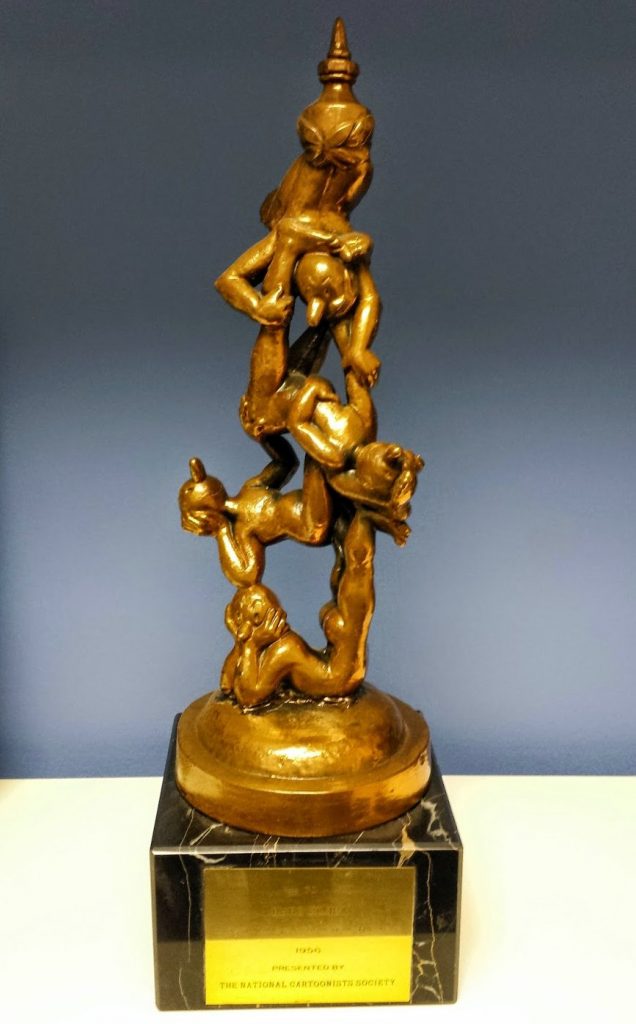 I made a Tom Otterness joke about this Goldberg statue, which led me to search for Otterness trophies, which totally seem like they should be a thing. And well, in 1998, the Whitney's American Art Award was apparently designed by Otterness, and executed by silversmith Elliott Arkin.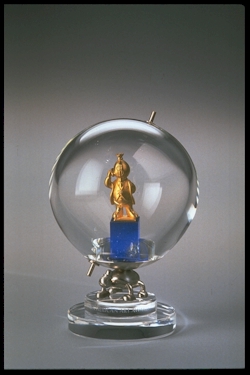 But no photos beyond 1998, which seems odd. Not as odd as the award statue they unveiled at the 2008 American Art Award gig at Hearst Tower, though. WT actual F? It is officially called Walking Whitney Museum, and it is by Laurie Simmons.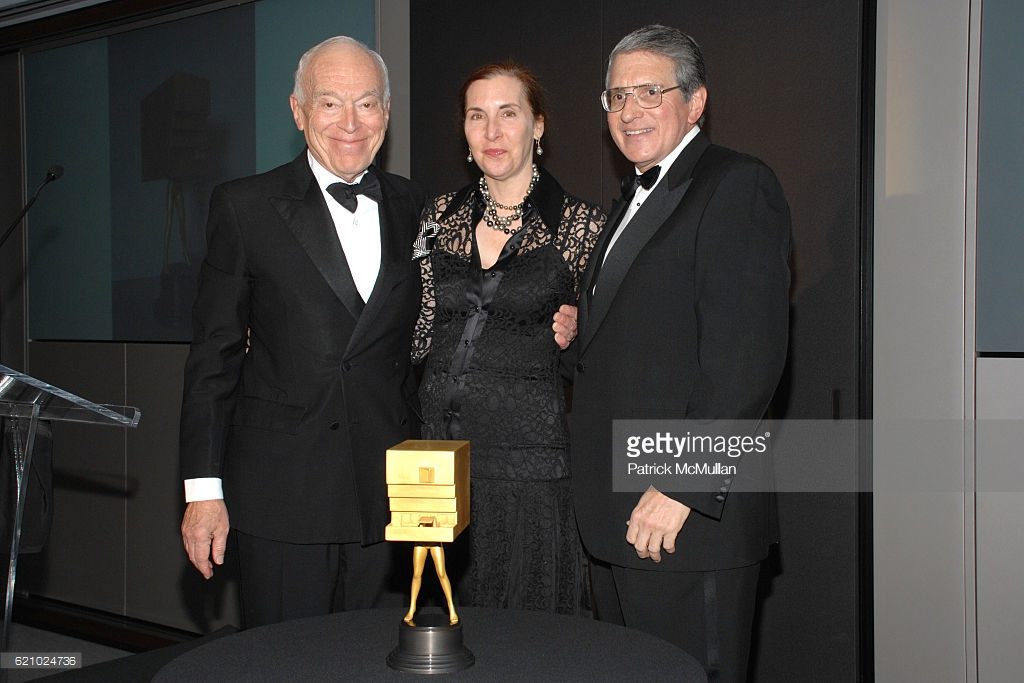 Does this mean there are 15 other artist-designed trophies for this one award? Yes, yes it does. And more. The Whitney's American Art Award was begun in 1992, first in partnership with Cartier, and the director of the museum decided from among artists recommended by curators, who are in the collection, who will create an edition to be awarded to a corporate friend of the museum. In 2007 Whitney ISP Fellow Stéphanie Fabre wrote about the American Art Awards with refreshing candor:
The commissioned artwork is given as a prize, to honor the generosity of a rich individual or company, yet the exchange also highlights the commodity aspect of the work. The work of a mid-career artist has a decided worth, and the transaction between the corporation and the museum acknowledges this. But in the process the  work also acquires a fetishistic value. Although the monetary value of the artwork given by the museum to its donor may be lower than the value of the gift given by the corporation to the museum, the work possesses a superior symbolic value, in part as a result of its affiliation with the Whitney. In addition — and as corporations know when they invest in art — art is often seen as elevated, noble, and permanent, and these associations add to the museum's clout in the gift exchange.
And the catalogue [pdf] has all the photos. We have tapped a rich vein I am ashamed to have somehow never heard of. And here I thought I knew all the gala potlatches in Manhattan back then.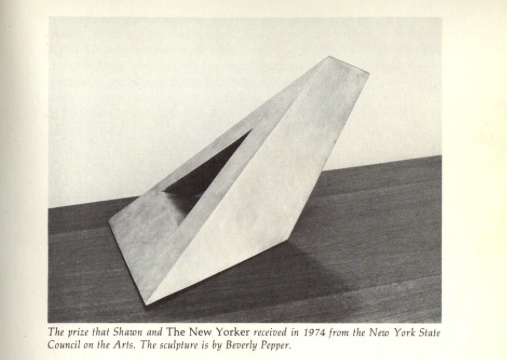 Perhaps the Whitney cribbed the artist-a-year idea from Governor Rockefeller? @TedGrunewald just tweeted an incredible, fierce, sharp, wedge-shaped steel Beverly Pepper sculpture, which was the 1974 New York State Award. This pic comes from a spread in Brendan Gill's 1975 memoir, "Here at the New Yorker". Wallace Shawn eyed theirs warily: "It is not only a prize; it is also a weapon."