A couple of months ago, I was contacted by producers from Backlight, an investigative documentary TV series on the Dutch public broadcaster VPRO. They were trying to locate and interview Scott Sforza for a program set for the 5th anniversary of the invasion of Iraq. [I'd tried and failed to contact Sforza for my Cabinet Magazine article about his work last summer.]
The episode aired the other night, and it's online now, and well worth the watch, even if you don't speak Dutch; most of the talking heads--including me--speak English.
It's amazing on many levels, not the least of which is the sheer impossibility of an in-depth, retrospective investigation called "The Selling Of The War" ever airing on an American news network. VPRO focused in on a couple of very specific elements of stagecraft, manipulation, and deceit from 2003: Colin Powell's UN speech; the White House-built stage at the CENTCOM media center in Doha, Qatar; and the Coalition press conference where Gen. Tommy Franks announced the invasion, which had a controversial--and damning--Dutch hook.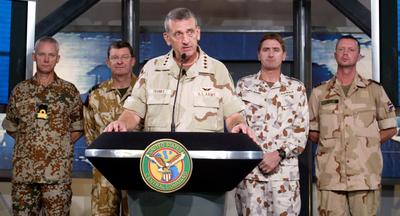 I did my Sforza fanboi spiel about human wallpaper, and it turns out that among the human wallpapers Franks pulled on stage and introduced as a Coalition partner was a Dutch colonel, Jan Blom [on the far right above]. But the Netherlands were not part of the Coalition. The guy was a NATO public affairs officer, who was grabbed at the last minute to provide balance and camo variety to the backdrop. Naturally, word of the scandal that erupted in Holland after Blom's appearance has not yet penetrated the American heartland.
The two guys in the middle were Franks' equals from the US' actual Coalition partners, Great Britain and Australia, who were only told at the last minute by a White House operative that they would not be participating in the press conference. The guy on the far left was another prop, a Public Affairs guy from Denmark. So the stagecraft managed to simultaneously insult and dissemble. That's Rumsfeld's new lean&mean Army!
Perhaps it's really a minor point, but it's just one of many that show how deceptive and manipulative the administration was in the crucial period of the run-up and the invasion. Again, try to imagine a US network news show of any kind devoting 30 minutes to pull apart such a lie. [Actually, it's probably half that time; there was a great deal of time devoted to former Powell Chief of Staff Lawrence Wilkerson's explanation of how the UN WMD speech came together, something that has been covered in the US.]
So anyway, happy anniversary!
Program page: Tegenlicht: De Verkoop van een Oorlog [vpro.nl]
Watch the episode online via real player [vpro]