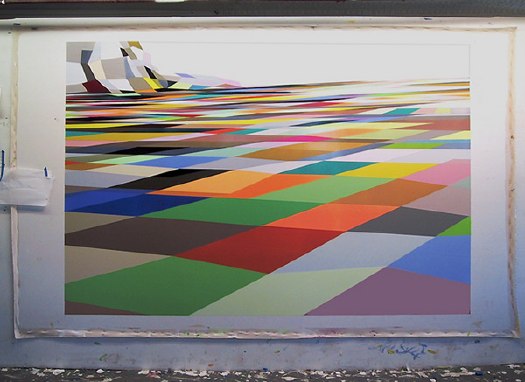 As soon as I started thinking that Dutch Polygonal Camo on Google Maps would make great abstract landscape paintings, I thought of a some giant, abstract, polygonal landscape paintings I'd seen way back in 2000-2. But for the life of me, I couldn't remember the artist's name. From Julie Mehretu to Edvard Haberkost, to Benjamin Edwards to Kevin Appel to Carla Klein to Jules de Balincourt to Thomas Scheibitz, large-scale, geometrical/architectural/spatial/digital/landscape abstraction has not been in short supply. And of course, it was none of the above.

I'd seen one at "Collector's Choice," the exhibition I co-curated at Exit Art in the winter of 2000-1. It was on Norman Dubrow's crazy, salon-style wall. Then the one that really haunted me was in a 2001 show at Caren Golden Gallery, curated, I think, by David Hunt. And then there was another show somewhere later, a solo show.
Well, thanks to, of all people, Mark Kostabi, I just realized it was NY/Berlin painter Torben Giehler. And the gallery was Leo Koenig, in 2002.
In her 2002 review of Giehler's Koenig show, Roberta Smith described the artist as one of several interested in "formalist abstraction, digital cartography and photography." She also guessed that making the paintings "must require hours of applying masking tape." And sure enough, the many studio photos on Giehler's website show piles of balled up blue tape, and also small printouts taped next to the canvas. It looks like he begins his work on a computer, and then enlarges and transposes the compositions by hand. [This 2004 Art in America review is excellent for describing the painting's production, while adding absolutely nothing to their context or understanding.]
Some of Giehler's landscapes are gridded; the earliest painting on his site is an explicit Mondrian flyover, a psychdelic reworking called Boogie Woogie. But his polygonal landscapes seem to form structures of their own. Like the mountain series he showed at Koenig. K2 is a favorite. [And a favorite of Giehler's, too, apparently; he made a series of prints of it with Fawbush.] And Matterhorn has a very Dutch color scheme.
Glad to clear all that up.
above: Tomorrow World, 2001, by Torben Giehler, exhibited in "Superimposition," Caren Golden Gallery [torbengiehler.com]
Torben Giehler's website [torbengiehler.com]