For all my talk lately about satelloons, Olafur's stayed very politely quiet about his own giant, swinging aluminum balls. Maybe because he only has one? Seriously, though, I hope it's an edition.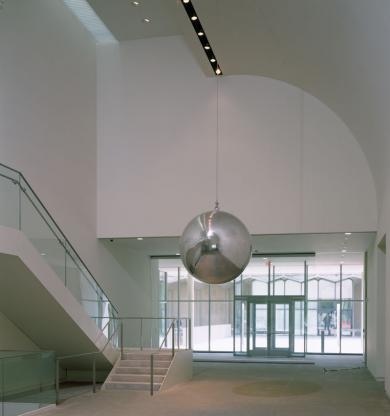 Your Imploded View is a 51-inch diameter, 660-lb polished aluminum sphere that swings like a pendulum. It dates from way back to 2001 [!], though it's not clear when it was first realized. At that weight and dimension, it has to be solid, which is rather spectacular. Such precision-manufactured geometry reminds me of the fantastically produced objets de science like Le Grand K, the International Kilogram Prototype stored outside Paris.
Anyway, the Kemper Art Museum at Washington University in St Louis purchased Your Imploded View in 2005, and it's on permanent view in the atrium there. Kemper curator Meredith Malone's YouTube video is nice and informative, but HD would be better for capturing the sculpture's experience. Don't miss they guy using the special, custom-made Your Carpet-Wrapped Pushing Trident to get the ball swinging.
Your Imploded View (2001) by Olafur Eliasson on permanent view at the Kemper Museum, St Louis [kemperartmuseum.wustl.edu]