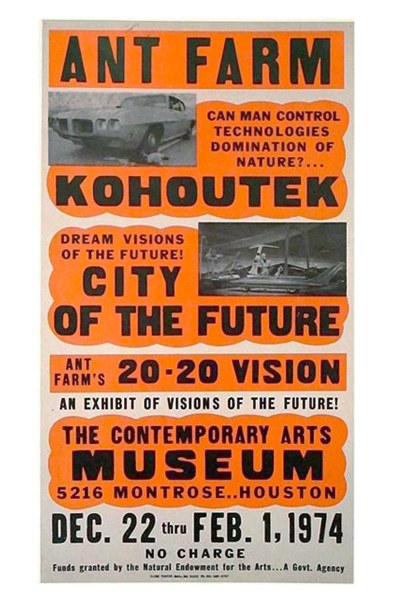 I've been deep in the commercial letterpress lately, and neglecting my Ant Farm. Fortunately, Mondo Blogo is there to bring me back in line, with this awesome poster the Farmers made for 20:20 Vision, their show at CAMH.
20:20 featured a Dollhouse of the Future named Kohoutek, after a comet that was supposed to crash into the earth or something, sending hippies into an apocalyptic panic, but it missed, bumming everyone out. In Kohoutek's Living Room of the Future, naked Barbies lounge around on biomorphic sofas watching a live data feed from SkyLab, seemingly unaware that they're being raised as food for the comet-surviving ants.
According to a review in Architectural Forum, there were 20:20 t-shirts as well as posters for sale. I'm dispatching my army of Houston vintage pickers forthwith.
And even though Houston was the first place Ant Farm unveiled their plans for the Dolphin Embassy, I think my favorite part is there at the bottom:
"Funds granted by the National Endowment for the Arts... A Govt. Agency"
ant farm: sex, drugs, rock & roll, cars, dolphins & architecture [mondo-blogo, thanks andy]
Previously: Cue the Dolphin Embassy [greg.org]