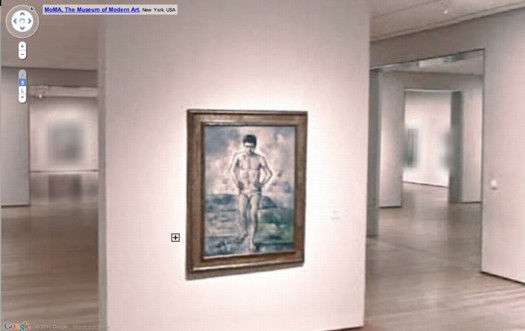 Alright, this is kind of killing me right now, not just with its awesomeness, but because I have been planning to do a very similar project, and also because like half my blog these days could be called Google Art Project, and well...
But let me agonize in private while we first praise the awesome. Google has released Street View-style navigation for galleries in seventeen major museums around the world, including the Museum of Modern Art. MoMA's only got the lobby and one room on there, the first gallery on the fifth floor, which contains Cezanne's Bather and Starry Night.
The resolution and color look awful, frankly, but who cares? It's Starry Night as you've never seen it before--in an empty gallery. But still. Check out the background, what they had to do to all the artwork in the adjacent galleries, the stuff they didn't clear the rights for: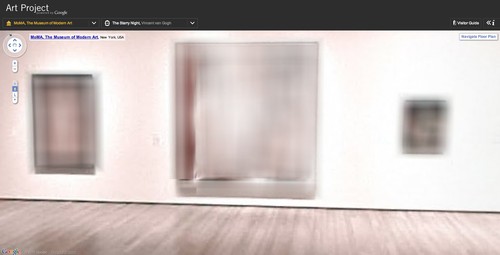 That's Les Demoiselles d'Avignon there in the middle: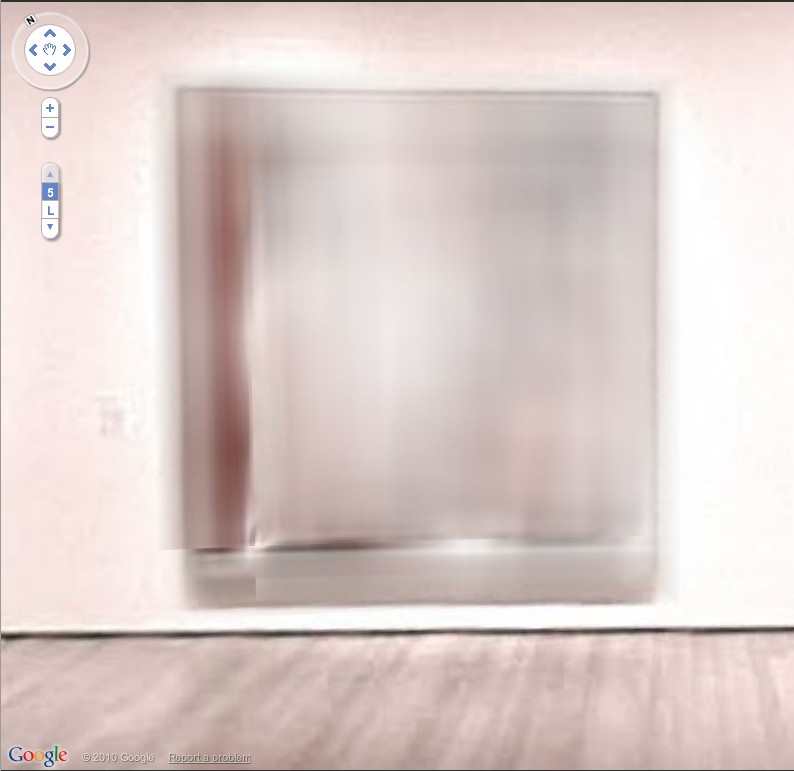 Which makes this, Picasso's Boy Leading A Horse: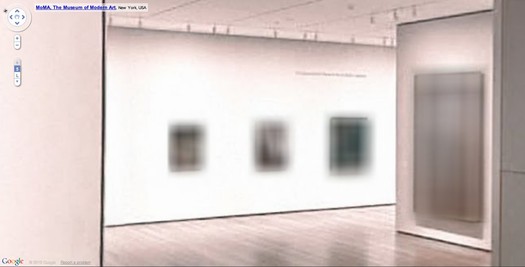 What's crazy is that whatever's hanging next to Rousseau's Sleeping Gypsy is blurred out, too. By definition, it has to be in the public domain, right? 19th century? What is it?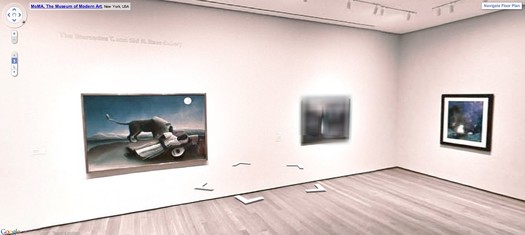 The shoot for The Googlecam Was Present seems to have taken place almost a year ago; in the lobby, Marina's still listed as "coming soon." And they've rehung Gallery 1, there, so it'll take a little flickrdiving to figure out what that was.
UPDATE: Thanks to MoMA scout Dan Phiffer, the work is identified as Edward Munch's 1893 painting, The Storm.. [Munch died in 1944, so depending on which copyright regime applies, it may not enter the public domain until 2014. The image of the painting on MoMA's website is rather boldly claimed to be copyright 2010 by the Munch Museum.]
But meanwhile, I'm prowling the other 16 museums for more blurred material. Richter must be so pissed right now.
Previously: Blurmany and the pixelated sublime
Sherrie Levine's Meltdown series