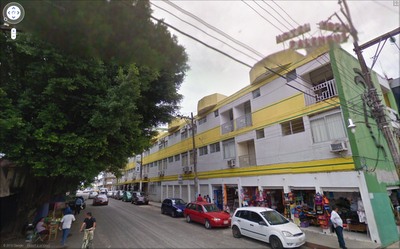 I've been meaning to post more about this for months, but now I'm glad I waited. In January curator/writer Pablo Leon de la Barra posted Google Street View photos of the Hotel Palenque on his blog, Centre For The Aesthetic Revolution.
I need to put a [sic] after basically every word in this sentence, but it's pretty jarring to see a place you know only from an old artwork alive and well and part of the real world. Hotel Palenque was supposed to be a white man's fictional, archeological non-site, not an actual site, where people stay when they come to town, and certainly not a real, surfable place on Google Street View.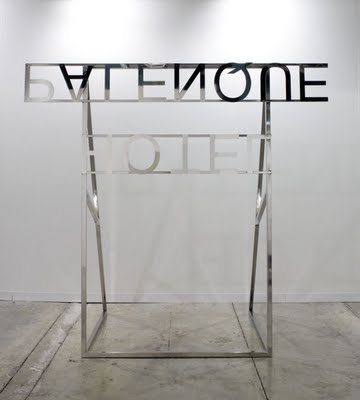 But this is all precisely de la Barra's point, too. He originally Googled the hotel because he was preparing a text on Jonathan Monk's Color Reversal Nonsite with Ensuite Bathroom [2009, above] for the Museo Rufino Tamayo in Mexico City. Monk's work is a mirrored replica of the Hotel Palenque sign, only upside down and backwards, as it would be loaded in a slide projector.
Just as the entropy of development means that once-remote earthworks are now tourist attractions on the GPS grid, de la Barra lays out how Smithson's exoticized, Yucatan jungle ruin/playground is now more fully recognized as someone else's [sic] home turf. And while it may be surprising to hear that Smithson's Hotel Palenque was only presented for the first time in Mexico in 2005, it should surprise no one to learn that Smithson sounded like a drunken gringo.
REVISITING HOTEL PALENQUE THANKS TO GOOGLE MAPS [centre for the aesthetic revolution]
HOTEL PALENQUE IS ELSEWHERE: ON JONATHAN MONK'S HOTEL PALENQUE SIGN' A TEXT BY PLB IN RUFINO MAGAZINE
Hotel Palenque, 15 Avenida 4 de Mayo on Google Maps [google maps]
Previously: non-site non-art, Smithson's Hotel Palenque
Visiting Artist: U of U lecture on Smithson