You stumble upon something that Google doesn't know anything about, and you post about it, and then a while later, the other handful of people wondering about the same thing eventually email you, and you try to figure this stuff out together.
Thus it is that the Verne Blosum Fan Club is proud to welcome the Greensboro Chapter to the table.
The other day, a curator from the Weatherspoon Art Museum contacted me after seeing my 2010 posts about the pioneering Pop Art painter Vern Blosum. Because it turns out the museum which is affiliated with UNC-Greensboro, has a Verne Blossum painting, Twin Expiration, above, from 1962.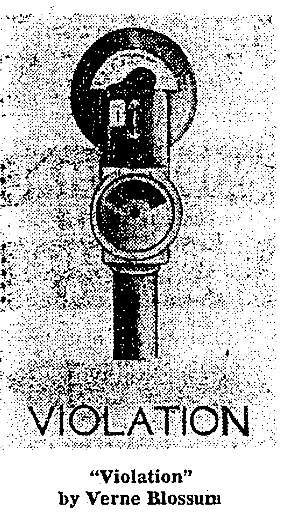 I first found out about Blossum when his parking meter painting, Violation was illustrated alongside Andy Warhol in a 1963 Washington Post article about Alice Denney's foundational Pop Art show at the Washington Gallery of Modern Art.
Then it turned out MoMA has a Blosum parking meter as well, Time Expired, purchased for them in 1964 by Larry Aldrich. [No, I'm not typing it wrong, his name shows up in contemporary sources with both one s and two, with an e and without.]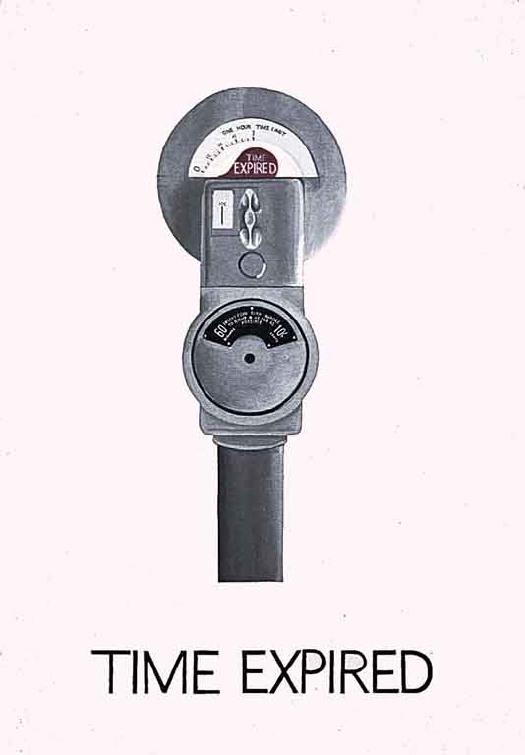 The Weatherspoon discovery [for whatever reason, their collection database has not been indexed by Google] comes on the heels of another out-of-the-blue email from some folks in California. Seems they'd come across Vern Blosum in the catalogue for Pop Art USA, a 1963 exhibition curated by the Pasadena Art Museum's own John Coplans. That Blosum, titled 25 Minutes.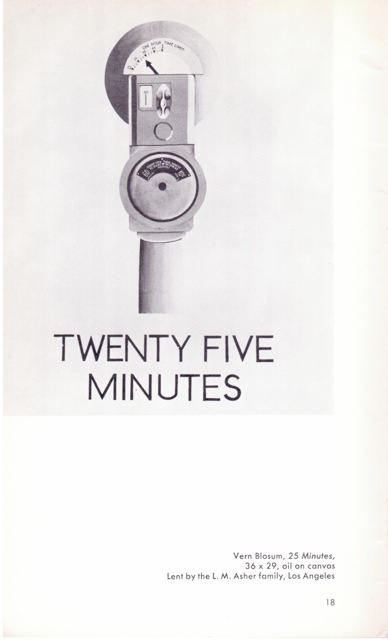 Clearly, there's a theme, and I'm not just talking about parking meters. 25 Minutes was apparently lent by the L.M. Asher family. Betty Asher was one of the major collectors and supporters and curators at LACMA for many years. Just phenomenal. And her son is Michael Asher.
The Weatherspoon's Blossum turns out to have been donated in 1981 by Robert Scull, probably the most famous [or infamous, depending] Pop Art collector of them all, in honor of Virginia Dwan, who has had a long, generous relationship to the museum.
For an artist who seems to have mysteriously disappeared from the art world, Vern[e] Blos[s]um sure left behind, not just an intriguing body of work, but also an incredible body of collectors.
The work continues.