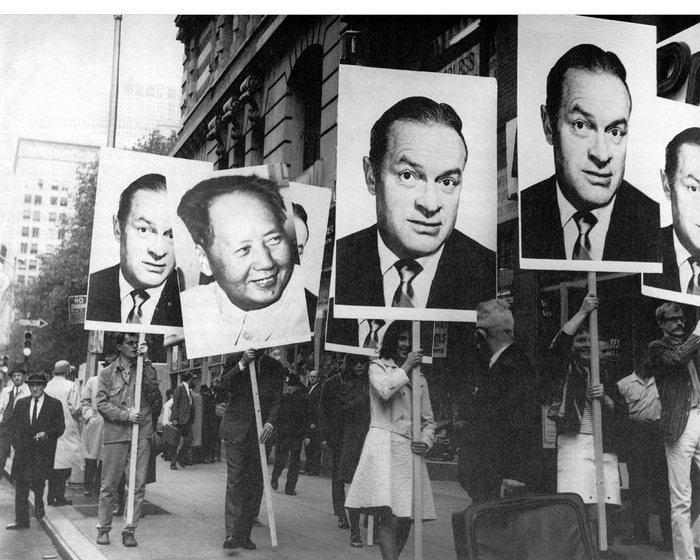 I shouldn't have to explain, but it's just really important that this photo get out there even a little bit more. That it should be here. Because seriously, it's a 1966 march through New York City by people carrying giant head shots of Bob Hope, and one of Mao Zedong.
I've been kind of fascinated by different aspects of Öyvind Fahlström's work lately, so seeing this photo, a still or documentation from Mao-Hope March, on grupa ok reminds me of how few dots I've connected yet.
Fahlström was a contributor to 9 Evenings: Theatre and Engineering, the ambitious-but-mixed-but-historic series of happenings, performances, music, and events organized by Experiments in Art and Technology. Folks like Rauschenberg, Whitman, and Billy Klüver kind of soak up much of the E.A.T. limelight, and John Cage and Bob loom especially large, in the remembering of 9 Evenings.
Which is all a way to say that I've never really paid attention to Fahlström's contributions to the program. The Langlois Foundation has a fairly detailed account of the 100-minute performance, titled, Kisses Sweeter Than Wine, which strikes me as one of the most politically charged elements in 9 Evenings.
Performers in Kisses carried Mao and Hope placards live, but Fahlström also showed a short film of a Mao-Hope March shot on Fifth Avenue. No explanation for the demonstration was given to passersby, and none was made in Kisses. But New Yorkers were interviewed by a popular WBAI radio announcer on the scene about whether they were happy. That's it. [Fahlstrom.com has a complete transcript.]
Mao, of course, was the Communist hegemon looming over Vietnam, while USO veteran Bob Hope was the aw shucks face of the US military. Both, then, stood in for but were at least one degree removed from the actual war. But the associations and allegiances were clear enough that, even if the demonstration's agenda was not clear, people could easily, reflexively take sides. Me, I am mostly just in awe of the bold and gripping and ambiguous content of those placards.
Some years later Fahlström showed Mao-Hope March as an independent work. MoMA acquired the film in 2009.
Mao-Hope March,1966 [fahlstrom.com]

Öyvind Fahlström | Kisses Sweeter than Wine (performance) [fondation-langlois.org]
A 20-second clip of Mao-Hope March playing at the Pompidou [youtube]