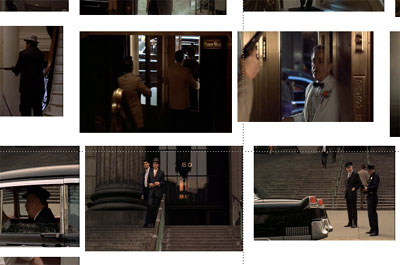 Production Diary
I grabbed an image from each of 35 massacre cuts in The Godfather's baptism/massacre sequence to use as reference for shooting. Given the conditions, however, and the fact that I was also a co-host, with a speech to give, and I had major ass to kiss, this served as only the roughest guide.
I needed at least one shot of me, though, and so when my co-host Hilary and I went up to the podium, I gave my running camera to the nearest pair of hands I could find--Bill Murray.
Murray played along, and in fact, started filming Hilary's dress, chest, earrings, and hair, which cracked everybody up. Anyway, by the end of the night, I think I got enough footage that formally references Coppola's original, but is, of course, completely different.
Gossip
When another speech (the intro went too long for the taste of at least one big cheese producer) said how MoMA was interested in great films, "not just films from India or Senegal or someplace," several stunned people turned to look for a reaction from the rather great Indian filmmaker Mira Nair--who was sitting right behind me. She didn't flinch.
Quentin--who was sitting next to me--was a rockstar, and we talked endlessly about making and remaking movies. Gus Van Sant's Psycho was, he said, his favorite movie of 1998, and he had non-stop praise for Eric Zala, Jayson Lamb, and Chris Strompolos, the three teenagers who spent seven years making their shot-for-shot adapation of Raiders of The Lost Ark.
My wife couldn't come at the last minute, so I turned her seat back in, not knowing who I'd get as my seatmate. Just before the lights went down, a very genial and genteel-looking older lady was escorted in. Somebody's mother, I figured; did they plan to leave her at the hotel if they couldn't score her a ticket? Turns out her name was Lillian Ross. She's a writer or something. Didn't get the details. Very nice. She borrowed my cell phone to call her son, who I met later at dinner. Also very nice. But not related to any of the filmmakers there, as far as I could figure.
Anywho...the gossip, the first blind item on greg.org, blind because not stupid; I'd still take their meeting:
A very recent Oscar winner told me, at the party, about meeting a fellow nominee, i.e., one of the losers--who actually had two films nominated--so technically, a double loser. Upon being introduced--by the Mayor of New York City, no less--the loser replied, "I can't believe you won; your film was so boring!"
I'll leave the comments open for a while this one.