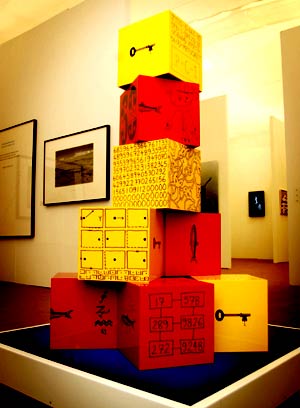 Tangentially related to both preparations for my upcoming talks on the art market in Rotterdam and to The Gates being rather showily not for sale, I've been thinking about art you can't buy or sell.
e-flux's Do It! exhibition is full of artworks you create or complete by following the artist's instructions. Sometimes a museum paid the artist to let them keep these originally temporary works, but the museum can't sell them. And you can't buy or sell them. [You CAN buy the handbook-size catalogue, though.]

The other night in SoHo, I saw a dealer whose collection I visited way back when. My favorite piece was an edition, a foot-long steel bar by either Walter deMaria or Michael Heizer [anyone know?] which was stamped, "may not be sold for more than $100." Since it'd be "worth" far more today, no one'll sell the thing the only way the artist permits it to be sold. [Of course, all those Earth Art guys were originally trying to subvert the market/gallery system. Yeah, how'd that work out?]

We have some prints by Gabriel Orozco that I picked up at agnes b. gallery in Paris way back when. They were free then, the way ephemera and art books are. I've been offered nice money for them, even though they say "ne peut etre vendu" on the bottom. Crazy people.

At Frieze art fair last fall, Keith Tyson had a large sculpture at his gallery's booth, which was not for sale. He would only give the piece away to the first person who could decipher the multi-part puzzle that was incorporated within it. [In Le Monde, Tyson says a collector who wanted to buy it said, "no problem, I'll just buy it from the guy who solves it."]

The Times of London has Tyson's full puzzle [timesonline.co.uk]