I still have a place in my heart--and fortunately, a spot in the old collection--for Takashi Murakami. The Louis Vuitton thing was rather masterful, and the sheer superfluity of luxury and fashion maps rather well onto some of the more expendable aspects of contemporary art, too.
Likewise, I'm not unappreciative of Murakami's own creation myth, in which he and his characters subverted and exploited the banal world of Japanese idol-centric television, even as they were, in turn, exploited by the media for their own ends.
And when the set of Tongari-kun characters, including Mr. Pointy and his crew, was installed at Rockefeller Center, I was happy to go celebrate. [Here's Gothamist's report.]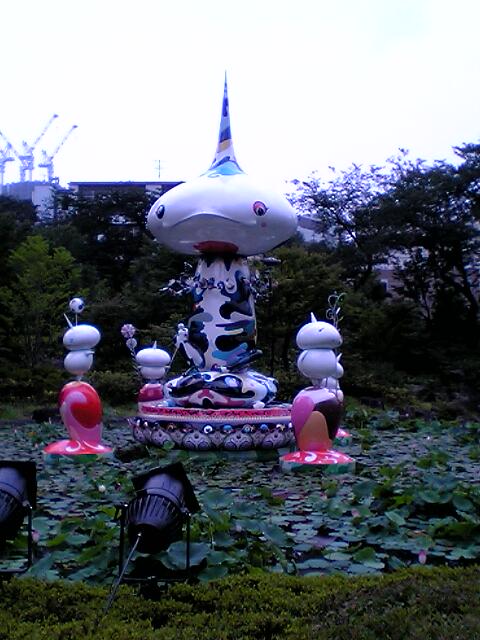 But for some reason, it gives me a creeped out, sinister feeling seeing the identity characters he licensed to the massive, city-soul-sucking Roppongi Hills development, and then seeing the whole place decked out with banners celebrating Murakami Month, aka the same Tongari-kun/ Mr. Pointy sculptures from two years ago, installed in a lotus pond at the complex's center.
The Mori Art Museum and its adjacent mall are full of Murakami goods, of course, dolls, t-shirts, towels, stickers, but nothing sums up the uncritical celebration of megalomania and the unholy confluence of conscience-free art, urban planning, and commerce better than this: Roppongi Hills Monopoly, featuring Takashi Murakami's characters. It's about 5,000 yen. Of course, I bought it.