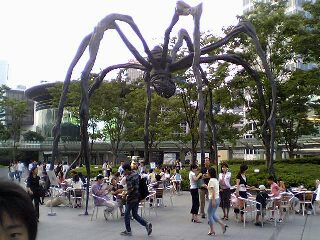 Art is used to lend Roppongi Hills, the massive land grab mall/office complex I'm loving hating these days, cultural credibility. Minoru Mori, the developer, clearly fancies his development is Tokyo's Rockefeller Center--and, by extension, he's Japan's Rockefeller.
At least two pieces of large-scale sculpture that were previously shown at Rock Ctr are currently installed at Roppongi Hills: Takashi Murakami's Mr. Pointy & co., and Louise Bourgeois' Maman [above].
Maman was first shown at the Tate Modern's Turbine Hall. But for some reason, organizers at neither previous venue thought to turn the work into a cafe.