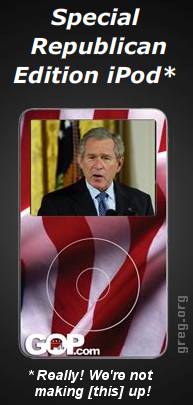 I realized when I grabbed this screenshot, I didn't capture the actual GOP disclaimer, which disclaims any affiliation between the Republican National Committee and Apple Computer.
Still, given how hard it was to believe that such a thing as iPods for Special Republicans really existed, I thought my own interpolation was appropriate.
The Special Republican Edition iPod Video will be presented to the top 10 fundraisers who organize and host house parties on May 22nd using the RNC's new social networking site, MyGOP [www.gop.com/mygop].
What, I wonder, would come loaded on such a rare edition iPod? [via gop.com/party]