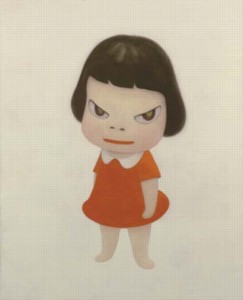 After conducting the biggest contemporary auction in Sotheby's history, Tobias Meyer told Artforum's Sarah Thornton, "The best art is the most expensive, because the market is so smart."
Uh-huh. This is the market that paid a million-one for a generic Yoshitomo Nara painting just because it's big. Meanwhile, one of the last Robert Smithson non-sites in private hands--and artist hands at that, the piece was being sold by its original owner, Keith Sonnier--sold for just its high estimate, $374,400 [or $300K+ plus the 20% or so premium].
The market may be smart at the top, but there's definitely a soft-headed center, too.
Yoshitomo Nara, "Missing in Action," 1999, est. $200-300,000. Sold for $1.08 million at Christie's [5/10/06].
Robert Smithson, "Shells and Mirror," 1969, est. $200-300,000. Sold for $374,400 at Christie's [5/10/06].