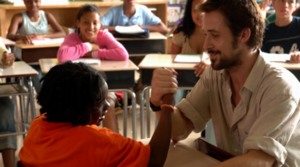 A week after finally seeing it, I'm having a hard time starting to write about Ryan Fleck and Anna Boden's wonderfully crafted, intelligent, slice-of-basehead-life feature, Half Nelson. One thing's for sure, though: I won't be able to sustain the same insouciant, faux-decadent abandon in my dance floor renditions of "White Lines" anymore.
In fact, the movie's warping my whole funk karaoke world. After the groggy, solitary silence of the opening scene, where he finds himself right where he blacked out-- on the floor of his dingy living room, in front of his glasstop coffee table—Dan Dunne's first words are Pointer Sisters lyrics.
Not coincidentally, they're probably everyone Child of Television's first Pointer Sisters lyrics, too: "Onetwothree four. five. sixseveneight nine. ten. eleven. twelve." In an incisive, throwaway performance sung into the rearview mirror, these vintage Sesame Street lyrics, which have also been remixed into a minor underground techno hit, ground the main character, date the filmmakers, and implicate a large segment of the audience in equal parts.
But despite the presence of an over-educated White Man in The Ghetto, Half Nelson is no more a glib Williamsburg hipster parable than it is a treacly Stand And Deliver homily. Ryan Gosling's performance is as nuanced and assured as Fleck's direction and his and Boden's screenplay. And the whole film feels as real and raw as a documentary, but with a narrative that unfolds--Boden is credited with editing--with offhand meticulousness
Andrij Parekh keeps his jittery handheld camera close, impossibly intrusive for a verite doc, but intrusively perfect for a verite doc style, and the actors' gestures, expressions, and reactions almost always deliver. [Or just as likely, Boden finds the exact instinctive or unconscious elements of their performances to fit together.] Shareeka Epps has been scoring a lot of great reviews for her performance as Drey, the thoughtful, conflicted student torn between her two surrogate father figures, but the more I think back, the more impressed I am with Anthony Mackie's Frank, who has more emotional and intellectual complexity than any movie drug dealer I can think of.
As I watched Dunne's entirely plausible addiction unspool, I began to warily question if I should care. Is he an unredeemable loser? Should I go ahead and invest my sympathy, only to be duped, manipulated or let down later? Was I going to be confronted with some formulaic rationalization for his addiction, one that's not afforded the black characters whose susceptibility to the lure of drugs--poverty, no opportunity, no education, The Man, etc.--are so thoroughly played out in movies and TV?
It was an oblique-then-devastating trip, but Fleck and Boden anticipated and delivered on this backstory, too, and in a way that telescopes Half Nelson into a non-didactic, intergenerational historical/political critique. But it works, because the filmmakers never lose touch with their film's emotional core, which is Dunne's development.
This is such a well-realized film, I'm tempted to say it's hard to believe it's a first film. But then, I can't really imagine this thoroughly conceived-yet-modest film coming from anyone BUT a young filmmaker. If it's like anyone at all, it's a more restrained Cassavetes. And Boden and Fleck's multiple, shared credits seem to belie a Cassavetian work method.
There's a great making of story to be told, though; this small, micro-budget film has twelve producers [including a friend, Hunter Gray]. It seems like just yesterday when I wrote about and spoke with the two Ryans about Gowanus, Brooklyn, their Sundance-winning short film version of Dunne's story, and the script was apparently workshopped at Sundance's summer Lab before that. If it weren't such a rare success, I'd say Half Nelson was a throwback/textbook example of indie film production. Whatever it is, though, it's definitely worth a trip to the theater.
Half Nelson opened in wider release this past weekend [halfnelsonthefilm.com]