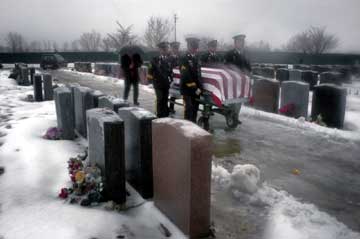 Bronx, NY, 2004, Funeral service for Sgt. Luis Moreno
Paul Fusco began photographing the funerals of American soldiers killed in Iraq in 2004 as a "personal protest against government attempts to downplay the costs of war." It's not the emotional force of his images that is startling--that's to be expected, after all--it's the embarassment and anger that rises up we realize we've hardly seen scenes like this at all in the last three years.
It would be easy enough to point fingers at the administration which has actively thwarted coverage of the war's toll--on both US and Iraqi lives--through a mixture of censorship, dissembling, misinformation, and stonewalled silence.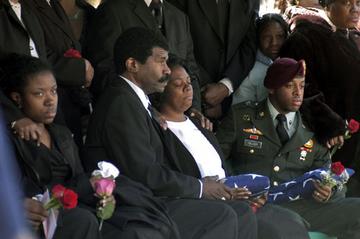 Bridgeport, CT, 2004, Funeral Service for Spc Tyanna Avery
But Fusco's images prove that these victims of the war's violence--the soldiers' families and communities left behind--could be found and reported, if only editors and prodcuers in the news media had the will, and weren't so occupied with passing along the more easily obtained, press-release and photo-op-driven stories the government so thoughtfully provides.
Senior leaders in the Defense Department and the White House don't attend solderis' funerals out a stated wish not to intrude on the family members' privacy. Apparently, if the President were to attend, there might be journalists and cameras following along.
Paul Fusco's exhibition, "Bitter Fruit," is organized by Magnum Photos and is currently at the Aldrich Contemporary Art Museum through February 2007 [aldrichart.org]
Paul Fusco, "Bitter Fruit," 46 Pictures [magnumphotos.com]