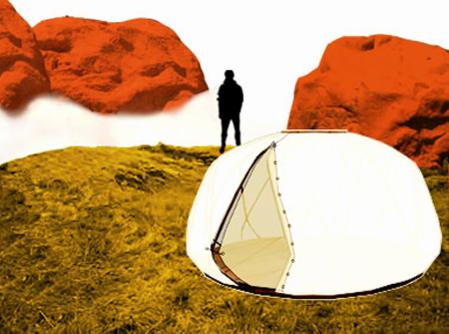 Don't get me wrong, I love me some yurts. But like the equally lovable geodesic dome, something always seems lost in between ideal sustainable concept and hippie-dippy, style-free, domestic execution.
Finally, though, someone's made a yurt for the Wallpaper Dwell designblog generation. That's the Ecoshack promise, anyway. Their Nomad Yurt has a bit of a kick to it. Plus, it's available in Plyboo, and when the bright red nylon outershell comes available, you'll be able to set it up on the slope, and no one will snowboard into the side of you. Very important. [And not just because your yurt's shaped like a mogul.]
The only thing wrong I can see: it's only available in one smallish size right now--12' across, 7' high. Oh, and I don't have any land to put it on.
The Nomad: "Mongolia's 2000-year-old portable 'ger' updated for today's urban nomad" [ecoshack.com via Eames Demetrios' dasfilmfest]