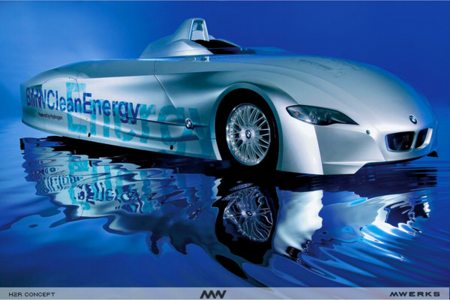 It had sparked one of those jump-the-shark anxiety attacks when I heard that one of the artists I most admire, Olafur Eliasson, had been commissioned to do an Art Car for BMW.
Even as it included such respected artists as Warhol, Lichtenstein, and Jenny Holzer, BMW's Art Car series has always epitomized the superficial lameness of corporate co-optation of artistic practice.
For someone as serious and critically engaged as Olafur to decorate a BMW--and not just any BMW, but a hydrogen-powered PR-mobile, the H2R, the promotion of which would only deflect attention from the German auto industry's complicity in global climate change and their aggressive efforts to thwart greenhouse gas emissions cuts--well, I was worried. And the BMW press release didn't help
But then I read an account of a speech Olafur just gave at the NAI in Rotterdam, where he talked about the car: "'They are increasingly unhappy about it', he says about his commissioner. But it is about the relation between the automotive industry and global warming."
I guess I shouldn't have worried. but still.
"It makes a difference to make art." [eikongraphia via archinect, image via mwerks]