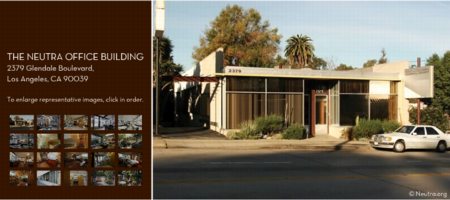 Richard Neutra's office building in Silver Lake
is for sale. It's about 4900sf, plus two apartments in back, with some Neutra built-ins and fixtures. No price is mentioned, but the broker does helpfully provide a ceiling:
RECENT SALES OF IMPORTANT EXAMPLES OF ARTISTS LIKE KLIMPT & POLLACK SOLD IN THE 140M RANGE! WHAT SHOULD THE UNIQUE AND ONLY SURVIVING INTACT EXAMPLE OF NEUTRA COMMERCIAL ARCHITECTURE BE WORTH?
Or is that meant as the opening bid? Either way, maybe they can add it to the LACMA collection.
An architectural landmark on the market [neutra.org via andy at reference library]