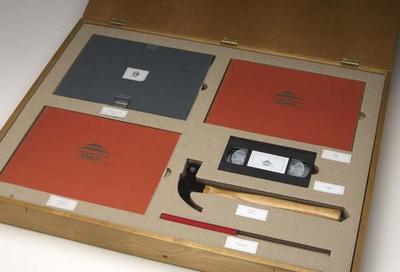 In 1994, Philippe Starck designed mailorder plans for a Timber House for the French department store 3 Suisses. It was sold as a numbered edition for 4900FF, or around $1,000.
Last year, a copy of the kit--a wooden box with plans, a handbook, a video of Starck speaking about the project, a hammer, and a little French flag--was for sale on Apartment Therapy for $2000. In a couple of weeks, another edition will be auctioned at Rago in Lambertville, NJ. The estimate is $1,500-3,500.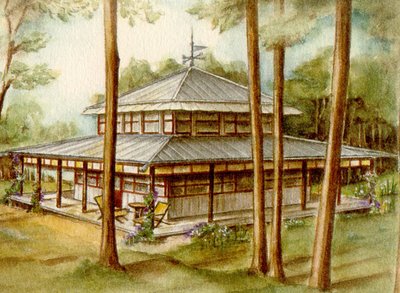 A couple of the houses have been built so far, including the one featured on Starck's site under 1994 Architecture [and linked more easily at Starck Ting, a jawdropping blog about Starckology.]
There's a flickr set of opening the box, too [both of those links are from mocoloco]
I don't like Starck, and I don't believe him when he says this is/was "the most advanced prototype of the modern house." I also don't believe him when he claimed it was a "political action," though it is interesting that a lot of the discussion on this French architecture forum is about the inappropriateness of woodframe houses in France.