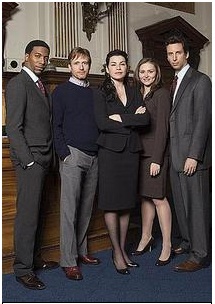 From executive producers Denis Leary and Jim Serpico ("Rescue Me," "The Job") [and Mike Figgis] and writer Dave Erickson ("The Perfect Husband: The Laci Peterson Story", "Murder in Greenwich") comes "Canterbury's Law,"
a courtroom drama about a rebellious female defense attorney who's willing to bend the law in order to protect the wrongfully accused. Elizabeth Canterbury (Julianna Margulies, "ER") is a force of nature on "Canterbury's Law." An attorney on the rise, she puts her career on the line to take on risky and unpopular cases on "Canterbury's Law," even when they take a toll on her personal life.

...

Dave Erickson wrote the pilot for "Canterbury's Law," and Mike Figgis directed.
"Canterbury's Law" was just picked up for mid-season by Fox.
Figgis was [update: NOT] just picked up at LAX for telling security officials he was here "to shoot a pilot."
update: Figgis told PRI that the story is bogus, that he told a reporter he thought about saying "shoot a pilot" in Toronto customs, but didn't. The Observer's Jason Solomon reported the anecdote in April:
Director Mike Figgis spent longer at LAX airport than intended. He'd arrived in Los Angeles, along with half the acting and directing world, for what is known as 'pilot season', when the big studios try out new scripts, directors and actors in a two-week frenzy of auditions and career make-or-breaks. When Figgis was being grilled by airport immigration, he was asked the purpose of his visit. Unthinking and tired after a long flight, Mike replied: 'I'm here to shoot a pilot.' After five hours in an interrogation cell (yes, really), he finally made it into town.
Uh, no, not really. I'm sure Canterbury is still a force of nature, though. You can't make that up. [via
boingboing
]