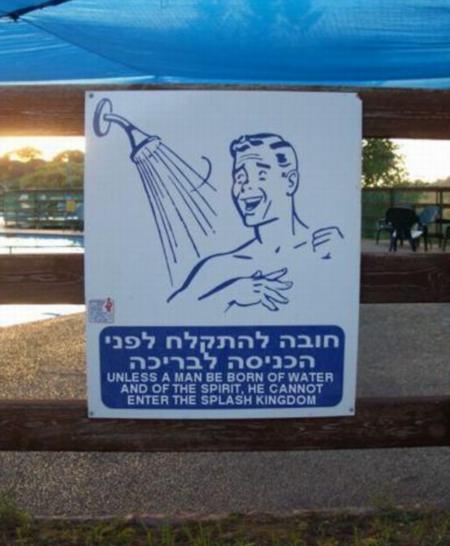 greg.org, based on flickr user
reutc's original image
This report from Church Solutions ["formerly Church Business"] Magazine:
Faith-Based Amusement Association Launches
Posted on: 12/07/2006

With the goal of providing "influential amusement" in their industry, a group of 48 met last week as the founding members of the Faith-Based Amusement Association (FBAA). The group gathered during the recent International Association of Amusement Parks and Attractions convention.

...

"We take great pleasure in sharing our faith and praying with all of our employees," says Johnny Blevins of Splash Kingdom Waterpark in Canton, Texas. "Second, we have some of our favorite Bible verses around the park and play Christian music all the time. Hopefully, as we interact with our guests and employees, we're showing Christ's love for others."
An interview with Mr. Blevins of Splash Kingdom is on the FBAA's blog:
Reagan Hillier: How would you describe the "faith based initiative" at your park?
Johnny Blevins: We are less than low key with our approach, not extremely overt or in your face. But our guests know where we stand as a family and as a business. For example, we play positive, encouraging Christian music around the park and our mission statement is clearly visible on our website. We don't use the cross as a marketing tool, but we have had tremendous support and success in partnering with churches.
The park also sponsors a popular vacation Bible school program featuring "water related themes from the Bible." [via
nyt
]