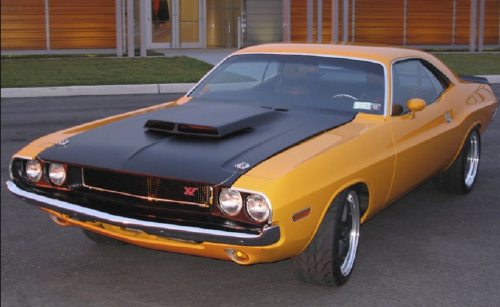 Randy Kennedy has a great, if slightly artificially naive, article on Richard Prince, whose retrospective opens at the Guggenheim next week. Despite curator Nancy Spector's play-along comments to the contrary, Prince's "readymade" edition of three custom-built replicas of a 1970 Dodge Challenger does not, in fact, push "the art-or-not-art question up to its breaking point"; it's a question that's been asked and answered long, long ago, when Duchamp had his first readymades custom-fabricated:
Mr. Prince said he was still not quite sure what to consider the car, although he does plan an edition of three, and he thinks of the first one, recently completed for him by XV Motorsports in Irvington, N.Y., a high-end builder of modernized muscle cars, as an artist's proof. (Its first appearance will be at the Frieze Art Fair next month in London, where the car was recently shipped.)

Aside from minor customizing Mr. Prince asked for, the car is identical to an earlier Challenger XV made using vintage shells but filling them with new high-performance engines, suspension and steering. (The company's prices start at $140,000.)

"I kind of agreed with the look of the car they had put out," Mr. Prince said, adding that he also liked the custom color XV had already mixed for the car, a yellowish orange he calls "Vitamin C."

On later versions, he said, he might customize the gas cap, headrests, upholstery and other parts of the car with his artwork. But for now a mean ride is being declared a kind of street-legal ready-made basically because Mr. Prince is in love with the way it looks — and the way, as with many of the appropriations in his art, it reflects American desires and dreams, particularly those of his youth in the tumultuous 1960s and '70s.
Still, it's interesting to read that Prince's bio may be equally conceptual, i.e., fabricated, even on the basics. Says Spector, "only half-jokingly: 'His real name might not be Richard Prince. It's entirely possible.'"
I'm not not a fan of Prince's work, but it has sure been the subject of a heap of art world/ market insider giddiness the last few years. Talking about the cars, Spector says "the critical function" may not have "caught up to" Prince's work yet. And given her own coyness about insuring the car as a car or a work of art, and her apparent complicity in treating nominally verifiable facts as performative fiction, I can't imagine much "critical function" in the Guggenheim show, either. Full credit to Randy for the headline quote above, though.