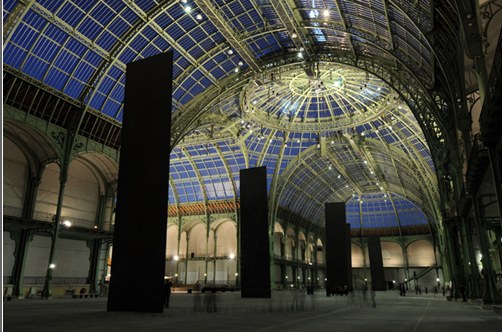 Promenade is Richard Serra's commission for Monumenta, the contemporary arts program inaugurated last year in the nave of the newly restored Grand Palais in Paris.
Serra's work consists of five 17x4-meter steel plates set vertically along the central axis of the Grand Palais. The size of the slabs was determined in part by technical limitations of the steel mill, and in part by the dimensions of the massive, open space itself: 35m high, rising to 60m at the cupola, 50m wide, and 200m long.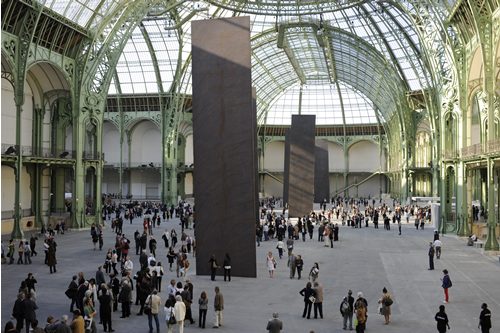 So Serra Schmerra, that means the Grand Palais is big enough to exhibit my re-creation of NASA's satelloon. At least the Project Echo I, which was 100 feet in diameter. [Echo II was 135 feet, which might be a tight squeeze.] Unlike with the other two indoor venues capable of housing the work, the Pantheon in Rome and Grand Central Station in Manhattan, Monumenta gives the Grand Palais the advantage of a pre-existing, curated contemporary art context.
In recent high-profile museum building projects from the Guggenheim Bilbao to MoMA, Richard Serra's multi-ton sculptures have been the default unit of measure; floors must be able to bear and spaces must be able to accommodate a Serra. The continued utility of such Serra Unit-based architecture. Just as screen-based art tests the programmability of art spaces, presenting a gigantic yet inconsequentially light object like a Satelloon as an art object poses an exhibition challenge of a different scale.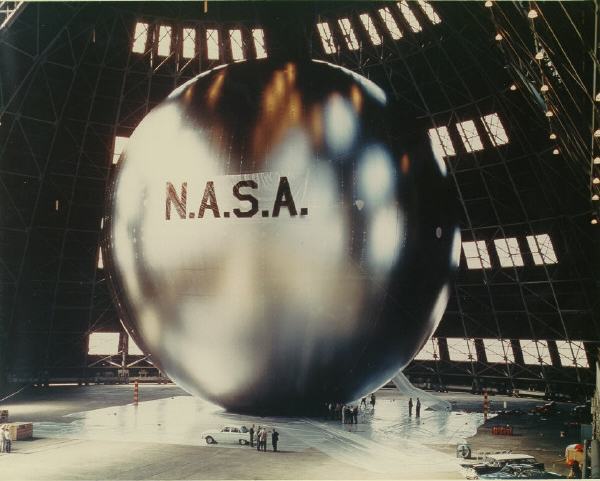 Here is a rough artist's conception: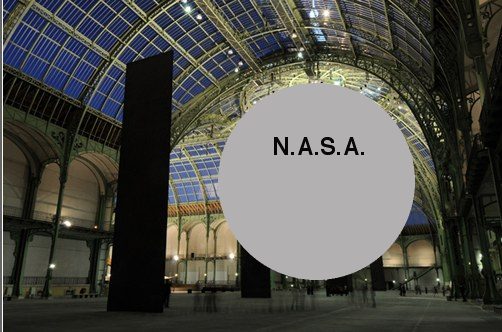 Now all I need to do to exhibit the Satelloon in Paris is to develop a body of work and a career comparable to Serra's and last year's Monumenta artist, Anselm Kiefer. So yeah, let me get right on that.
Hal Foster on Serra at the Grand Palais [lrb]
Monumenta 2008, including photos from the opening by Lorenz Kienzle [monumenta.com]