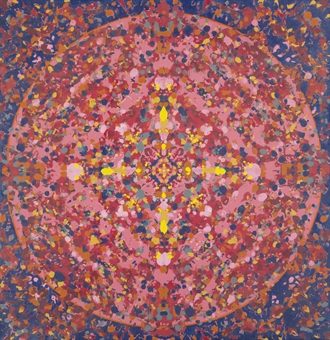 Maybe I shouldn't post about this until I win the auction, but Peter Young's Folded Mandala paintings are spectacular, an entrancing mix of hippie, psychedelic beauty and rigorously visible process.
Young left the New York art world behind literally while his show was up at Leo Castelli. The Folded Mandala paintings developed after the schism, so on a purely artistic basis, it was the right thing to do.
Career-wise, however, not so much, but then, that was his point. Young's paintings from the 1960's-1980's were the subject of two tantalizing shows last year, at PS1 and at Mitchell Algus. [Algus had the mandalas].
The shows' favorable reviews apparently tipped off a sharp-eyed estate sale watcher, who picked up this mandala, #27, just a few weeks ago, and is now flipping it at Christie's. Rather random estimate: $7-9,000.
Update: seriously, what are the odds? I'd read that Young stopped painting grids after visiting Agnes Martin's studio in the 1960's, but check out how Young explained the 1966 encounter to the Brooklyn Rail:
Working at Pace as a preparator, Young had the occasion to visit Agnes Martin's studio. By this point, he had begun making his own grid paintings, a practice he abandoned shortly after his visit. Martin would twice play a pivotal role in his development. On this occasion Martin herself was not present but her paintings were enough to convince him that he had better reconsider his subject. He turned to images of the night sky and the dotting technique that would shortly bring him notoriety.
I notice that Young's site has many dot works that pre-date his discovery of Martin's paintings, but
this 1967 dot painting, #8
, is wonderful, at once abstract and yet evocative. As if it were a photonegative of a sky survey, perhaps.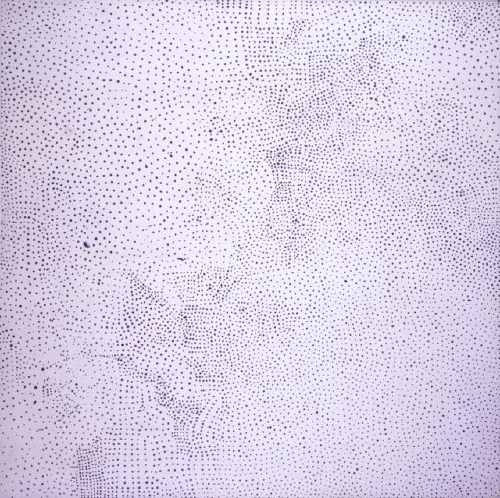 Weird title for a great review: Kandy-Colored Dot-Flake Streamline Maverick [nyt]
also a nice slideshow [nyt]