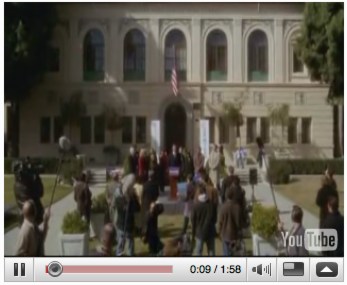 "This is the place that matters." And this just gets better and better. Walter Reed Middle School served as the backdrop for the presidential candidacy of Democratic congressman Matt Santos--as played by Jimmy Smits on West Wing.
West Wing producer-writer Eli Attie told the Guardian in February that the Santos character was based on Barack Obama:
"I drew inspiration from him in drawing this character," West Wing writer and producer Eli Attie told the Guardian. "When I had to write, Obama was just appearing on the national scene. He had done a great speech at the convention [which nominated John Kerry] and people were beginning to talk about him."

Attie, who served as chief speechwriter to Al Gore during the ill-fated 2000 campaign and who wrote many of the key Santos episodes of the West Wing, put in a call to Obama aide David Axelrod.

"I said, 'Tell me about this guy Barack Obama.'"
Axelrod is, of course, Obama's chief strategist for the campaign.
Watch Santos' hope-themed speech [youtube via tpm]

From West Wing to the real thing | Scriptwriters modelled TV's ethnic minority candidate on young Barack Obama
[guardian.co.uk]