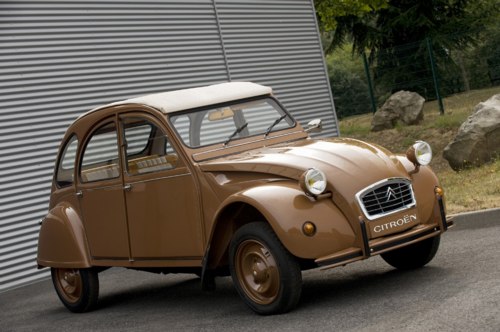 It's like unfinished project night around here. Hermes unveiled its reskinned a 1989 Citroen 2CV6 Special at the Paris Auto Show to commemorate the 60th anniversary of the Deux Chevaux. Not that anyone needs a reason to luxe out a 2CV, of course.
All the plastic dash and door panel elements have been outfitted in stitched Hermes leather; the rubberized roof has been replaced with Hermes canvas, and the seats--which are removable, remember, and could thus be used in a pinch as picnic or beach furniture--were recovered in leather and canvas. The whole thing was given a paint job that probably cost as much as the donor car itself.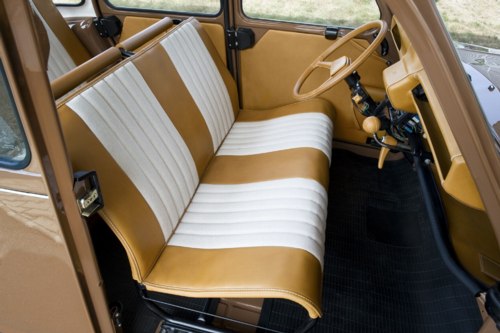 This is pretty close to what I planned to do when I bought my 2CV Charleston in 1995. At the time, I was a pretty heavy Ghurka customer, and I had become friends with the executives and owners of the Connecticut-based company. They had just begun a furniture upholstery sideline a couple of years before, so they were pretty amenable to my request to redo my 2CV seats in Ghurka saddle leather. Rather than bring the seats--or the car--from France to Connecticut, we figured it'd be easier to ship the hides to an upholsterer in France.
Which is where the project died. Ride-pimping culture was not too prevalent along the Cote d'Azur. The carrosserie folks I contacted in Monaco were extremely uninterested in working on an insignificantly scaled project on a dumpy little car like a 2CV. But the Citroenistes were even worse. "No. A Charleston seat is grey, quilted tissu," said the indignant Citroen upholstery specialist when I asked him about recovering my seats.
So I kept the seats I had, but I added a bamboo sunshade on the roof, which, I'll point out, the Hermes 2CV does not have.
Paris 2008: Citroen 2CV6 by Hermes [autoblog]