From Unbeige:
Box Top is no mere pop-up shop; it's a four-day retail experience. Open through Saturday in Miami's Design District (4141 NE 2nd Ave.), the ephemeral emporium is the collaborative effort of I.D. Magazine, Areaware (our favorite purveyor of extraordinary things), and "quintessential lifestyle navigator" Charles & Marie.
Mhmm!
Here's Rich, Brilliant & Willing's concept for "BOX TOP SHOP: A [hey!] four-day retail experience" :
Using the language of shipping materials, namely cardboard boxes and tape, Rich Brilliant Willing has devised a practical solution to create a temporary retail environment. By using flat-packed hollow volumes (cardboard boxes), a shop is assembled in a single day. The boxes provide the necessary presentation requirements of merchandise using a minimal amount of material--the boxes themselves are readymade components drawn from a variety of manufacturers and industrial suppliers. Rich Brilliant Willing assembles these ubiquitous elements into a cohesive, functional whole: The Box Top Shop."
Time was when the design world's biggest disconnect came in the translation from rendering to realization. As RBW's photo and rendering show, that is not the case here.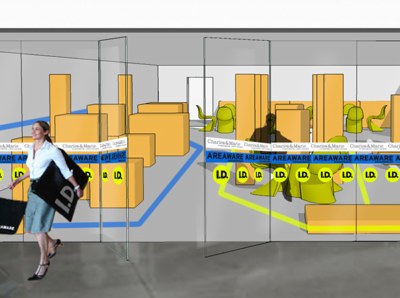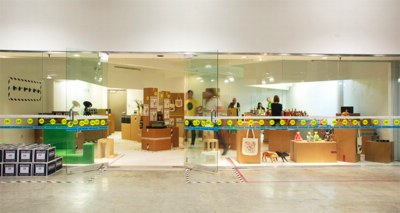 First on Unbeige [sic]: Design Miami: I.D. Magazine Teams with Areaware, Charles & Marie on Box Top Shop [unbeige]
Design Miami 2008, November 21, 2008 [id-mag.com]