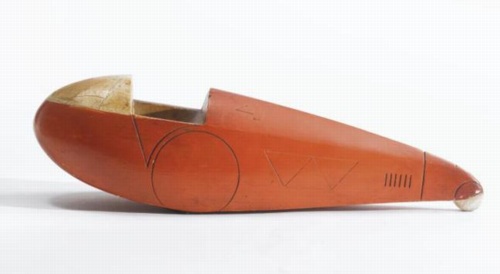 In what has apparently become an annual feature here on greg.org, I present Rare And/Or Unique Buckminster Fuller Objets. This time last year, it was the Perspex prism chandelier Fuller [had] made as a wedding gift for Princess Margaret. The 2nd item:
A rare, early model of the Dymaxion vehicle, circa 1932, carved by Isamu Noguchi and painted by Fuller. Fuller and Noguchi had met in New York, and began working together on the Dymaxion House. The Vehicle, which was to be a car/plane/whatever eventually followed.
The model had been published many times over the years, but until very recently, it was believed to be lost. Neither the 2006 Noguchi Museum exhibition, "Best of Friends" nor the Whitney's recent Fuller retrospective are mentioned in the model's Sotheby's exhibition history, so I suspect their publicity helped flush it out of hiding. Which makes it a recent discovery indeed.
Important 20th Century Design, Dec. 18, 2008, Sotheby's New York
LOT 145: R. BUCKMINSTER FULLER AND ISAMU NOGUCHI
AN IMPORTANT AND RARE "DYMAXION" CAR MODEL, est. 40,000--60,000 USD [sothebys]
update: it sold for $92,500.