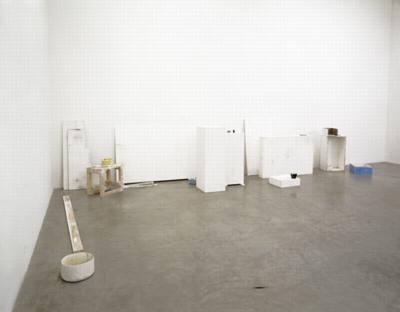 I've been searching for more critical acknowledgment of Fischli & Weiss's Der Lauf der Dinge as an edited construct instead of the miraculous documentation it's normally perceived/presented to be.
Though he's talking about another Fischli & Weiss piece [above], artist Vik Muniz, who just curated Der Lauf der Dinge into "Creating a Rebus," his show at MoMA, nails some very relevant aspects of the duo's work:
It's about this connection between mind and matter -- how something is conceptual and formal at the same time. Fischli and Weiss are artists that I admire for this: They manage to put an enormous amount of craft into their illusions. I remember when I first saw this piece at Sonnabend Gallery, people didn't think these objects were constructed, but they are all cast pieces. It takes a lot of labor to make something look accidental."
Vik Muniz on Creating a Rebus
[artinfo.com, image: matthew marks gallery]
update: In a short podcast with Mexican artist Pablo Helguera, Hirshhorn curator/researcher Ryan Hill mentions F&W's dissolves a couple of times, and how exhibiting the film on a loop can trap visitors who keep watching the procession go round and round. I don't know why there's no way to search, sort of link directly to the many, many podcasts on Hirshhorn's site, but here's the mp3 file [hirshhorn.si.edu]