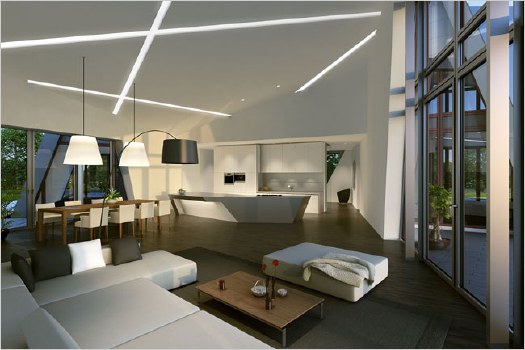 Bwahaha, if ever there were an architect whose work looked like it was all churned out of an idea factory from weary bins full of identical parts, it's Daniel Libeskind. And sure enough, just in time for the prefab business to be declared dead, the NY Times reports that Libeskind has unveiled a "limited artistic edition" 5,500-sf prefab villa, which can be yours--installed, in Europe--for just EUR2-3 million apiece.
Mr. Libeskind says he was involved in every aspect of the design, from the door handles to the kitchen layout to the placement of a barbecue area.

...

"We never really wanted it to be a prefab," Mr. [Michael] Merz [spokesman for the Berlin company distributing the villa] said. "We want to position this as a piece of art."

Buyers will also be promised regional exclusivity, ensuring that they are the only ones in their neighborhoods with the design.
And don't forget, everything's symbolic! There are no renderings of The Barbecue Of Community, but here's a picture of the Sectional Sofa of Solace, criss-crossed by the Zig-Zags of Enlightenment.
The size, too, is important, 5,500 equaling both the number of passengers on the ship little Danny sailed into New York Harbor on as a boy, and also the drop in the Dow since the project began.
Libeskind Designs a Prefab Home [nyt via curbed]