ikea x Mari mashup being mashed up, originally uploaded by gregorg.
I realized I'd been putting off the actual assembly of my Enzo Mari table, daunted by the impending exactitude and fearful of the commitment of actually screwing all the pieces together.
Which seems to fly in the face of Mari's original "just hammer it together" intentions for the autoprogettazione series.
I knew that without jigs and a flat surface and proper squaring equipment and such, I was invariably going to misdrill something, and then I'd be trying to redrill holes 1/8th of an inch to the left somewhere, and--
The joint that really made me nervous was the first one I'd have to do, drilling a 5/16" hold through the center of all the side truss pieces [right about where the knot is in this photo] AND through the ends of the center truss, so that I could thread a carriage bolt through, and hold the entire table together properly. Forever.
Rather than risk screwing this up, I decided to piece each truss together with a steel bookend, and then hammer and wood glue enough joints to hold it. Then I'll drill and screw the major joints after it's together.
The carriage bolt and wingnut assembly method is a nod to the original autoprogettazione kits of precut wood, which were produced in 1973 by Simon International and sold briefly as the Metamobile Series.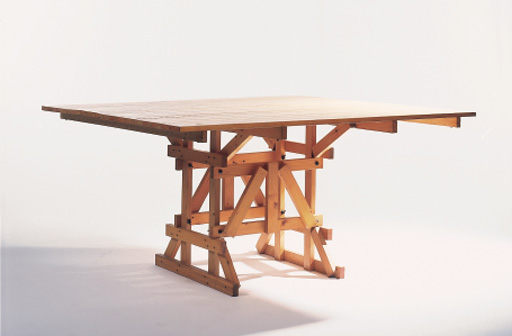 I hadn't thought of how much those simple wingnuts changed the nature of the autoprogettazione concept. They're the difference between project and product.
The Metamobile kits weren't just precut wood; they were also predrilled. And that required the construction of jigs, the use of some workshop- or factory-grade hardware, and probably even an assembly line, or at least some batch work. In other words, they were exactly what the autoprogettazione series was supposed to not be: mass produced.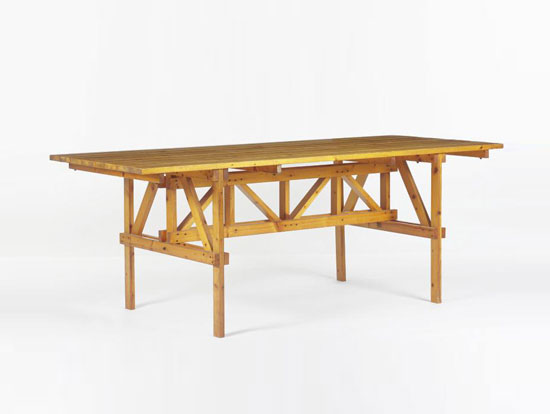 Furniture sold as a kid of parts that comes ready to assemble, with just one tool, just follow the slightly baffling instruction diagrams exactly, and voila! Sound familiar? Enzo Mari beat me to an Ikea mashup by about 35 years.
Related: 14 June 2000, Lot 103: ENZO MARI, A PINE DINING TABLE
"designed 1973, manufactured by Simon International for the Metamobile Series, the square slatted top on open understructure secured by wing-nuts", sold for £5,875. [christies.com]
Dec 15, 2006, Lot 2: ENZO MARI, AN EXTREMELY RARE "EFFE" TABLE
"Manufactured by Simon International, ca. 1974. from the Metamobile series...Acquired directly from Dino Gavina, c. 1975," sold for $14,400 [sothebys.com]