Tim Burton was at MoMA yesterday, talking to media folk about a film dept. retrospective of his work, which includes an exhibition this fall of sketches, storyboards, props, puppets, etc. from his wacked out output.
I wasn't in town for the q&a [here's a movieline writeup via MoMA's Twitter] , but the confluence of Burton and MoMA reminded me of one of my favorite art geek moments: spotting Donald Judd chairs in the background of a 2-second shot in the director's 1993 stop action animated film, Nightmare Before Christmas.
That's them in the corner there, in a montage where Jack ruins Christmas all over town. Here's a close-up. They're pink!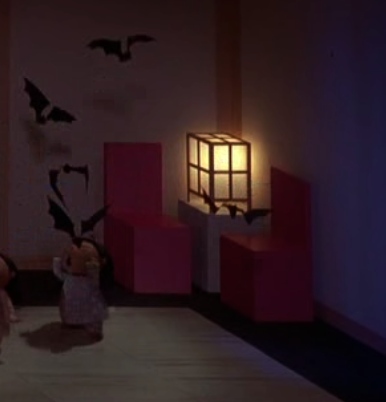 I had really just begun getting interested in Judd's furniture a year or so before this, so I was pretty attuned. In fact, several months after seeing the movie, I met Rainer Judd to talk about buying some pieces, about differences or changes with the handling of furniture that might follow her father's untimely death.
As we chatted, I mentioned the chairs Tim Burton had put in the movie, and she was pretty surprised. She knew Burton, it turned out, and knew he was a fan of the work. And yet, she'd never heard about the chairs--or chairs inspired by the chairs--making a cameo.
Never did hear anything else about it. Hope I didn't get him into trouble.